Boating Gives Back: Viking Yachts Spearheads Design and Distribution of Face Shields for Medical Facilities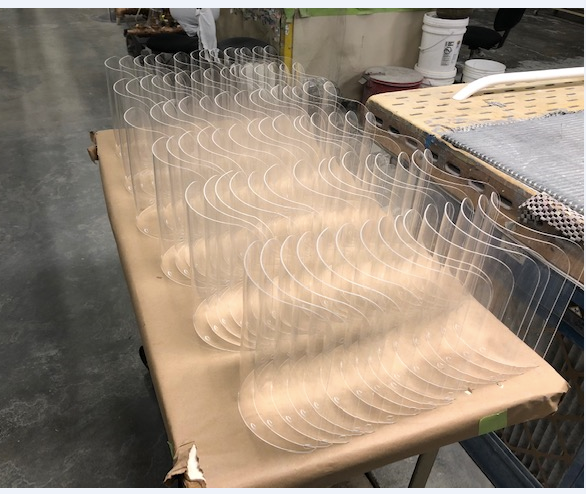 Today's member spotlight features Viking Yachts. A leading builder of sportfishing and motor yachts based out of New Jersey, Viking has also established itself as a leader in the business community in the fight against COVID-19. Among other efforts, Viking launched a project for face shield manufacturing, in which more than 1,000 shields will be provided to medical facilities to aid in the fight against the pandemic.
Even before engaging in PPE production, Viking donated nearly 3,000 N95 respirator masks and 100 Tyvek suits, boots, and hoods to regional medical facilities. As the number of cases across the country and in New Jersey continued to climb over the past month, Viking Yachts' executive leadership saw an opportunity to make a larger impact, and they jumped into action to provide PPE for regional medical and municipal facilities.
Wanting to make the most of their design capabilities, Viking began experimenting with their 3D printing technology to fabricate protective face shields. Viking's Design & Engineering Department created numerous prototypes in the span of only two weeks. Over the course of that time, they were able to cut down the time to create a halo from 90 minutes to 20. Furthermore, they developed a method to fabricate the halos in stacks with air gaps to easily separate the halos.
With the 3D printing machines and their newly developed system, Viking anticipates that they will be able to fabricate more than 1,000 face shield kits, which will be distributed to healthcare professionals in the surrounding communities in New Jersey.
"Viking Yachts has a long history of assisting the surrounding community and partnering with local organizations, and we here at Viking saw this as a critical opportunity to step up and further these efforts during this time of need," said Viking Groups Executive Co-Chairman Bob Healey Jr. "We have incredible design, engineering, and manufacturing expertise here at Viking, and we want to share this knowledge and these resources with our community."
In a spirit of collaboration and desire to end COVID-19 as promptly as possible, Viking hopes to release the design of the face shields and supporting information and make this accessible to as many companies or individuals with 3D printing capabilities as possible. In engaging in these protection efforts, Viking is also utilizing its machinery and equipment to fabricate the face shields for its own members and fellow boatbuilders.
In protecting the surrounding community, Viking is also taking precautions to protect its employees. Along with following state health guidelines, mandatory hand washing, distancing of 6 feet or more, and wearing face masks, safety glasses, and other PPE, Viking has implemented a number of their own procedures, which includes daily employee temperature checks, staggered work start and stop times, and restrictions in common areas. "Our goal is to serve as a model for safe operations for a manufacturing company in the state of New Jersey in these unprecedented times and do our part to flatten the curve," said Healey.
This is part of NMMA's new series of member stories that highlight how the boating industry is stepping up to the plate during the COVID-19 pandemic. If your company has a goodwill story to share, please submit it to NMMA's COVID-19 task force at
taskforce@nmma.org
.


If your company is looking for guidance on manufacturing and/or donating PPEs, please visit our
Ways to Help page
that offers vetted sources and guidelines from FEMA and the FDA to the American Hospital Association, which helps partner companies with hospitals in need and much more.
3D Printing | COVID19 from Viking Yachts on Vimeo.