As an exhibitor in an NMMA-produced show, you benefit from a combination of resources, expertise and accountability that is unequaled in the industry.
We get the word out!
While you work on developing your exhibit, we work on delivering the customers you want to see. NMMA show marketing is a strategic mix of advertising, public relations and social media that generates millions of paid and added-value media impressions to key buying demographics in the weeks leading up to the show.
We help you get the word out.
Our exclusive tools make it easy for you to promote your products before, during and after the show.
Featured Products
Help us promote products you are bringing to the show!
Debuting a boat, new technology or innovative product in your exhibit? Be sure to let us know—we want to include these kind of products in the show's marketing and PR efforts.
Showcasing your merchandise on the show website can help drive traffic to your booth and gives consumers an easy way to learn about your products before, during and after the show.
Available for any exhibitor who has submitted an application and deposit.
Ideal for highlighting boat and product debuts, best sellers and show specials.
Featured Products may also be included in show marketing, advertising, and PR efforts.
Get started now—It's easy! All you have to do is complete the Featured Products submission form online to upload information, images and offers of the products you wish to promote. Submit Products Now!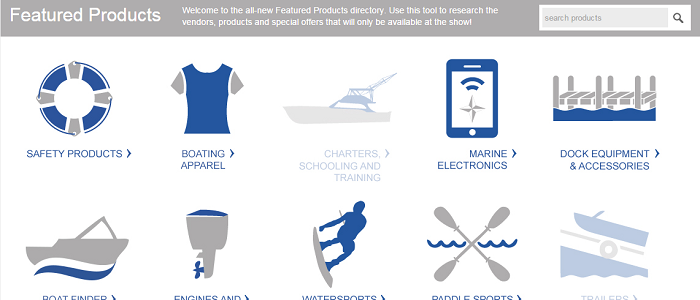 Be My Guest Ticket Program
The Be My Guest ticket program lets you treat your best customers and prospects to free admission to the show. Be My Guest tickets are discounted 50% with no minimum order.
Learn more.
Advertise in NMMA's Official Show Guides 
Raise your profile at the show. Advertising in the show guide drives booth traffic during the show and also promotes your products and services to attendees before and after the show. The Official Show Guide is distributed free to every visitor at the show and is published online.
*Available for any boat dealer or NMMA boat manufacturer member who exhibits at the show.