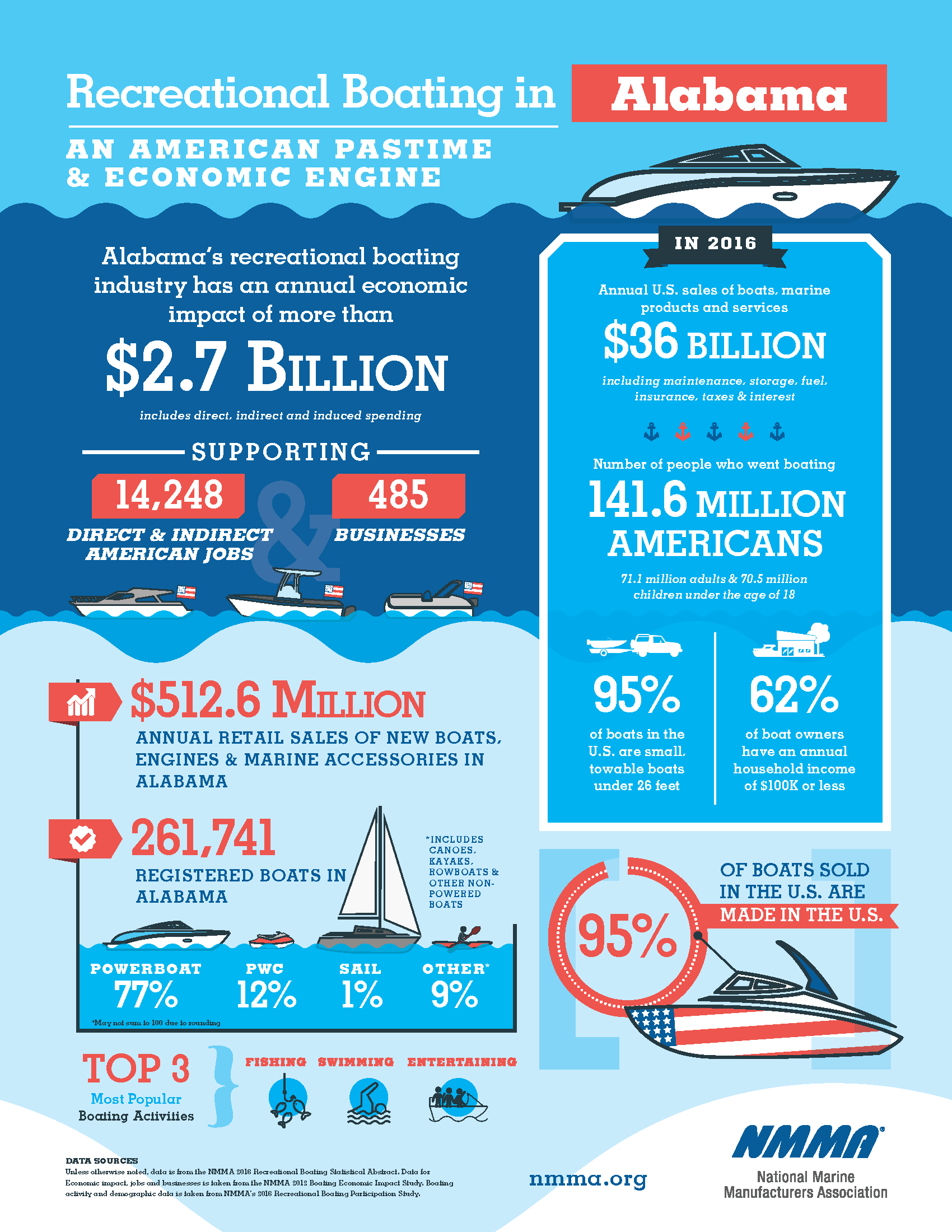 Economic Impact Infographics by State
NMMA continuously monitors legislation and regulatory issues in all 50 states, pursuing the marine industry's objectives and defending it against potentially harmful government initiatives. State governments frequently introduce and enact laws within months, the fast pace means state-level issues require quick action. NMMA has developed infographics to illustrate the economic impact of recreational boating for each state to educate the public and key decision makers on regulatory issues.
If you're not already signed in, please register to access the free economic impact infographics.
United States
| | |
| --- | --- |
| | |
| United States Boating Industry Statistics | Available |
Alabama
| | |
| --- | --- |
| | |
| Alabama Boating Industry Statistics | Available |
| Alabama District 1 Boating Industry Statistics | Available |
| Alabama District 2 Boating Industry Statistics | Available |
| Alabama District 3 Boating Industry Statistics | Available |
| Alabama District 6 Boating Industry Statistics | Available |
Alaska
| | |
| --- | --- |
| | |
| Alaska Boating Industry Statistics | Available |
Arizona
| | |
| --- | --- |
| | |
| Arizona Boating Industry Statistics | Available |
| Arizona District 1 Boating Industry Statistics | Available |
| Arizona District 3 Boating Industry Statistics | Available |
| Arizona District 4 Boating Industry Statistics | Available |
Arkansas
| | |
| --- | --- |
| | |
| Arkansas Boating Industry Statistics | Available |
| Arkansas District 1 Boating Industry Statistics | Available |
| Arkansas District 3 Boating Industry Statistics | Available |
| Arkansas District 4 Boating Industry Statistics | Available |
California
| | |
| --- | --- |
| | |
| California Boating Industry Statistics | Available |
| California District 10 Boating Industry Statistics | Available |
| California District 11 Boating Industry Statistics | Available |
| California District 12 Boating Industry Statistics | Available |
| California District 16 Boating Industry Statistics | Available |
| California District 18 Boating Industry Statistics | Available |
| California District 2 Boating Industry Statistics | Available |
| California District 23 Boating Industry Statistics | Available |
| California District 24 Boating Industry Statistics | Available |
| California District 3 Boating Industry Statistics | Available |
| California District 30 Boating Industry Statistics | Available |
| California District 4 Boating Industry Statistics | Available |
| California District 44 Boating Industry Statistics | Available |
| California District 46 Boating Industry Statistics | Available |
| California District 48 Boating Industry Statistics | Available |
| California District 5 Boating Industry Statistics | Available |
| California District 50 Boating Industry Statistics | Available |
| California District 53 Boating Industry Statistics | Available |
Colorado
| | |
| --- | --- |
| | |
| Colorado Boating Industry Statistics | Available |
| Colorado District 1 Boating Industry Statistics | Available |
| Colorado District 2 Boating Industry Statistics | Available |
| Colorado District 3 Boating Industry Statistics | Available |
Connecticut
| | |
| --- | --- |
| | |
| Connecticut Boating Industry Statistics | Available |
| Connecticut District 1 Boating Industry Statistics | Available |
| Connecticut District 2 Boating Industry Statistics | Available |
| Connecticut District 3 Boating Industry Statistics | Available |
| Connecticut District 4 Boating Industry Statistics | Available |
Delaware
| | |
| --- | --- |
| | |
| Delaware Boating Industry Statistics | Available |
District of Columbia
| | |
| --- | --- |
| | |
| District of Columbia Boating Industry Statistics | Available |
Florida
| | |
| --- | --- |
| | |
| Florida Boating Industry Statistics | Available |
| Florida District 1 Boating Industry Statistics | Available |
| Florida District 10 Boating Industry Statistics | Available |
| Florida District 11 Boating Industry Statistics | Available |
| Florida District 12 Boating Industry Statistics | Available |
| Florida District 13 Boating Industry Statistics | Available |
| Florida District 14 Boating Industry Statistics | Available |
| Florida District 15 Boating Industry Statistics | Available |
| Florida District 16 Boating Industry Statistics | Available |
| Florida District 17 Boating Industry Statistics | Available |
| Florida District 18 Boating Industry Statistics | Available |
| Florida District 19 Boating Industry Statistics | Available |
| Florida District 2 Boating Industry Statistics | Available |
| Florida District 20 Boating Industry Statistics | Available |
| Florida District 21 Boating Industry Statistics | Available |
| Florida District 22 Boating Industry Statistics | Available |
| Florida District 23 Boating Industry Statistics | Available |
| Florida District 24 Boating Industry Statistics | Available |
| Florida District 25 Boating Industry Statistics | Available |
| Florida District 26 Boating Industry Statistics | Available |
| Florida District 27 Boating Industry Statistics | Available |
| Florida District 3 Boating Industry Statistics | Available |
| Florida District 4 Boating Industry Statistics | Available |
| Florida District 5 Boating Industry Statistics | Available |
| Florida District 6 Boating Industry Statistics | Available |
| Florida District 7 Boating Industry Statistics | Available |
| Florida District 8 Boating Industry Statistics | Available |
| Florida District 9 Boating Industry Statistics | Available |
Georgia
| | |
| --- | --- |
| | |
| Georgia Boating Industry Statistics | Available |
| Georgia District 1 Boating Industry Statistics | Available |
| Georgia District 11 Boating Industry Statistics | Available |
| Georgia District 12 Boating Industry Statistics | Available |
| Georgia District 14 Boating Industry Statistics | Available |
| Georgia District 3 Boating Industry Statistics | Available |
| Georgia District 6 Boating Industry Statistics | Available |
| Georgia District 8 Boating Industry Statistics | Available |
Hawaii
| | |
| --- | --- |
| | |
| Hawaii Boating Industry Statistics | Available |
Idaho
| | |
| --- | --- |
| | |
| Idaho Boating Industry Statistics | Available |
Illinois
| | |
| --- | --- |
| | |
| Illinois Boating Industry Statistics | Available |
| Illinois District 10 Boating Industry Statistics | Available |
| Illinois District 12 Boating Industry Statistics | Available |
| Illinois District 13 Boating Industry Statistics | Available |
| Illinois District 14 Boating Industry Statistics | Available |
| Illinois District 15 Boating Industry Statistics | Available |
| Illinois District 16 Boating Industry Statistics | Available |
| Illinois District 17 Boating Industry Statistics | Available |
| Illinois District 18 Boating Industry Statistics | Available |
| Illinois District 2 Boating Industry Statistics | Available |
| Illinois District 3 Boating Industry Statistics | Available |
| Illinois District 6 Boating Industry Statistics | Available |
| Illinois District 8 Boating Industry Statistics | Available |
Indiana
| | |
| --- | --- |
| | |
| Indiana Boating Industry Statistics | Available |
| Indiana District 1 Boating Industry Statistics | Available |
| Indiana District 2 Boating Industry Statistics | Available |
| Indiana District 3 Boating Industry Statistics | Available |
| Indiana District 4 Boating Industry Statistics | Available |
| Indiana District 6 Boating Industry Statistics | Available |
| Indiana District 8 Boating Industry Statistics | Available |
| Indiana District 9 Boating Industry Statistics | Available |
Iowa
| | |
| --- | --- |
| | |
| Iowa Boating Industry Statistics | Available |
| Iowa District 2 Boating Industry Statistics | Available |
Kansas
| | |
| --- | --- |
| | |
| Kansas Boating Industry Statistics | Available |
| Kansas District 2 Boating Industry Statistics | Available |
| Kansas District 4 Boating Industry Statistics | Available |
Kentucky
| | |
| --- | --- |
| | |
| Kentucky Boating Industry Statistics | Available |
| Kentucky District 3 Boating Industry Statistics | Available |
| Kentucky District 5 Boating Industry Statistics | Available |
Louisiana
| | |
| --- | --- |
| | |
| Louisiana Boating Industry Statistics | Available |
| Louisiana District 1 Boating Industry Statistics | Available |
| Louisiana District 2 Boating Industry Statistics | Available |
| Louisiana District 3 Boating Industry Statistics | Available |
| Louisiana District 5 Boating Industry Statistics | Available |
Maine
| | |
| --- | --- |
| | |
| Maine Boating Industry Statistics | Available |
Maryland
| | |
| --- | --- |
| | |
| Maryland Boating Industry Statistics | Available |
| Maryland District 1 Boating Industry Statistics | Available |
| Maryland District 2 Boating Industry Statistics | Available |
| Maryland District 3 Boating Industry Statistics | Available |
| Maryland District 5 Boating Industry Statistics | Available |
Massachusetts
| | |
| --- | --- |
| | |
| Massachusetts Boating Industry Statistics | Available |
| Massachusetts District 6 Boating Industry Statistics | Available |
| Massachusetts District 7 Boating Industry Statistics | Available |
| Massachusetts District 9 Boating Industry Statistics | Available |
Michigan
| | |
| --- | --- |
| | |
| Michigan Boating Industry Statistics | Available |
| Michigan District 1 Boating Industry Statistics | Available |
| Michigan District 2 Boating Industry Statistics | Available |
| Michigan District 4 Boating Industry Statistics | Available |
| Michigan District 5 Boating Industry Statistics | Available |
| Michigan District 6 Boating Industry Statistics | Available |
| Michigan District 8 Boating Industry Statistics | Available |
| Michigan District 10 Boating Industry Statistics | Available |
| Michigan District 11 Boating Industry Statistics | Available |
| Michigan District 14 Boating Industry Statistics | Available |
Minnesota
| | |
| --- | --- |
| | |
| Minnesota Boating Industry Statistics | Available |
| Minnesota District 1 Boating Industry Statistics | Available |
| Minnesota District 2 Boating Industry Statistics | Available |
| Minnesota District 3 Boating Industry Statistics | Available |
| Minnesota District 4 Boating Industry Statistics | Available |
| Minnesota District 5 Boating Industry Statistics | Available |
| Minnesota District 6 Boating Industry Statistics | Available |
| Minnesota District 7 Boating Industry Statistics | Available |
| Minnesota District 8 Boating Industry Statistics | Available |
Mississippi
| | |
| --- | --- |
| | |
| Mississippi Boating Industry Statistics | Available |
| Mississippi District 1 Boating Industry Statistics | Available |
| Mississippi District 2 Boating Industry Statistics | Available |
| Mississippi District 3 Boating Industry Statistics | Available |
| Mississippi District 4 Boating Industry Statistics | Available |
Missouri
| | |
| --- | --- |
| | |
| Missouri Boating Industry Statistics | Available |
| Missouri District 2 Boating Industry Statistics | Available |
| Missouri District 3 Boating Industry Statistics | Available |
| Missouri District 4 Boating Industry Statistics | Available |
| Missouri District 6 Boating Industry Statistics | Available |
| Missouri District 7 Boating Industry Statistics | Available |
| Missouri District 8 Boating Industry Statistics | Available |
Montana
| | |
| --- | --- |
| | |
| Montana Boating Industry Statistics | Available |
Nebraska
| | |
| --- | --- |
| | |
| Nebraska Boating Industry Statistics | Available |
Nevada
| | |
| --- | --- |
| | |
| Nevada Boating Industry Statistics | Available |
New Hampshire
| | |
| --- | --- |
| | |
| New Hampshire Boating Industry Statistics | Available |
New Jersey
| | |
| --- | --- |
| | |
| New Jersey Boating Industry Statistics | Available |
| New Jersey District 2 Boating Industry Statistics | Available |
| New Jersey District 3 Boating Industry Statistics | Available |
| New Jersey District 4 Boating Industry Statistics | Available |
| New Jersey District 5 Boating Industry Statistics | Available |
| New Jersey District 7 Boating Industry Statistics | Available |
| New Jersey District 11 Boating Industry Statistics | Available |
New Mexico
| | |
| --- | --- |
| | |
| New Mexico Boating Industry Statistics | Available |
New York
| | |
| --- | --- |
| | |
| New York Boating Industry Statistics | Available |
| New York District 1 Boating Industry Statistics | Available |
| New York District 3 Boating Industry Statistics | Available |
| New York District 11 Boating Industry Statistics | Available |
| New York District 12 Boating Industry Statistics | Available |
| New York District 14 Boating Industry Statistics | Available |
| New York District 20 Boating Industry Statistics | Available |
North Carolina
| | |
| --- | --- |
| | |
| North Carolina Boating Industry Statistics | Available |
| North Carolina District 1 Boating Industry Statistics | Available |
| North Carolina District 2 Boating Industry Statistics | Available |
| North Carolina District 3 Boating Industry Statistics | Available |
| North Carolina District 4 Boating Industry Statistics | Available |
| North Carolina District 5 Boating Industry Statistics | Available |
| North Carolina District 6 Boating Industry Statistics | Available |
| North Carolina District 7 Boating Industry Statistics | Available |
| North Carolina District 8 Boating Industry Statistics | Available |
| North Carolina District 9 Boating Industry Statistics | Available |
| North Carolina District 10 Boating Industry Statistics | Available |
| North Carolina District 11 Boating Industry Statistics | Available |
| North Carolina District 12 Boating Industry Statistics | Available |
| North Carolina District 13 Boating Industry Statistics | Available |
North Dakota
| | |
| --- | --- |
| | |
| North Dakota Boating Industry Statistics | Available |
Ohio
| | |
| --- | --- |
| | |
| Ohio Boating Industry Statistics | Available |
| Ohio District 2 Boating Industry Statistics | Available |
| Ohio District 3 Boating Industry Statistics | Available |
| Ohio District 4 Boating Industry Statistics | Available |
| Ohio District 5 Boating Industry Statistics | Available |
| Ohio District 6 Boating Industry Statistics | Available |
| Ohio District 7 Boating Industry Statistics | Available |
| Ohio District 9 Boating Industry Statistics | Available |
| Ohio District 11 Boating Industry Statistics | Available |
| Ohio District 12 Boating Industry Statistics | Available |
| Ohio District 14 Boating Industry Statistics | Available |
| Ohio District 15 Boating Industry Statistics | Available |
| Ohio District 16 Boating Industry Statistics | Available |
Oklahoma
| | |
| --- | --- |
| | |
| Oklahoma Boating Industry Statistics | Available |
| Oklahoma District 2 Boating Industry Statistics | Available |
| Oklahoma District 3 Boating Industry Statistics | Available |
Oregon
| | |
| --- | --- |
| | |
| Oregon Boating Industry Statistics | Available |
| Oregon District 1 Boating Industry Statistics | Available |
| Oregon District 4 Boating Industry Statistics | Available |
| Oregon District 5 Boating Industry Statistics | Available |
Pennsylvania
| | |
| --- | --- |
| | |
| Pennsylvania Boating Industry Statistics | Available |
| Pennsylvania District 3 Boating Industry Statistics | Available |
| Pennsylvania District 4 Boating Industry Statistics | Available |
| Pennsylvania District 5 Boating Industry Statistics | Available |
| Pennsylvania District 8 Boating Industry Statistics | Available |
| Pennsylvania District 9 Boating Industry Statistics | Available |
| Pennsylvania District 13 Boating Industry Statistics | Available |
Rhode Island
| | |
| --- | --- |
| | |
| Rhode Island Boating Industry Statistics | Available |
South Carolina
| | |
| --- | --- |
| | |
| South Carolina Boating Industry Statistics | Available |
| South Carolina District 1 Boating Industry Statistics | Available |
| South Carolina District 2 Boating Industry Statistics | Available |
| South Carolina District 3 Boating Industry Statistics | Available |
| South Carolina District 4 Boating Industry Statistics | Available |
| South Carolina District 7 Boating Industry Statistics | Available |
South Dakota
| | |
| --- | --- |
| | |
| South Dakota Boating Industry Statistics | Available |
Tennessee
| | |
| --- | --- |
| | |
| Tennessee Boating Industry Statistics | Available |
| Tennessee District 1 Boating Industry Statistics | Available |
| Tennessee District 2 Boating Industry Statistics | Available |
| Tennessee District 3 Boating Industry Statistics | Available |
| Tennessee District 4 Boating Industry Statistics | Available |
| Tennessee District 5 Boating Industry Statistics | Available |
| Tennessee District 6 Boating Industry Statistics | Available |
| Tennessee District 7 Boating Industry Statistics | Available |
| Tennessee District 8 Boating Industry Statistics | Available |
Texas
| | |
| --- | --- |
| | |
| Texas Boating Industry Statistics | Available |
| Texas District 1 Boating Industry Statistics | Available |
| Texas District 4 Boating Industry Statistics | Available |
| Texas District 5 Boating Industry Statistics | Available |
| Texas District 7 Boating Industry Statistics | Available |
| Texas District 19 Boating Industry Statistics | Available |
| Texas District 24 Boating Industry Statistics | Available |
| Texas District 26 Boating Industry Statistics | Available |
| Texas District 27 Boating Industry Statistics | Available |
| Texas District 29 Boating Industry Statistics | Available |
Utah
| | |
| --- | --- |
| | |
| Utah Boating Industry Statistics | Available |
Vermont
| | |
| --- | --- |
| | |
| Vermont Boating Industry Statistics | Available |
Virginia
| | |
| --- | --- |
| | |
| Virginia Boating Industry Statistics | Available |
| Virginia District 1 Boating Industry Statistics | Available |
| Virginia District 2 Boating Industry Statistics | Available |
| Virginia District 3 Boating Industry Statistics | Available |
| Virginia District 4 Boating Industry Statistics | Available |
| Virginia District 6 Boating Industry Statistics | Available |
Washington
| | |
| --- | --- |
| | |
| Washington Boating Industry Statistics | Available |
| Washington District 2 Boating Industry Statistics | Available |
| Washington District 3 Boating Industry Statistics | Available |
| Washington District 4 Boating Industry Statistics | Available |
| Washington District 5 Boating Industry Statistics | Available |
| Washington District 6 Boating Industry Statistics | Available |
| Washington District 7 Boating Industry Statistics | Available |
| Washington District 9 Boating Industry Statistics | Available |
West Virginia
| | |
| --- | --- |
| | |
| West Virginia Boating Industry Statistics | Available |
Wisconsin
| | |
| --- | --- |
| | |
| Wisconsin Boating Industry Statistics | Available |
| Wisconsin District 1 Boating Industry Statistics | Available |
| Wisconsin District 2 Boating Industry Statistics | Available |
| Wisconsin District 3 Boating Industry Statistics | Available |
| Wisconsin District 4 Boating Industry Statistics | Available |
| Wisconsin District 5 Boating Industry Statistics | Available |
| Wisconsin District 6 Boating Industry Statistics | Available |
| Wisconsin District 7 Boating Industry Statistics | Available |
| Wisconsin District 8 Boating Industry Statistics | Available |
Wyoming
| | |
| --- | --- |
| | |
| Wyoming Boating Industry Statistics | Available |