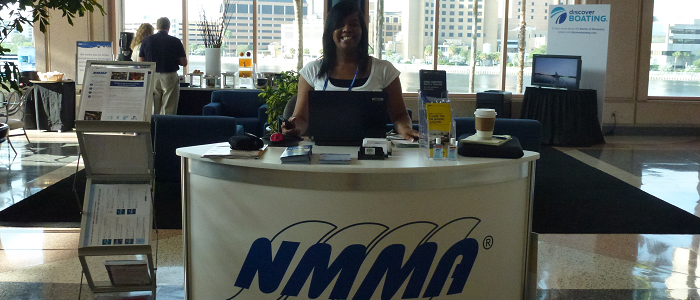 The National Marine Manufacturers Association (NMMA) is the nation's leading trade association representing boat, marine engine and accessory manufacturers. Collectively, NMMA members manufacture an estimated 80 percent of marine products used in North America.
NMMA is a unifying force and powerful voice for the recreational boating industry, working to strengthen and grow boating and protect the interests of its member companies.
History
NMMA was formed in 1979 when the Boating Industry Association of Chicago (BIA) and the National Association of Engine & Boat Manufacturers of New York (NAEBM) merged. Roots of the non-profit association can be traced to 1904 when NAEBM was founded.
Our Why
Creating Transformational Experiences
Our Mission
To ensure the growth and success of the recreational boating industry
Our Vision
Recreational boating is the #1 leisure activity in America
Our Core Values
Respect
Serve Others
Be Curious
Collaborate
Focus on the Consumer
What We Do
NMMA programs and services are designed to serve the best interests of its members and the recreational boating industry. To that end, NMMA:
Represents the industry on public policy issues, advocating at state and federal levels to protect the interests of the marine industry and the users of products 
Collects, analyzes and distributes industry, economic and market data; NMMA is the industry's primary source of recreational boating research, statistics and technical data. 
Promotes recreational boating through consumer outreach 
Provide information/represent the industry's interests to the media and other public entities.
Produces boat and sport shows in key North American markets to provide quality sales venues for exhibitors and consumers
Co-owns/produces the trade event IBEX (International BoatBuilders' Exhibition and Conference) to generate business opportunities for marine companies
Works to create opportunities overseas; offers information and services to help members expand into the global marketplace 
Maintains boat, trailer and oil certification programs to promote safety and help manufacturers produce quality products
Assists the industry in continuously improving customer satisfaction with the purchase, delivery, product, use and after-sale experiences through CSI (Consumer Satisfaction Index)
Our Promise to Members
Convene, unify and expand the North American recreational boating market
Foster a favorable business environment for members
Cultivate a best-in-class boating experience for consumers
Encourage continuous improvement of recreational boating products
Champion industry information, learning and knowledge
Ensure the health and success of NMMA and Discover Boating