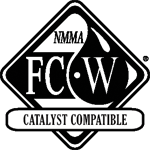 Historically, gasoline-powered inboard and inboard/outboard (sterndrive) boats have been equipped with four-stroke cycle engines. With growing interest and legislation in reducing marine engine emissions, these four-stroke cycle engines are now appearing with exhaust after-treatment. In recognition of emerging four-stroke cycle engines with catalysts in the marine market and their unique lubrication demands, the NMMA Oil Certification Committee initiated the development of a new four-stroke cycle engine oil specification, "NMMA FC-W Catalyst Compatible®."
The need to protect the catalysts adds another dimension to the lubrication demands of marine engines whose duty cycles have always discriminated them from over-the-road light and heavy duty automotive engines. High loads, high speeds, and exposure to high levels of humidity and salt water are just a few of the unique characteristics found in the marine environment.
This new catalyst-compatible standard draws heavily on the experience and success of the earlier NMMA FC-W® standard, which was developed to meet the needs of large and technically advanced four-stroke cycle marine engines. These include four-stroke cycle outboard engines, which are now taking the place of some conventional two-stroke cycle outboard engines. As a result, the new catalyst-compatible standard can provide the performance required for engines that would otherwise call for NMMA FC-W® lubricants.
This new catalyst-compatible specification follows the longstanding and successful tradition of BIA TC-W, NMMA TC-WII®, NMMA TC-W3®, and NMMA FC-W® programs to assist boaters and manufacturers in identifying the proper engine oils which have been specially formulated to withstand the rigors of use in marine engines. The NMMA FC-W Catalyst Compatible® specification is intended to support the industry in providing long term durability, power and overall consumer satisfaction with marine engines utilizing catalyst after-treatment.
 
---
For more information regarding oil certification, contact:
Tom Marhevko
International and Oil Certification Consultant
312.946.6213
2018 FC-W® (CAT) Marine Oils 
FC-00324P
Eni i-Sea Outboard 4T
Eni S.p.A.
FC-00356P
Eni i-Sea Watercraft 4T
Eni S.p.A.
FC-00364P
Motorex / York Ocean FC 4T SAE 10W-40
Bucher AG Langenthal, Motorex-Schmiertechnik
FC-00760P
Mineral FC-W Catalyst Compatible 10W-30
Sierra International LLC
FC-00802K
Gulf Pride 4004 LE - SAE 10W-40
Gulf Oil International
FC-00808M
Marine 4-Stroke Semi-Synthetic Engine Oil 10W-30
Calumet Branded Products, LLC
FC-00809M
Marine 4-Stroke Semi-Synthetic Engine Oil 10W-40
Calumet Branded Products, LLC
FC-00830T
Marine 4-Stroke High Performance Engine Oil 25W-40
Calumet Branded Products, LLC
FC-00833T
AMSOIL 10W-30 Synthetic Marine Engine Oil
AMSOIL
FC-00850T
AMSOIL 10W-40 Synthetic Marine Engine Oil
AMSOIL
FC-11810P
Mineral FC-W Catalyst Compatible 25W-40
Sierra International LLC
FC-11811P
Synthetic Blend FC-W Catalyst Compatible 25W-40
Sierra International LLC
FC-11825T
AMSOIL 25W-40 Synthetic Blend Marine Engine Oil
AMSOIL
FC-37994W
Power Marine FC-W (CAT) 10W-30
Armorine SAS