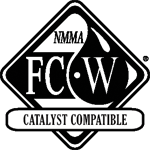 Historically, gasoline-powered inboard and inboard/outboard (sterndrive) boats have been equipped with four-stroke cycle engines. With growing interest and legislation in reducing marine engine emissions, these four-stroke cycle engines are now appearing with exhaust after-treatment. In recognition of emerging four-stroke cycle engines with catalysts in the marine market and their unique lubrication demands, the NMMA initiated the development of a new four-stroke cycle engine oil specification, "NMMA FC-W Catalyst Compatible®."
The need to protect the catalysts adds another dimension to the lubrication demands of marine engines whose duty cycles have always discriminated them from over-the-road light and heavy duty automotive engines. High loads, high speeds, and exposure to high levels of humidity and salt water are just a few of the unique characteristics found in marine engines.
This new catalyst-compatible standard draws heavily on the experience and success of the earlier NMMA FC-W® standard, which was developed to meet the needs of large and technically advanced four-stroke cycle marine engines. These include four-stroke cycle outboard engines, which are now taking the place of some conventional two-stroke cycle outboard engines. As a result, the new catalyst-compatible standard can provide the performance required for engines that would otherwise call for NMMA FC-W® lubricants.
This new catalyst-compatible specification follows the longstanding and successful tradition of BIA TC-W, NMMA TC-WII®, NMMA TC-W3®, and NMMA FC-W® programs to assist boaters and manufacturers in identifying the proper engine oils which have been specially formulated to withstand the rigors of use in marine engines. The NMMA FC-W Catalyst Compatible® specification is intended to support the industry in providing long term durability, power and overall consumer satisfaction with marine engines utilizing catalyst after-treatment.
 
2023 FC-W (CAT)® Marine Oils
| Number | Name | Company |
| --- | --- | --- |
| FB-13827W | Marine Inboard Four Stroke Oil 25w-40 | Penrite Oil Company Pty Ltd |
| FB-13852W | Suzuki Marine 4-Stroke Engine Oil 10W-40 | MOTUL SA |
| FB-38525W | Suzuki Marine 4-Stroke Engine Oil 10W-30 | MOTUL SA |
| FC-00359P | Mercury 10w30 Mineral Exclusive | Mercury Marine |
| FC-00362P | Mercury 25w40 Mineral Exclusive | Mercury Marine |
| FC-00364P | Motorex Ocean FC 4T SAE 10W/40 | MOTOREX AG |
| FC-00760P | Mineral FC-W Catalyst Compatible 10W-30 | Sierra International |
| FC-00806L | Lucas SAE 10W-40 (Catalyst Compatable) | Lucas Oil Products, Inc. |
| FC-00807L | Lucas SAE 10W-30 (Catalyst Compatible) | Lucas Oil Products, Inc. |
| FC-00812M | Lucas SAE 25W-40 FC-W Catalyst Compatible engine oil | Lucas Oil Products, Inc. |
| FC-00821N | Quicksilver 10w30 | Mercury Marine |
| FC-00823N | Quicksilver 25w40 | Mercury Marine |
| FC-00824N | Mercury 25w40 Synthetic Blend | Mercury Marine |
| FC-00825N | Quicksilver 25w40 Synthetic Blend | Mercury Marine |
| FC-00833T | AMSOIL 10W-30 Synthetic Marine Engine Oil | AMSOIL Inc. |
| FC-00850T | AMSOIL 10W-40 Synthetic Marine Engine Oil | AMSOIL Inc. |
| FC-017023Y | Mystik JT-4 Synthetic 4-Cycle 10W-30 Marine Engine Oil | Citgo Petroleum Corporation |
| FC-01750T | Pro Star 4 Stroke 25W40 Outboard Oil | KINPAK, INC. |
| FC-01810T | Pro Star 4 Stroke 10W40 Outboard Oil | KINPAK, INC. |
| FC-01820T | Pro Star 4 Stroke 10W30 Outboard Oil | KINPAK, INC. |
| FC-020436A | Pennzoil Marine Premium Plus Outboard 4-Cycle 10W-30 | Pennzoil-Quaker State Company |
| FC-053842Z | Sierra 10W-30 Semi-Synthetic Catalyst Compatible Oil | Sierra International |
| FC-08620U | West Marine Premium 4-Stroke Oil Syn Blend 10w40 | West Marine |
| FC-11298X | Ravenol Outboardoel 4T SAE 10W-40 | Ravensberger Schmierstoffvertrieb GmbH |
| FC-11810P | Mineral FC-W Catalyst Compatible 25W-40 | Sierra International |
| FC-11811P | Synthetic Blend FC-W Catalyst Compatible 25W-40 | Sierra International |
| FC-11825T | AMSOIL 25W-40 Synthetic Blend Marine Motor Oil | AMSOIL Inc. |
| FC-118905Z | Starbrite Star Tron 25W40 | KINPAK, INC. |
| FC-129504X | XPS Marine 4T 10W-30 Premium Mineral | Bombardier Recreational Products, Inc. |
| FC-13086U | West Marine 4-Stroke Oil Syn Blend 25w40 | West Marine |
| FC-13799W | MP Plus Sport 10w-40 | Rock Oil Company |
| FC-13855W | Mercury 10W30 Synthetic Blend | Mercury Marine |
| FC-14350X | Outboard 500 4T 10W-40 | YACCO |
| FC-14937W | Wolf Outboard 4T 10W30 | Wolf Oil Corporation N.V. |
| FC-158844A | NEPTUNA SPEEDER 25W-40 | TotalEnergies Lubrifiants |
| FC-162395Z | Starbrite Star Tron 10W30 | KINPAK, INC. |
| FC-169399Y | Bass Pro 4-Stroke Oil 10W-30 | Amalie Oil Company |
| FC-235968Z | Quicksilver 20W-40 | Mercury Marine |
| FC-256503X | Titan Marine FC-W SAE 10W-30 | Fuchs Petrolub SE |
| FC-258393B | Repsol SAILOR Gasoline Board 4T | Repsol Lubricantes Y Especialidades S.A. |
| FC-278631A | NEPTUNA SPEEDER 10W-30 | TotalEnergies Lubrifiants |
| FC-287280A | Sierra Full Syn FC-W CAT 10W-40 | Sierra International |
| FC-30861U | West Marine Premium 4-Stroke Oil Syn Blend 10w30 | West Marine |
| FC-350367Z | LIQUI MOLY Marine 4T Motor Oil 10W-30 | Liqui Moly GmbH |
| FC-37994W | Power Marine FC-W (CAT) 10W-30 | Armorine SAS |
| FC-38116W | Marine Outboard Four Stroke Oil 10w-30 | Penrite Oil Company Pty Ltd |
| FC-38277W | Champion Outboard 4T 10W30 | Champion Chemicals N.V. |
| FC-38556W | Klotz 10W40 | Klotz Synthetic Lubricants, Inc. |
| FC-38722W | Quicksilver 10w30 Synthetic Blend | Mercury Marine |
| FC-418446Y | Mystik JT-4 Synthetic Blend 4-Cycle 25W-40 Marine Engine Oil | Citgo Petroleum Corporation |
| FC-423324Y | Kawasaki Jet Ski Watercraft S4 10W40 | Brenntag Canada Inc. |
| FC-433009X | Havoline Synthetic Blend 4-Cycle Outboard Engine Oil SAE 10W-30 | Chevron Global Lubricants |
| FC-43508X | Outboard 500 4T 25W-40 | YACCO |
| FC-43514X | Ravenol Marine Oil Petrol SAE 25W-40 | Ravensberger Schmierstoffvertrieb GmbH |
| FC-43517X | Ravenol Outboardoel 4T SAE 25W-40 | Ravensberger Schmierstoffvertrieb GmbH |
| FC-454747Y | ADDINOL Aquapower Outboard 4T 2540 | ADDINOL Lube Oil GmbH |
| FC-51534X | Ravenol Outboardoel 4T SAE 10W-30 | Ravensberger Schmierstoffvertrieb GmbH |
| FC-525443A | Pennzoil Marine Premium Plus Outboard 4-Cycle 25W-40 | Pennzoil-Quaker State Company |
| FC-571210B | Valvoline Marine 4-Stroke Engine Oil SAE 10W-30 | Valvoline Inc. |
| FC-576163Y | Mystik JT-4 Synthetic 4-Cycle 10W-40 Marine Engine Oil | Citgo Petroleum Corporation |
| FC-589327B | Honda Marine FC-W 10W-30 | Idemitsu Lubricants America Corporation |
| FC-589712Y | Quicksilver 10W40 | Mercury Marine |
| FC-687750B | Mobil Outboard 10W-40 FC-W | ExxonMobil Fuels and Lubricants Co. |
| FC-688747A | Pennzoil Marine Premium Plus Outboard 4-Cycle 10W-40 | Pennzoil-Quaker State Company |
| FC-704576Y | Bass Pro 4-Stroke Oil 25W-40 | Amalie Oil Company |
| FC-729793Y | CEPSA Outboard 4T | CEPSA Comercial Petroleo, S.A. |
| FC-738288Z | LIQUI MOLY Marine 4T Motor Oil 25W-40 | Liqui Moly GmbH |
| FC-743608B | POWER MARINE FCW 10W-40 | Armorine SAS |
| FC-783006Z | LIQUI MOLY Marine 4T Motor Oil 25W-50 | Liqui Moly GmbH |
| FC-837066X | XPS Marine 4T 25W-40 Synthetic Blend | Bombardier Recreational Products, Inc. |
| FC-875877B | Ultra1Plus | Ultrachem LLC |
| FC-909874X | XPS Marine 4T 10W-40 Synthetic Blend | Bombardier Recreational Products, Inc. |
| FC-91435X | Outboard 500 4T 10W-30 | YACCO |
---
For more information regarding oil certification, contact:
Scott Berry
Senior Director, Engineering Standards
312.946.6254