In the News: 11 MPH Boating Speed Limit on East Coast Would Kill Offshore Fishing Trips (OutdoorLife.com)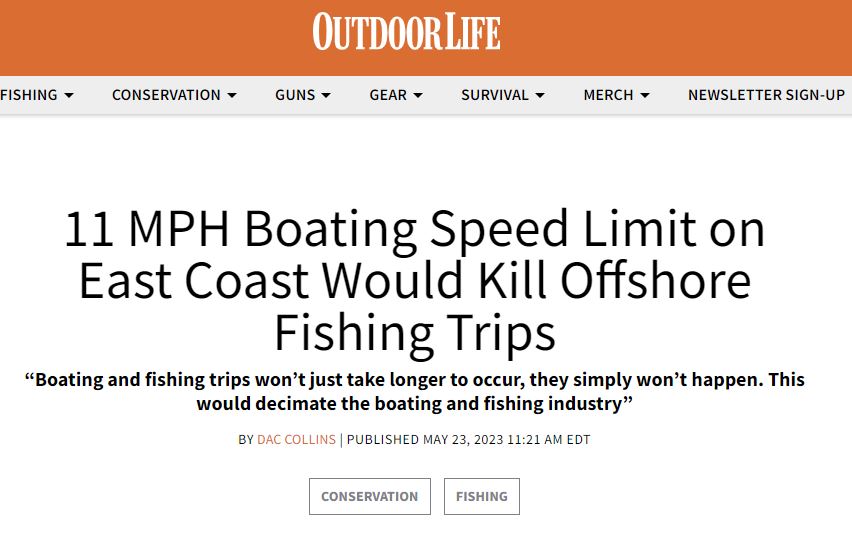 Last week, OutdoorLife.com published an article detailing concerns with the National Oceanic and Atmospheric Administration's proposed North Atlantic Right Whale Vessel Strike Reduction rule. The proposed rule would have devastating impacts on marine business, coastal economies and boaters and anglers along the East Coast.

An excerpt from the article, includes: "Offshore anglers, charter captains, and other members of the East Coast sport fishing industry are continuing to push back on the federal government's proposed speed restrictions along the Atlantic Coast. The proposed speed limit would require all offshore boats longer than 35 feet operating in designated zones between Massachusetts and North Florida to restrict their speed to 10 knots (11.5 mph) or slower for several months out of the year. These designated slow zones would extend from dozens of miles to up to 90 miles offshore in certain areas."

The article draws attention to the effect the rule would have on offshore fishing businesses. "The 10 knot speed limit would prevent charter captains from getting to their fishing grounds in a reasonable amount of time. Anglers targeting tuna, billfish, and other pelagic species regularly travel dozens (or even hundreds) of miles offshore during a single day's outing, and many of them use boats that are between 35- and 65-feet long."

Click here to read the full OutdoorLife.com article

Recreational boating and fishing stakeholders are encouraged to make their voices heard on Capitol Hill, in district offices, and at the local level by contacting lawmakers and staff to discuss the impacts of NOAA's proposed rule, as well as taking action on the Boating United platform.

For more information on NOAA's proposed rule, contact Clay Crabtree, director of federal government relations at [email protected]. If you, or your business would be impacted by NOAA's proposed rule and you are interested in speaking out, please contact Lauren Hyland, public affairs manager at [email protected].