Discover Boating Marketing Content Available to Help Engage New Customers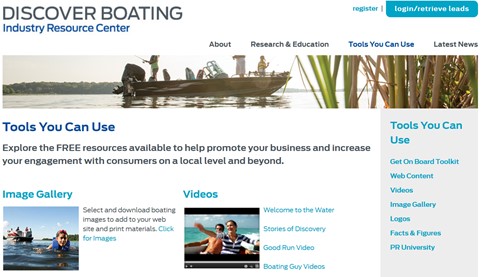 Consumer demand for new boats surged across the country in 2020, and there is no sign of slowing down as boat sales are expected to remain at historic levels in 2021. This is a prime opportunity to increase your marketing efforts and continuing growing your business.
Now is the time to nurture and engage newcomers and continue acquiring new boaters. Discover Boating B2B, the online industry resource center, offers free tools and marketing materials at your fingertips to help improve consumer engagement.
Take advantage of Discover Boating B2B's "Tools You Can Use" section and Research & Education resources to elevate the customer service experience and retain new boaters on a local level and beyond.
Tools and resources include:
Interactive boat buying tools such as the popular Boat Loan Calculator and Boat Selector, which can be embedded directly on your company's website
Industry-wide Get On Board Campaign toolkit
Image gallery
Videos
Web content
Visit b2b.discoverboating.com to access these helpful tools, free marketing resources and more.