MRAA & NMMA COVID-19 Retail Reopening Guidelines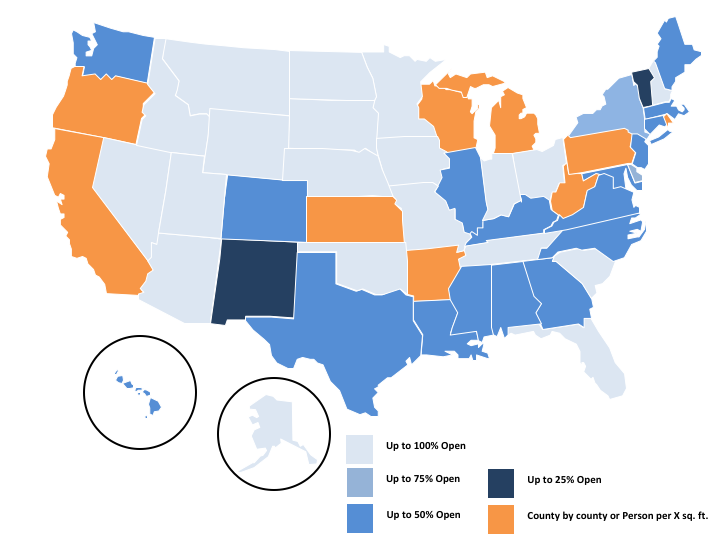 As states continue to reopen their economies post the COVID-19 pandemic, MRAA and NMMA are working together to help our members nationwide identify and assess the retail status in each state.
The following resource is intended as a snapshot to help navigate this rapidly-changing environment. Please consult with regulators within the appropriate jurisdiction and your own stakeholders including legal counsel before making a determination on how to best proceed with your company's operations.
All retail stores shall comply with the following rules:
Retail establishments remain open, however indoor dining, gyms and other businesses have been closed since July 6.
Such measures shall include:
1. Limiting the number of patrons inside the store to 50% of fire capacity occupancy of the entire store or eight (8) patrons per 1,000 square feet;
2. Encouraging patrons to use hand sanitizer upon entering;
3. Encouraging non-cash payments when possible;
4. Sanitizing entrance and exit doors at least three times per day;
5. Encouraging Workers to report any safety and health concerns to the employer; and
6. Installing protective screens or other mitigation measures where Worker-patron interactions are likely.
Ensure employees stay 6 feet apart whenever practical. Adjust seating in break rooms, cafeterias, and other common areas to reflect social distancing practices. Prohibit gatherings or meetings of employees of 10 or more during working hours, permit employees to take breaks and lunch outside, in their office or personal workspace, or in such other areas where proper social distancing is attainable. Restrict interaction between employees and outside visitors or truck drivers; implement touchless receiving practices if possible. Adjust training/onboarding practices to limit number of people involved and allow for 6 foot spacing; use virtual/video/audio training when possible. Discourage employees from using colleagues' phones, desks, workstations, radios, handhelds/wearables, or other work tools and equipment. Prohibit handshaking and other unnecessary person to person contact in the workplace.
Special Protocols for Home Delivery/Installation Employees. Wear protective face coverings and gloves during in-home delivery and/or installation services. Ensure proper social distancing between employee and customer. Clean and disinfect any surfaces which will be regularly contacted throughout the duration of any installation. When delivery/installation is complete, clean and disinfect all surfaces which were contacted throughout installation. Clean and disinfect any tools or supplies used throughout delivery/installation upon leaving the home.
To support smaller retail businesses, who may lack staff necessary to closely monitor customer flow, it is recommended to reduce store occupancy to no more than 50%, and no less than 20%, of the stated maximum store capacity according to the National Fire Code. Alternatively, thresholds of no more than 5 customers per 1,000 square feet of total store square footage excluding employees, may also be appropriate. Place conspicuous signage at entrances and throughout the store alerting staff and customers to the required occupancy limits, six feet of physical distance, and policy on face covering. Establish hours of operation, wherever possible, that permit access solely to high-risk individuals, as defined by the CDC. Demarcate six feet of spacing in check-out lines to demonstrate appropriate spacing for social distancing. Ensure six feet of distance between customers and cashiers and baggers, except at the moment of payment and/or exchange of goods. Arrange for contactless pay options, pickup, and/or delivery of goods wherever practical.
On July 24, Governor Reynolds signed a new proclamation extending the State Public Health Disaster Emergency until August 23, 2020, including current restrictions on businesses and other establishments. Retail locations are no longer required to accept empty bottles and cans.
Retail businesses must limit the number of customers present in any given retail business
to 33% of the maximum permitted occupancy of the facility, assuming all individuals in
the store are able to maintain six (6) feet of space between each other with that level of
occupancy. If individuals are not able to maintain six (6) feet of space between each other
at 33% of capacity, the retail business must limit the number of individuals in the store to
the greatest number that permits proper social distancing.
If a retail business has more customers wishing to enter their business than is possible
under the current social distancing requirements of six (6) feet between all individuals,
the business should establish a system for limiting entry and tracking occupancy numbers.
Once a retail business has reached its capacity, it should permit a new customer inside
only after a previous customer has left the premises on a one-to-one basis. Retail
businesses experiencing lines or waits outside their doors should establish a safe means
for customers to await entry, such as asking customers to remain in their car and notifying
them via phone when they are able to enter the store or marking off spots six (6) feet
apart where customers can safely stand without congregating.
Retail businesses should ensure employees wear face masks at all times. Retail employees are not required to wear face masks while alone in personal offices or if doing so would pose a serious threat
to their health or safety.
Retail locations are allowed to operate as long as the business implements adequate social distancing and hygiene standards set forth by the state. This includes requiring customers and employees to wear face coverings, good hygiene, and frequent handwashing. Businesses are limited to 5 customers per 1,000 square feet.
Health assessments must be conducted for all employees at the beginning of each shift. In establishments where customers wait in a line, non-household customers should remain physically distanced. Waiting areas where adequate physical distancing cannot be maintained must be closed. Customers should be encouraged to call for a reservation or an appointment, or establishments should use an online wait listing application. Physical distancing of 6 feet must be maintained between non-congregate customers, this may require:
For phase 2, all Non-congregate group size has increased from 10 people to 50 people.
Nevada's State Legislature passed a bill that would provide legal immunity to most businesses as long as they follow state, local, and federal health standards and do not exhibit "gross negligence." The bill also includes worker protections for casinos, hotels and resorts requiring time off and testing for employees exposed to coronavirus, as well as setting out cleaning standards for bars, hotel rooms, restrooms, and elevators. Governor Sisolak is signed it into law on August 11.
· Central New York: Cayuga, Cortland, Madison, Onondaga, Oswego
· Mohawk Valley: Fulton, Herkimer, Montgomery, Oneida, Otsego, Schoharie
· North Country: Clinton, Essex, Franklin, Hamilton, Jefferson, Lewis, St. Lawrence
· Southern Tier: Broome, Chemung, Chenango, Delaware, Schuyler, Steuben, Tioga, Tompkins
· Finger Lakes: Genesee, Livingston, Monroe, Ontario, Orleans, Seneca, Wayne, Wyoming, Yates
Phase 4:
Retail businesses must meet the following criteria:
To protect consumers, the State recommends:
The Utah COVID-19 Public Health Risk Status is:
Face coverings are worn for interactions that take place within a 6-foot distance

Maintain signage to remind and help individuals and at least 6 feet apart, including in store check-out lines.

Assign an employee to disinfect carts and baskets regularly.

Resume to normal patron capacity if physical distancing guidelines can be maintained.

Make hand sanitizer readily available to customers and employees (e.g. at checkout counters and entrances, etc.)

Set an established daily window of time for high-risk individuals to come in without pressure from crowds.

One-way aisles to support physical distancing.

Consider installing a clear plastic partition between cashier and customer where it is not possi-ble to maintain 6 feet of distance.
To view a complete list of guidelines for businesses in all risk categories, click here.
Vermont has updated certain guidelines for parts of our industry.
Marinas may operate with minimum necessary staff, including retail operations, dining, maintenance, and fuel services, in accordance with state social distancing restrictions. Indoor marina retail operations are subject to a 25 percent maximum capacity of the store.
Consumer retail locations, such as recreational boat dealerships, are limited to the greater of:
Phase 1 allows: essential businesses open; auto/RV/boat/ORV sales; retail (curb-side pick-up orders only). Phase 2 allows: retail (in-store purchases allowed at 30% capacity). Phase 3 allows: no changes to the retail capacities.
In addition to these general provisions, West Virginia has outlined the following guidelines below for retail businesses.
To the greatest extent feasible, stores should limit crowding and encourage social distancing for personnel and patrons. While not possible in every situation, personnel and patrons should remain 6 feet apart. In addition: