Wisconsin Congressman Glenn Grothman Visits Kohler Power Systems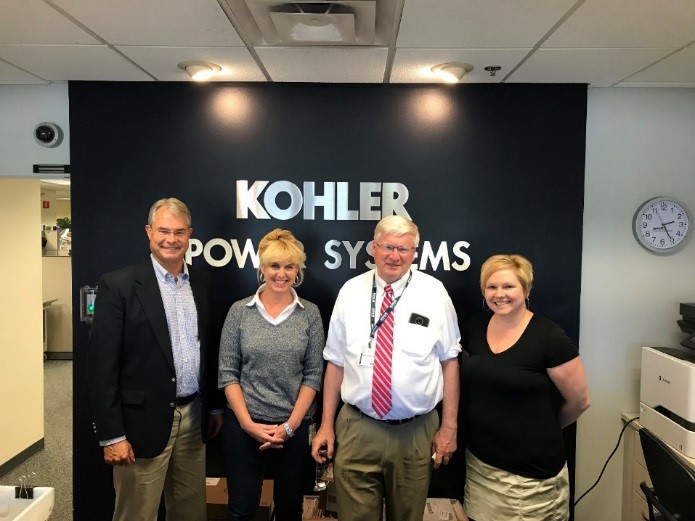 Representative Glenn Grothman (R-WI-06) visited Kohler Power Systems in Sheboygan, Wisconsin earlier this month, where he toured the manufacturer's marine generator production facility and spoke with employees about the company's operations and challenges facing the recreational boating industry. Plant visits with elected officials are an important opportunity to highlight the industry and NMMA encourages all stakeholders to work with the association to schedule a plant tour.
Greg Klompenhouwer, senior product manager for Kohler Marine led the facility tour and highlighted the challenges of designing and manufacturing marine generators for a global marketplace. Klompenhouwer thanked Representative Grothman for visiting Kohler, stating, "We greatly appreciate Congressman Grothman's commitment to learning more about the recreational boating industry and local manufacturing jobs in Wisconsin's 6th Congressional District."
Grothman praised the Kohler facility, noting during the tour that, "All of Wisconsin should be proud that generators for boats around the world are made by Kohler Power in Wisconsin. It's great that this is one industry in which the world knows that United States manufacturing is second to none."
If you have questions or are interested in scheduling a facility visit, please contact NMMA senior vice president of government relations, Nicole Vasilaros at nvasilaros@nmma.org, NMMA director of political advocacy and engagement, Erica Crocker at ecrocker@nmma.org, or NMMA manager of Great Lakes policy and engagement, Jill Sims at jsims@nmma.org.
Photo caption (from left to right): Greg Klompenhouwer, senior product manager for Kohler Marine; Heidi Klompenhouwer, senior technical publications analyst; Congressman Glenn Grothman (R-WI-06); and Brenda Cudworth, confidential assistant.