Yamaha Jet Boats Latest NMMA Member to Host Visit with Elected Official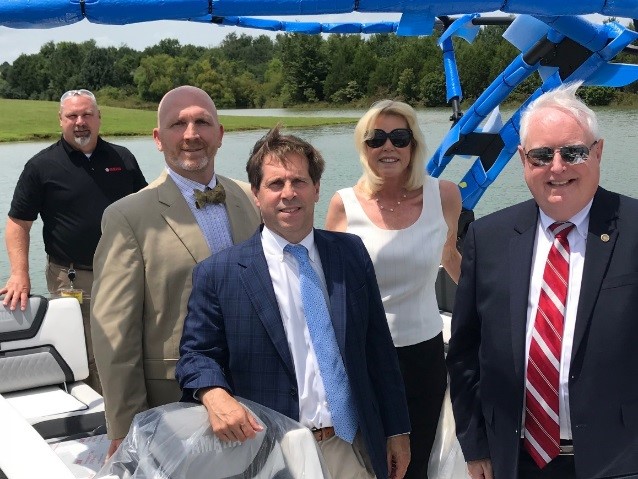 Last week, Congressman Chuck Fleischmann (R-TN-03) visited Yamaha Jet Boat Manufacturing where he met with company representatives to discuss pressing issues facing the recreational boating industry, including the labor shortage, access to waterways, aquatic invasive species, and the proliferation of ethanol in the fuel supply. Facility visits with elected officials are an important component of the industry's advocacy efforts and NMMA encourages all stakeholders to work with the association to schedule these opportunities.
During the visit, Congressman Fleischmann echoed the industry's concerns with the increasing availability of E15 across the country and pledged to consider cosponsoring the Consumer Protection and Fuel Transparency Act of 2019 (H.R. 1024) – bipartisan legislation championed by NMMA, which would more clearly label harmful and corrosive E15 ethanol blended gasoline at pumps across the country and better protect engines in boats, motorcycles, pre-2001 model year vehicles, and outdoor power equipment. Representative Fleischmann and his staff also expressed interest in supporting two bills backed by NMMA that would help maintain sustainable saltwater fisheries: The Forage Fish Conservation Act (H.R. 2236) and the Driftnet Modernization and Bycatch Reduction Act (H.R. 1979).The group capped off the event with a short cruise on one of Yamaha's newest boats.
If you have questions or are interested in scheduling a facility visit with your elected officials, please contact NMMA senior vice president of government and legal affairs, Nicole Vasilaros at nvasilaros@nmma.org or NMMA manager of southeast policy and engagement, Lee Gatts at lgatts@nmma.org.

Photo Caption (left to right): Ed Malle, Operations Manager at Yamaha Jet Boat Manufacturing; Steven Howell, District Director for Rep. Chuck Fleischmann; Congressman Chuck Fleischmann (R-TN-03); Maxine Gernert, Field Representative for Rep. Chuck Fleischmann; and Bob White, Senior Advisor for Rep. Chuck Fleischmann.