BTMA Honors Gary Potter with Lifetime Achievement Award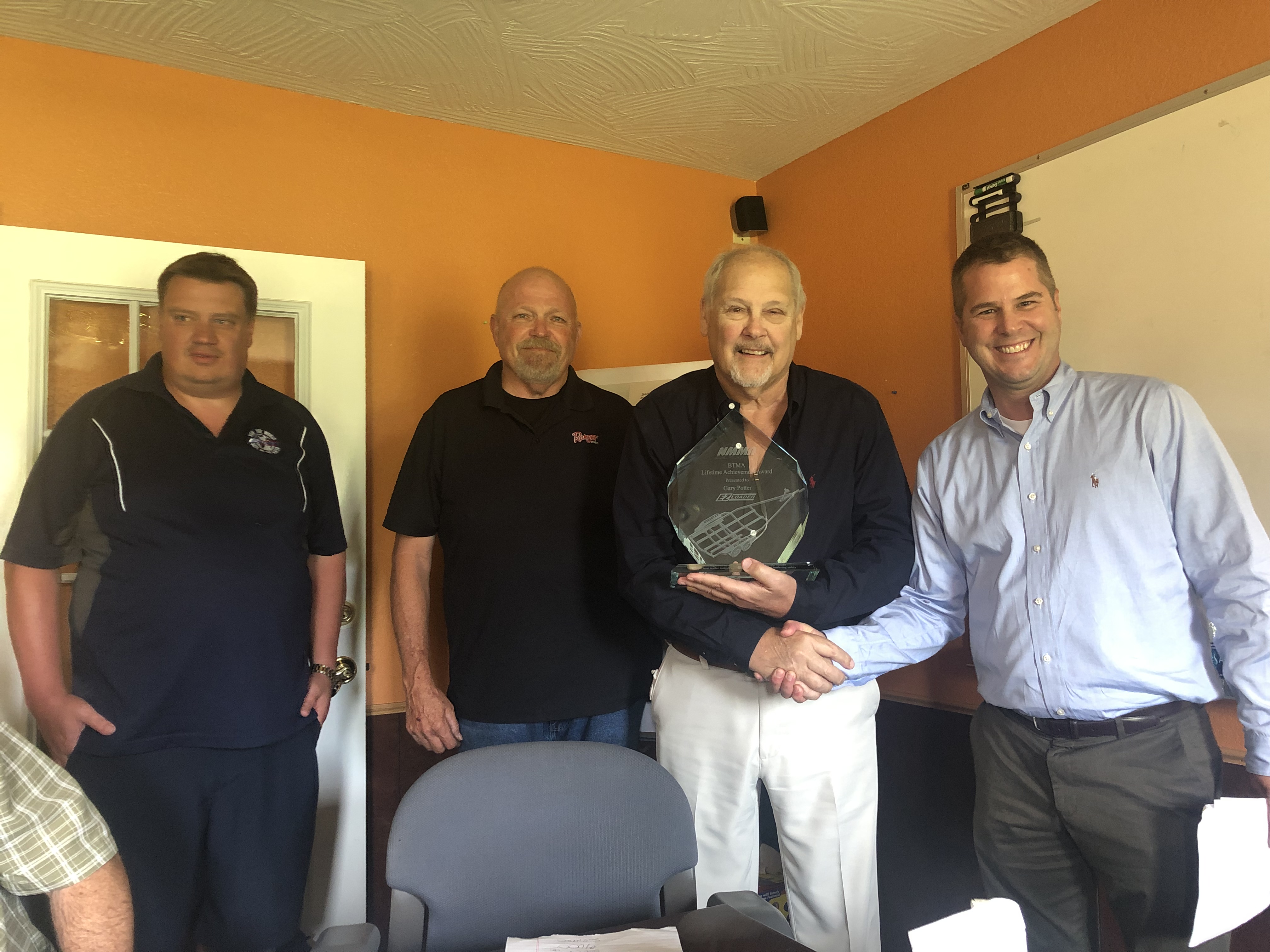 The Boat Trailer Manufacturers Association (BTMA) awarded EZ Loader's Gary Potter with the BTMA Lifetime Achievement Award yesterday during a meeting at EZ Loader that introduced new programs and product. The award recognizes the accomplishments of an individual who has great influence on the marine industry, specifically their accomplishments in the betterment of boat trailering safety and the boat trailering industry as a whole. Potter, Vice President of EZ Loader Custom Trailers in Arkansas, is set to retire later this year.

BTMA is composed of boat trailer and trailer component manufacturers that are active members of NMMA.

"Gary is extremely deserving of this recognition. As the only person to Chair both the BTMA and the NATM, he brought these two organizations closer and into full cooperation on trailer certification in a manner that saved members money," said Thom Dammrich, NMMA president. "Gary has served on NMMA Boards and has been an active and enthusiastic supporter of the industry. He is one of the industry's great advocates."

As a trailblazer in the boating industry, Potter's list of contributions includes:
Serving as the Chairman of the BTMA;
Serving as Chairman of the NMMA Trailer Certification Committee;
Serving on the NMMA Board of Directors and the NMMA Accessory Manufacturers Division Board of Directors;
Greatly strengthening the NMMA Certification program by spearheading initiatives from ensuring trailers are shipped into states meeting legal braking requirements to mitigating wheel separation;
Bringing NMMA and BTMA much closer to the National Association of Trailer Manufacturers, and brought us into the age of joint-inspections between the organizations;
Leading the association as BTMA made NMMA certification a requirement for all boat trailer manufacturing members;
Ensuring boat trailers contributed in a meaningful way to industry growth by bringing BTMA into Grow Boating;
Merging the NMMA Trailer Certification Committee into the BTMA Board; and
Helping to develop safety information to help create an even safer boat trailering experience
Robert Newsome, senior vice president of strategy, engineering standards and membership for NMMA, added, "There are very few people in this world that have done so much to improve an entire industry as Gary. In the past 15 years that I have had the pleasure to work with him, I have experienced first-hand his leadership and vision in so many areas."
To learn more about the BMTA, visit www.nmma.org/affiliates/btma.