NMMA State Advocacy Recap – April 2019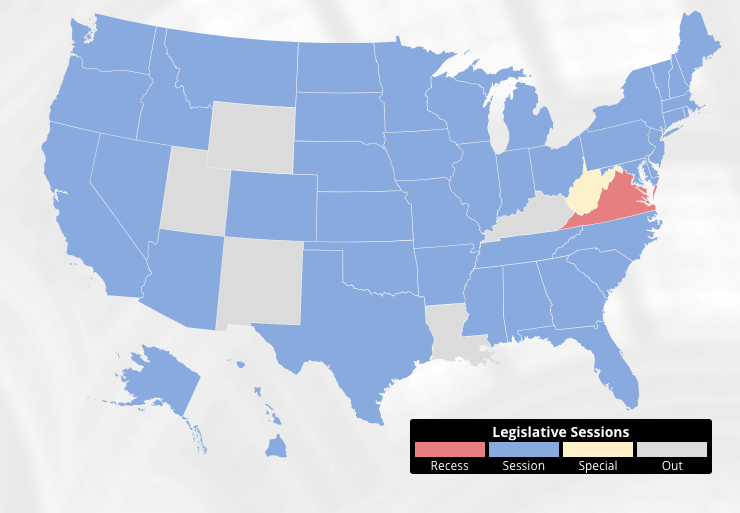 NMMA's state advocacy efforts were firing on all cylinders last month, with forty-three states in the middle of their legislative sessions and one in a special session. During this period, the recreational boating industry celebrated a major win in Georgia, as the legislature passed a law establishing vessel titling for the first time in the state's history.
Ranging from highly active to monitoring, on any day NMMA's state advocacy team is engaging on multiple issues across all 50 states. Below is a comprehensive accounting of the association's state efforts in the past month.
As part of NMMA's strategic plan, the association is bolstering its advocacy efforts at the state level, and this monthly recap serves a one-stop summary of the results from the expanded focus. Moving forward, NMMA will provide similar updates on the third or fourth Thursday of every month.
---
Highly Active
Vessel Titling – Securing strong boat titling legislation that protects consumers and small businesses from fraud progressed in key states.

Alabama – Last week, The Uniform Certificate of Title Act (SB152/HB303) was introduced in both chambers of the Alabama Legislature. Both versions were favorably reported out of their respective committees and will soon be read on the House and Senate floors.
Florida – NMMA's efforts to improve Florida's existing boat titling laws has been met with little opposition. The new legislation provides powerful consumer protections, as well as a number of changes to create uniformity with other states. It is supported by boating and legal experts – including the U.S. Coast Guard, BoatUS, NMMA, and the state's Department of Motor Vehicle and legislative leaders. The House version is expected to face a vote by the full body in the next week, and the Senate version will likely go to the floor for a vote in about two weeks. If enacted, Florida will be the first top 10 boating state to have adopted the Uniform Certificate of Vessels Act. NMMA is grateful for the unwavering support and hard work of Florida State Rep. Jaydor Williamson (HB0475) and Florida State Senator Ed Hooper (SB676).
Georgia – The Georgia Legislature passed vessel titling legislation (HB314) – marking the first time the state has passed a recreational boat titling measure – and sent it to Governor Kemps' desk who is expected to sign. Securing titling laws in key boating states is a top NMMA advocacy priority and the organization celebrated the bill's approval, calling it a major victory for the entire industry.
Boating Access and Infrastructure – Boating access can take many forms, from building and maintaining boat ramps to instituting laws that apply reasonable restrictions where needed. This may include efforts to prevent the spread of aquatic invasive species (AIS) to directing adequate funds for infrastructure, channel markers, and dredging.

Florida – Florida counties can assess their own boat registration fees, up to 50 percent of the state fee. Use of these funds are currently overly restricted. A bill championed by NMMA (HB529/SB436) authorizes counties and municipalities to use a portion of their registration fees to be used for construction and maintenance of boat ramps, channel dredging, and other water access projects. The legislation is poised for final passage during the week of April 22.
Georgia – The Jekyll Island area of the Intracoastal Waterway is the most silted-in segment of the 1,100-mile waterway. A model project is now underway to dredge the 1-mile stretch and use some dredge material to raise the level of surrounding marshes – a much-needed beneficial use to adapt to rising water levels without harming marsh flora and fauna. Partly through the lobbying efforts of the Atlantic Intracoastal Waterway Association (AIWA), on which NMMA has a board seat, AIWA helped identify funding and brokered support among state and federal officials.
Wake Surfing – The sale of wake boats rose 12 percent year over year in December 2018, making it the fasted growing segment of the recreational boating industry. However, its popularity has drawn potentially damaging attention from homeowners, lawmakers, and regulators.

New Hampshire – Concerned that regulators and legislators did not fully understand the benefits and challenges presented by wake boats, the New Hampshire legislature is considering House Bill HB137, which would create a study committee to assess impacts wake boats may have on the waters of New Hampshire. The 21-member commission includes representatives from government, homeowners, boat dealers and owners, and law enforcement. Before lobbying led by the Water Sports Industry Association (WSIA) and NMMA, the commission's makeup excluded most input from the boating community.
Vermont – A bill that would give a state commission the authority to ban wake boats from any waterbody in the state was recently introduced as SB69. Its sponsor, Senator Paul Rodgers, is concerned about the possibility that ballasted boats would transmit AIS if trailered from one body of water to another. NMMA has hired a local lobbyist and is gathering a coalition of supporters to oppose the bill, which at this point has not moved forward in many weeks.
Montana – Under the requirements of HB608, drivers trailering boats will be stopped at the Montana border and quizzed to determine the likelihood that a boat will contaminate the state's waters. Those who can prove their boat is clean or assert they will not launch within the state can pass through. Anyone planning to use their wake boat in the state will be required to undergo decontamination. NMMA shares Montana's concern about the spread of AIS, however if inspections are to be made, they should include all boats. HB 608 has cleared the House and is before the Senate Natural Resources Committee.
Idaho – Valley County in the mountains of Utah is considering an ordinance that would require wake boats to be 1,000 feet off shore, and personal watercraft (PWC) would be required to be 300 feet from shore. Other restrictions may be considered during the April 22 meeting of the county commission. WSIA and the Personal Watercraft Industry Association (PWIA) have hired lobbyists to help oppose these overly-restrictive regulations.
Fishing

California – NMMA, as a founder and president of the California Sportfishing League, is deeply involved in the passage of bill that would create a 12-month fishing license for anglers. The California Assembly's Appropriations Committee recently voted unanimously to support fishing licenses that expire 12 months after the date of purchase, a change that will provide greater value to anglers. Currently, licenses expire on December 31, regardless of when they are purchased. With the support of NMMA, the California Sportfishing League, ASA and 20 other organizations, the new fee structure called for in AB1387 would be a step toward reversing the precipitous decline in fishing participation in the state.
Moderately Active
Taxes – Tax caps or sales tax eliminations have been a common theme during this legislative session. Tax cap programs are prevalent throughout the east coast, causing states to constantly tweak their tax laws to try and keep their boating industries competitive.

Connecticut – Governor Lamont's budget eliminated the 2.99 percent tax rate for new boat sales and maintenance that was passed in 2018. This elimination would reinstate a 6.35 percent sales tax on the boating industry potentially causing businesses to move into the surrounding states with a better tax rate.
Massachusetts – Senate Bill 1734 would repeal sales tax on boats built or rebuilt within the state of Massachusetts, which currently has the highest sales tax rate in New England.
Texas – Texas yacht brokers and others, including NMMA, are supporting an effort to cap sales taxes paid on yacht sales at $18,750. A similar cap is in place in numerous states, including Missouri, New York, New Jersey, Connecticut, Maryland, Georgia and Florida. HB 4032 is expected to face votes in committee in the near future.
Outdoor Recreation – Outdoor recreation offices play a critical role in increasing outdoor recreation participation by working with local communities to improve infrastructure, coordinating recreation efforts statewide, and promoting the benefits of engaging in outdoor recreation among the citizens of their state.

Minnesota – House Bill 2220, establishing an Outdoor Recreation Office in Minnesota, was included in the Environment and Natural Resources Omnibus bill. This office would be created under "Explore Minnesota Tourism" with the intent to further increase outdoor recreation as well as promote and attract outdoor recreation industry businesses.
California– Gov. Jerry Brown vetoed a bill in 2018 that would have created the California Office of Outdoor Recreation, however the coalition supported introduction of AB 1111 this year and is the coalition is working to secure its passage.
Engine cutoff switches

Texas – The House has passed a bill that would require boat operators to use automatic cutoff switches, if they were installed by the engine manufacturer. SB 210 is now under consideration in the Senate.
Monitoring
Aquatic Invasive Species – AIS continue to spread throughout the US, threatening America's water habitats with long-lasting environmental damage that directly affects boaters, anglers, local communities, and the marine manufacturing industry. One of NMMA's goals is to curb the spread of AIS in order to protect freshwater and marine boater access areas.

Oregon –The Oregon State Marine Board introduced House Bill 2076, which expanded the clean, drain, dry requirements for boaters. NMMA helped educate Marine Board staff that pontoon vessels have permanent service drainage plugs that if pulled would cause damage to those vessels. NMMA will continue to fight to exclude pontoon service plugs from being pulled during decontamination operations.
Wake Surfing

Wisconsin and Minnesota – Homeowners' associations and local governments have attempted in the past two years to restrict or ban wake surfing in a few lakes. Given the general sense of concern about the use of wake boats, these states merit close attention.
Taxes

California – Assembly Bill 147 would increase the existing Amazon law for online sales in the state of California. This bill comes in the aftermath of the Wayfair v. South Dakota ruling last summer. Every state now has the right to review and update their existing online sales tax law.
Prop Guards

New York – For the second consecutive year, the New York legislature is considering a bill that would require all boats used in the instruction of youth be equipped with a prop guard. The USCG opposes the mandate because states do not have the legal authority to mandate safety equipment on vessels. NMMA opposes the bill because prop guards were determined to have unpredictable and dangerous impacts on boat handling. The bill, S35, is currently stalled in committee.

Associations, Boards and Meetings
Aquatic Nuisance Species Task Force – Libby Yranski participated in planning calls for the Task Force's five-year strategic plan (2019 – 2024). Libby is a member of two strategic planning teams: The Outreach Team and the Control and Restoration Team. The Task Force will be finalizing their strategic plan later this year and submitting it to Congress for approval.
Atlantic Intracoastal Waterway Association – Leaders of the Atlantic Intracoastal Waterway Association achieved a major milestone recently after meeting with more than a dozen members of Congress and the U.S. Army Corps of Engineers. Congressional support has always been a cornerstone of AIWA's efforts to increase funding for the dredging and maintenance of the ICW. The results from the lobbying done by members of AIWA's board of directors, which includes NMMA, were groundbreaking – for the first time, a letter encouraging Congress to maintain or increase ICW funding was signed by all 16 House members from Florida, Georgia, South Carolina, North Carolina, and Virginia whose districts border the ICW. AIWA's goal is to exceed the $20 million appropriated for ICW work in 2019. Demonstrated support among members of Congress is an excellent beginning for the push for funding, which starts anew every year.
Personal Watercraft Industry Association – A long running concern of PWIA is ensuring that PWC have equal access to the Florida Keys National Marine Sanctuary. The FKNMS management plan is expected to be release in coming months and PWIA is prepared to assess and react to the recommendations included in that report.

If you have questions or would like additional information, please contact NMMA vice president of state government relations, David Dickerson at [email protected], NMMA director of state government relations, Libby Yranski at [email protected], NMMA policy and engagement manager for the Great Lakes region, Jill Sims at [email protected], or NMMA policy and engagement manager for the southeast, Lee Gatts at [email protected].