BoatPAC Exceeds 2018 Fundraising Goal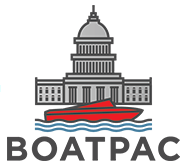 NMMA recently announced that BoatPAC exceeded their 2018 fundraising goal of $200,000, raising nearly $202,000 from 348 donors – up from $154,000 and 312 donors in 2017. BoatPAC is the federal political action committee of NMMA and the Marine Retailers Association of the Americas (MRAA), which supports the election of candidates to the United States Congress who are strong advocates for recreational boating.
In response, NMMA's President, Thom Dammrich, stated "We are extremely grateful to everyone who helped BoatPAC surpass its ambitious 2018 fundraising benchmark. Thanks to this generous support, we have cultivated new, important relationships with members of Congress to help ensure the industry's priorities are front and center in Washington, D.C.
"For 2019, we have increased BoatPAC's goal to $250,000 – a level that will make our advocacy efforts even more formidable. We look forward to working with our industry partners to achieve it."
A full list of BoatPAC's 2018 contributors is below.
To learn more about BoatPAC, please click the following link and fill out a prior approval form: https://www.boatpac.org/prior-approval-form/
If you have questions, please contact NMMA Senior Vice President of Government Relations and Legal Affairs, Nicole Vasilaros at nvasilaros@nmma.org or NMMA Director of Political Engagement and Advocacy, Erica Crocker at ecrocker@nmma.org.
---
President's Club ($5,000)

Thom Dammrich
Bill Fenech
Joan Maxwell
Bill Pegg
Eddie Smith
Brunswick Corporation Good Government Fund
Polaris Industries Inc Political Participation Program
Admiral's Club ($2,500+)
Kris Carroll
Scott Deal
Owen Maxwell
Chuck Rowe
Clarke Smith
Doug Smoker
Ben Speciale
Bill Watters
Captain's Level ($1,500+)
Carl Blackwell
Craig Boskey
Dean Burnett
Tommy Hancock
Duane Kuck
John Kujawa
Joe Lewis
John Livingston
John McKnight
Terry McNew
Joe Neber
Martin Peters
Scott Porter
Dana Russikoff
Tom Slikkers
Jeff Stone
John Swick
Nicole Vasilaros
Mick Webber
$1000 Club
Ann Baldree
Bill Boehman
Maurice Bowen
Huw Bower
Craig Brosenne
Tom Carroll
Louis Chemi
David Dickerson
Shawn Easton
Phil Estes
Ray Fernandez
John Giglio
Cale Grauer
Jeff Hall
Steve Heese
Ellen Hopkins
Ron Huibers
Joe Kirkland
Jon Kushner
Don Mackenzie
Tom McCuddy
Kitty McGowan
Rob Newsome
Rob Parmentier
Darren Plymale
Steve Potts
Jon Pritko
Kevin Roggenbuck
Larry Russo
Jeff Siems
Rob Soucy
Jack Springer
Paxson St. Clair
Jeff Strong
Chad Taylor
Jen Thompson
Rick Tinker
Peter Truslow
Ben Wold
Bill Yeargin
Purser's Club ($750+)
Craig Clawson
Michael Collins
Erica Crocker
Mark Doggett
Doug Gomes
Matt Gruhn
Jim Leffew
John Marcinek
Mike Pasko
Grant Porter
Shelley Tubaugh
Joseph Weller
Lance West
First Mate's Club ($365+)
Mark Amaral
Michael Ammons
Ron Bailey
Julie Balzano
Dale Barnes
Peter Barrett
Alex Berry
Jason Blackburn
George Blakely
Susan Blaxill-Deal
Martin Boyer
Eric Braitmayer
David Briggs
Mike Browne
Brandon Broxson
Kevin Carlan
Jill Carraway
Terry Clark
John Clarke
Derek Cornelius
Donny Covington
Jon Devitt
Keri Doscher
Chris Drees
Steven Driscoll
Darren Envall
Michael Fafard
Stephen Farinacci
Steven Flowers
Lindsey Garner
Donna Giddens
David Glass
Michele Goldsmith
Ryan Good
Robert Gross
Adam Hall
Jim Hardin
Rachel Harmon
John Hawley
Scott Higgins
Joe Hoffmaster
Jason Hogg
Joe Holtschulte
Greg House

Joseph Hunter
Greg Lentine
Lorraine Leveronne
Scott Lewitt
Ken Lovell
Joe Maniscalco
Nadia Martinez
Bob McAlpine
Bill McDaniel
Mark McKinney
Jinger McPeak
David Meeler
Kimberly Muncy
Mike Munsch
David Neese
Keith Ogulnick
Freya Olsen
Dorian Osborne
Jason Pajonk-Taylor
Joe Pegg
Vincent Peze
Mark Poncin
Wayne Porter
Richard Reyenger
Colleen Ricardson
John Rigsby
Javier Rodriquez
Jeff Rose
Tracy Sikorski
Ken Smaga
Jeffery Smith
Phil Smoker
Karla Standish
Kathy Stensby
Steve Tilders
Mark Tracy
Ned Trigg
Karen Trostle
Mike Vanwagenen
Toby Wadman
Jeff Wasil
Michael Werle
Tony Williams
Matt Wood
Mark Yearn