Take Action: Vote on Modern Fish Act Scheduled for Next Tuesday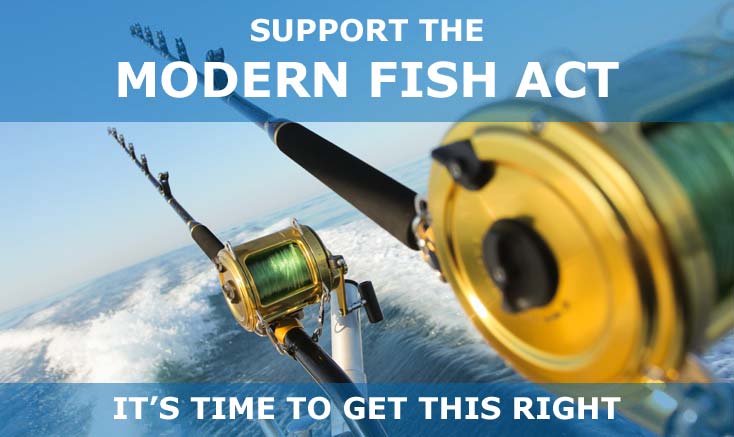 Next Tuesday, the U.S. House of Representatives will vote on the Modern Fish Act (MFA) – which modernizes outdated regulations that govern recreational fishing in saltwater. In addition, the U.S. Senate is moving forward with similar legislation.
Under antiquated rules, all fishing activities in federally managed saltwater are subject to the same regulations. Recreational fishing and commercial fishing are two fundamentally different activities that require distinctly different management tools. MFA corrects this issue by making critically important changes to federal fishing regulations.
With MFA making its way through Congress, NMMA joined the Congressional Sportsmen Caucus for a fly-in last week to advocate for approval of this pivotal legislation. David Slikkers, S2 Yachts, Randall Lyons, Massachusetts Marine Trade Association, and Martin Peters, Yamaha participated in the fly-in along with key sportsmen and angling advocates. Overall, participants met with Congressional staff from more than 30 key lawmakers' offices.
The meetings provided an opportunity to discuss how recreational fishing requires distinctly different management tools and better data resources. Participants made the case that MFA provides the necessary tools to properly manage recreational anglers and encouraged the staff to advocate for its passage.
For more information about the Modern Fish Act or the fly-in, please contact NMMA Senior Vice President of Government and Legal Affairs, Nicole Vasilaros at
[email protected]
or NMMA Director of Political Engagement and Advocacy, Erica Crocker at 202-737-9776 or
[email protected]
.
Background on the Modern Fishing Act
Allows for recreational fisheries to be managed using more appropriate management tools.
Modifies the annual catch limit requirement to allow for more adaptive approaches.
Requires managers in the southeastern U.S. to perform long-overdue examinations of fishery allocations, based on modern criteria.
Limits the spread of catch share programs that have negatively impacted anglers and fishing communities.
Promotes consideration of new data collection methods that could improve fisheries management and conservation.
Ensures exempted fishing permits help fisheries management and conservation — rather than the status quo which can hinder both.