On Heels of ABC, NMMA Hails New Consumer Education Legislation on Risks of Fuel with High Ethanol Content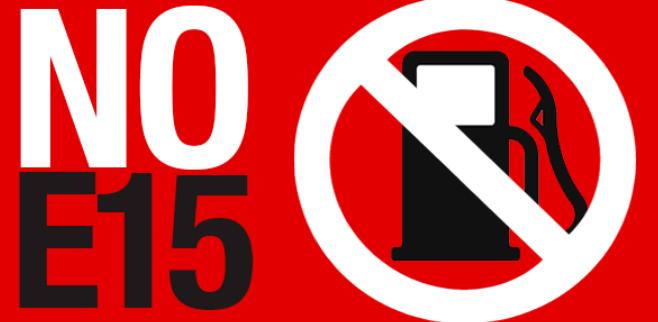 On the heels of the American Boating Congress (ABC), NMMA is applauding Representatives Austin Scott (R-GA-08) and Lois Frankel (D-FL-21) for introducing the Consumer Protection and Fuel Transparency Act of 2018, which requires the Environmental Protection Agency (EPA) to expand consumer awareness on how to safely use fuel containing more than ten percent ethanol. Since marine engines are prohibited from using fuel with more than ten percent ethanol content, namely E15 (fuel containing fifteen percent ethanol), improved labeling, fuel pump safeguards, and education outreach are key to protecting consumers.
During ABC, NMMA held a special sit-down Q&A with NMMA President, Thom Dammrich, and EPA Administrator, Scott Pruitt, who noted the need for consumer education and labeling surrounding E15. In fact, what's being put forth in the Consumer Protection and Fuel Transparency Act is exactly the kind education and labeling Pruitt acknowledged is important.
"American consumers and our country's 142 million boaters need this bill to pass so they can be protected from the dangers associated with improperly fueling their boat, or other small engines," said Dammrich. "Thanks to the leadership of Representative Scott and Representative Frankel, and ongoing engagement from our industry on this issue, this legislation calls for both a public education campaign and smart labeling at the pump to protect boat owners."
Dammrich continued, "E15 fuel is sold at many retail gas stations, and currently 63 percent of consumers assume all products sold at these stations are safe for their engines despite the fact that high ethanol fuel blends are prohibited in boat engines. Ninety-five percent of boat owners fuel their boat at a local gas station, which is why consumer awareness at the pump is so critical. To address this problem, the Consumer Protection and Fuel Transparency Act of 2018 will promote much-needed public education on the proper use of E15, mitigating the risk of misfuelling at the pump for our nation's boat owners, who collectively own more than 12 million recreational boats.
"To combat the EPA's current inadequate E15 labeling, this bill directs the agency to involve consumers, through focus group-testing, in creating labels and pump safeguards that effectively raise awareness of the prohibited uses of E15. A key component of this effort is the implementation of safeguards that reach the consumer at the point of sale. To be successful, these safeguards must provide a seamless experience and instantly alleviate consumers' risk, such as requiring confirmation of fuel choice on a gas station keypad before dispensing E15.
"Additionally, the legislation requires stakeholder input – something our community has consistently sought – from engine manufacturers who've seen the impact of E15 first-hand and can advise on how to effectively communicate misfuelling risks to the boating consumer.
"This two-pronged process, which gathers and tests insights and then delivers realistic solutions, will safeguard American consumers from inappropriate use of this fuel blend. Our members – spanning recreational boat, engine and marine accessory manufacturers – and our partners across the small engine and auto industries who share our concern, are encouraged that Representative Scott and Representative Frankel have chosen to address this issue head on and recognize the need to make consumer safety a priority."
Upon introducing the Consumer Protection and Fuel Transparency Act of 2018, Rep. Scott and Rep. Frankel issued the following statements:
"As we are presented with more choices at the gas pump, it is imperative that American consumers know exactly what kind of fuel they are putting into their engines," said Rep. Scott. "Gas pumps today are riddled with confusing labels and fail to adequately warn consumers of the dangers of fueling small engine equipment with E15. For this reason, with the support of Congresswoman Frankel, I introduced the Consumer Protection and Fuel Transparency Act of 2018 to ensure that E15 is more clearly labelled and consumers are made better aware of the damages misfueling can cause to their vehicles, power equipment and boats. By making fuel pump labels easier to decipher and coordinating public education programs at multiple levels, this legislation can save consumers time and energy at the pumps and avoid headaches and costs down the road."
"In Florida, recreational boating is more than just a way of life – it's an $11 billion industry supporting more than 56,000 jobs," said Rep. Frankel. "This bipartisan bill educates people on their fueling options to keep boats running well, so it's calm waters all year long."
Background:
The Consumer Protection and Fuel Transparency Act of 2018 addresses the challenge posed by E15 head on and will direct the Administrator of the EPA to:
Revise the labeling requirements for fuel pumps that dispense E15;
Solicit input and requirements for these revised labels from industries that manufacture vehicles, engines, and equipment prohibited from using E15, including boats, lawnmowers, chainsaws, motorcycles, and snowmobiles;
Include the word "WARNING" on the labels, which shall be no smaller than 5x7 inches;
Include pictograms on the labels that depict specific products that are prohibited from using E15 including a boat, lawnmower, chainsaw, motorcycle, and snowmobile;
Include other indicators on the labels developed by the Administrator in consultation with the American National Standards Institute;
Focus group test these labels to ensure their effectiveness;
Develop and commence a public education campaign, in consultation with the affected industries, that provides adequate awareness of the risks associated with E15 and the vehicles, engines, and equipment prohibited from using E15;
Include outreach to consumers at the point of sale, prior to dispensing, in the public education campaign;
Submit a report to Congress no later than one year after the date of enactment of this Act, regarding public education efforts and including data and metrics on consumer awareness of appropriate uses of E15.
According to a Harris Poll commissioned by the Outdoor Power Equipment Institute (2017):
63 percent of consumers assume any gas sold at a retail gas station must be safe for their product.
95 percent of boats are fueled at retail gas stations. Boat owners depend on safe, reliable and proven fuel choices to be universally available.
Misfuelling of engines voids warranties, leaving consumers with expensive repair and replacement bills.
Only seven percent of consumers know that E15 is prohibited in all engines except late model automobiles.
For more information on this bill, please contact NMMA Senior Vice President of Government and Legal Affairs, Nicole Vasilaros at [email protected] or NMMA Director of Federal Affairs, Michael Pasko at [email protected]