Modern Fish Act takes major step toward becoming law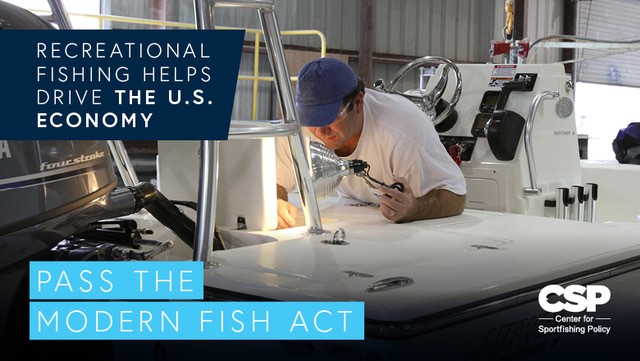 Yesterday, the U.S. Senate Committee on Commerce, Science, and Transportation overwhelmingly approved S. 1520, the Modernizing Recreational Fisheries Management Act of 2017 (Modern Fish Act). This legislation calls for critically important updates to the oversight of federal fisheries, including adding more tools to the management toolbox, improving data collection techniques, and examining some fishery allocations that are based on decades-old decisions.
The Modern Fish Act was introduced in the Senate in July 2017 by Sens. Roger Wicker (R-Miss.) and Bill Nelson (D-Fla.). It has since received strong bipartisan support from 12 cosponsors representing coastal and non-coastal states alike. In addition, a broad coalition of organizations representing the saltwater recreational fishing and boating community has endorsed the Modern Fish Act and highlighted the importance of updating the nation's fisheries management system to more accurately distinguish between recreational and commercial fishing.
"The bipartisan leadership on display today in the Senate Commerce Committee will not soon be forgotten by America's 11 million saltwater recreational anglers," said Jeff Angers, president of the Center for Sportfishing Policy. "We want to thank our many champions in Congress, particularly Sens. Wicker and Nelson, for recognizing the need for serious reforms to the broken federal fisheries management system. We look forward to working with congressional leaders in both chambers to get this legislation across the finish line."
Through years of deliberation, the priorities of the recreational fishing and boating community were identified and presented to federal policy makers by the Commission on Saltwater Recreational Fisheries Management. This group is also referred to as the Morris-Deal Commission, named for co-chairs Johnny Morris, founder and CEO of Bass Pro Shops, and Scott Deal, president of Maverick Boat Group. In 2014, the Morris-Deal Commission released "A Vision for Managing America's Saltwater Recreational Fisheries," which included six key policy changes to expand saltwater recreational fishing's social, economic and conservation benefits to the nation.
Many recommendations of the Morris-Deal Commission are addressed by the legislation passed yesterday by the Senate Commerce Committee.
"For too long, the federal fisheries management system has limited access for America's recreational anglers and boaters due to faulty data and misguided regulations, which in turn has jeopardized the economic vitality of the recreational boating industry," said Thom Dammrich, president of the National Marine Manufacturers Association. "On behalf of the estimated 650,000 workers the recreational boating industry supports, we are eager to continue working with our allies in both chambers of Congress to get this important legislation to the president's desk."
"In addition to the great work by Sens. Wicker and Nelson, the recreational boating and fishing industries want to specifically thank Senator Cory Booker (D-NJ) and Senator Gary Peters (D-MI) for their support and work in understanding the impact of this bill across both our economy and waterways conservation efforts," said Nicole Vasilaros, vice president of federal and legal affairs for NMMA. "What's more, NMMA applauds our members who again made their voices heard--whether through social media, emails or in-person meetings with Members of Congress--helping ensure the bill's success today. We will be calling on you for your continued support as we work to see the Modern Fish Act move through the House and Senate and signed into law."
On December 13, 2017, the Modern Fish Act (H.R. 2023) was approved by the House Natural Resources Committee as part of H.R. 200.
Following today's vote, the coalition encourages Senate leadership to quickly bring S. 1520 to the floor for final passage. Marine recreational anglers and boaters are eager to see this landmark legislation move through the House and Senate and signed into law.
For the complete press release from the Center for Sportfishing Policy, NMMA and our partners,
click here
.