Vice President Pence Visits NMMA Member Correct Craft, Addresses Tax Reform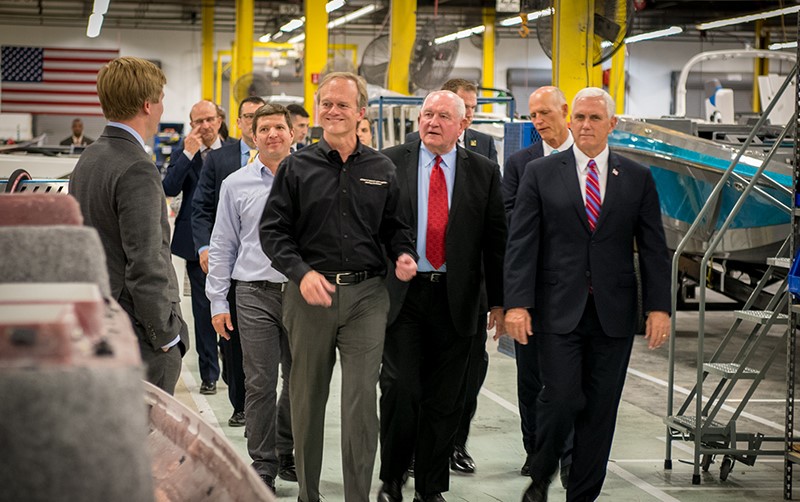 Yesterday, Vice President Mike Pence visited NMMA member Correct Craft's world headquarters and home to its largest subsidiary, Nautique Boat Company. Vice President Pence was joined by Florida Governor Rick Scott and U.S. Secretary of Agriculture Sonny Perdue.
Pence and fellow leaders toured the Nautique production facility, meeting with several Correct Craft and Nautique employees. After the tour, the group participated in a roundtable hosted by Correct Craft CEO Bill Yeargin, during which Central Florida community members shared their ideas with the leaders.
During the visit, Vice President Pence also shared remarks with employees, guests, and the media related to the Administration's plan for tax reform.
Yeargin stated, "Our team was truly honored to host Vice President Pence, Governor Scott, and Secretary Perdue today at our facility. It was a great visit and the leaders appreciated learning about Correct Craft and our subsidiaries, including Nautique Boats." Yeargin added, "I also appreciate the interest these men had in hearing from people in our community. It has been a privilege to host an event providing these leaders with constructive input related to their work in Washington and Tallahassee."
As Vice President Pence highlighted tax reform during his visit, the NMMA government affairs team has been working its way through the 400+ page tax reform legislation unveiled by House Republicans. NMMA will share thoughts on the plan as it continues to be a focus in Washington through the remainder of the legislative calendar year. That said, one noteworthy provision to flag for NMMA members is regarding the interest deduction for boats qualifying as a second home. We have seen in the past, attempts by Members of Congress to single out boats for disqualification from this deduction. Language introduced today eliminates for taxpayers the itemized deduction for mortgage interest paid with respect to ALL non-principal residences. Boats that have qualified to date are no longer eligible nor are RVs, vacation homes or any other sorts of previously qualifying second home properties. So while boats are not singled out, the interest deduction is being eliminated in this draft of the legislation.
As we continue to analyze the bill and language of greatest importance to NMMA's members, the NMMA government relations team will provide ongoing updates on negotiations over the interest deduction provision and other provisions that impact marine manufacturing as well as our industry's many small businesses and middle-class boating consumers and workers. This is only the beginning of the tax reform process. During the negotiations to come many provisions in the bill will be changed or removed.