Recreational Boating Leaders Hold Capitol Hill Briefings on Boating Safety and Infrastructure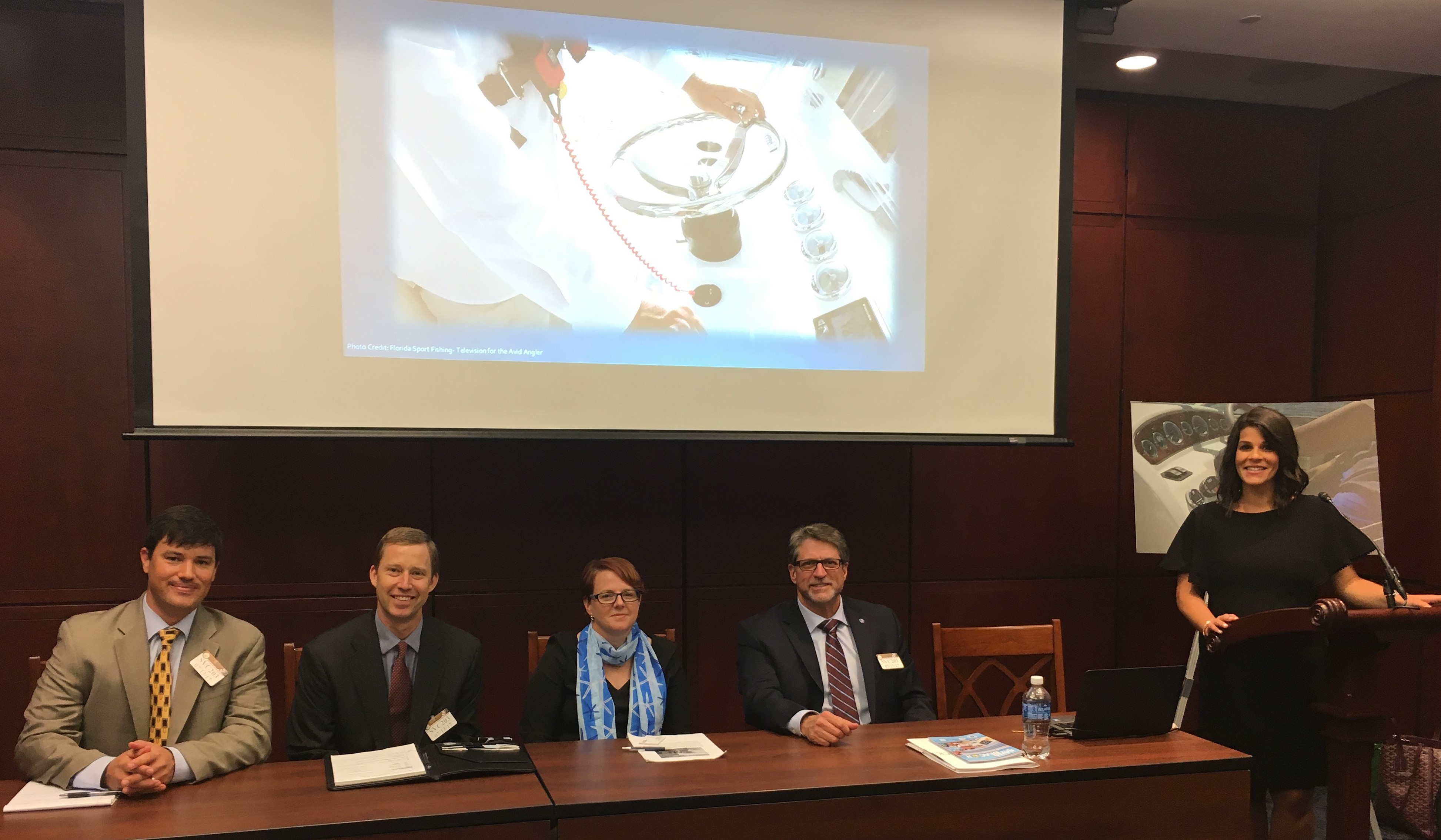 Recreational boating took center stage on Capitol Hill last week, as industry leaders held briefings in conjunction with the Congressional Boating Caucus. The briefing, titled 'Boating Safety and Infrastructure,' focused on issues ranging from dredging the Intracoastal Waterway (ICW) and engine cut-off devices, to aquatic invasive species and public-private partnerships with marinas, presented by a panel of industry experts, which included: NMMA Federal and Legal Affairs Vice President Nicole Vasilaros; Brunswick Corporation Product Integrity and Government Affairs Director Dave Marlow; BoatUS Foundation VP and Director of Environmental Programs Susan Shingledecker; Atlantic Intracoastal Waterway Association (AIWA) Executive Director Brad Pickel; and Safe Harbor Marinas Senior Vice President of Operations John Swick.
Hosted by NMMA, Boat Owners Association of The United States (BoatUS) and Marine Retailers Association of the Americas (MRAA), the briefings highlighted the impact recreational boating has on the U.S. economy— a $121 billion annual contribution—and how Congress can help protect it through supporting key boating safety and infrastructure programs. Topics of discussion included the following:
NMMA's Vasilaros opened with an overview of the industry, followed by its boating infrastructure priorities, such as increased support for public-private partnerships to help address the maintenance backlog and aging infrastructure on federal lands and waterways.
Brunswick Corporation's Marlow provided an in-depth analysis on how engine cut-off devices and Emergency Locater Beacons (ELBs) improve safety for boaters and why they should be supported in U.S. Coast Guard reauthorization bills.
BoatUS Foundation's Shingledecker reviewed the impact Aquatic Invasive Species (AIS) can have on the nation's waters and importance of finding a consistent approach to the management of invasive species transport by boat, which varies across the U.S. currently.
AIWA's Pickel emphasized the critical importance of dredging the ICW to authorized depths for commercial and recreational boating via providing the U.S. Army Corps of Engineers with the necessary funding.
Safe Harbor Marinas' Swick wrapped up the panel discussion with ways he and his team maintain marinas for safe use across 17 states and opportunities for public-private partnerships with the Army Corps of Engineers and other federal and state water managers.
The briefings gathered nearly 80 attendees total, raising awareness of the key issues our industry is facing today and how we can work together to protect its 88 million boaters nationwide.
For more information or questions, please contact Nicole Vasilaros at [email protected].