Jake Owen Talks Boating with National Media in NYC
Jake Owen, country music star and Discover Boating ambassador, was in New York City earlier this month meeting with national media outlets to talk about his music and his love for life on the water.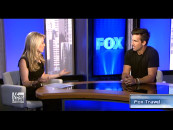 Check out his Fox News interview here, where Owen talks about growing up on the water and his favorite boating activities. You can also watch his interview with People.com here.

Stay tuned for more coverage slated to run in the coming weeks!