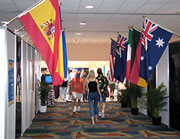 NMMA and the International Council of Marine Industry Associations (ICOMIA) are active partners addressing recreational boating industry initiatives and programs as well as sharing industry statistics and resources including:
ICOMIA 2017 Equipment Distributors Database provides a list of equipment distributors in the ICOMIA member countries; a helpful resource for instigating international collaborations. NMMA Members can download the distributor database by logging in here.
International Data, Research, Economic Trends and Statistics – NMMA and ICOMIA publications highlight important quarterly economic statistics and trends by country. Economic indicators in the report include inflation rate, percentage of economic growth (index varies by country), unemployment, and consumer confidence. Visit the NMMA International Data and Research page to learn more.
With more than 95% of the world's consumers located outside of the United States, exporting opens up a huge untapped market for U.S. businesses. Companies that export are more profitable, grow more quickly, and are better equipped to navigate economic downturns.
NMMA works to help marine businesses expand into the global marketplace through:
international programs
business-to-business connections
market research
exporter education
trade advocacy
As a member, NMMA's Export Development Program is designed to help you grow your export business. Together with our partners at the U.S. Department of Commerce, we offer a variety of resources and services to help you tap into the world market, including USA pavilions at international shows, export counseling, international product certification, and export barrier and unfair trade assistance.
Learn more by visiting NMMA International Resources or contacting Julie Balzano, NMMA's Export Development Director.