The National Marine Manufacturers Association Hall of Fame was established in 1988 to recognize and honor individuals who have made or continue to make substantial contributions toward the advancement of the marine industry. It is NMMA's most prestigious recognition.
HALL OF FAME NOMINATION CRITERIA
To be eligible for the NMMA Hall of Fame Award one must:
Made a substantial and lasting impact on the industry or their particular segment

Known in the industry and is beyond personal or professional reproach

A past (deceased/retired) or current member and supporter of NMMA

Actively involved in the marine industry for a minimum of ten years
NOMINATION PROCESS
Active members in good standing with the NMMA are eligible to nominate a worthy leader. Nominations will be accepted in Spring 2022.
QUESTIONS
Contact: Rachel Harmon
Email: rharmon@nmma.org
AWARD RECIPIENTS
1995: John F. Morse, Jr., Morse Controls and Sylvan "Ham" Hamberger, Tracker Marine
Sylvan "Ham" Hamberger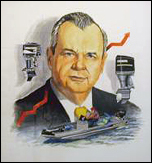 Over the course of his 40-year career in the marine industry, Sylvan "Ham" Hamberger built a solid reputation as an industry leader and marketing innovator. From his early days as partner in a Baltimore marine dealership to top positions with major engine and boat manufacturers, Ham has always been quick to recognize opportunity and develop ideas on the cutting edge. Known for his personal style, Ham stands out for his congenial nature, original ideas and ability to dramatize stories and advice with memorable visual images.
Hamberger's history with the marine industry began in 1954 when, after graduating from the University of Baltimore with a degree in Industrial Management, he and a college friend founded a Baltimore marine dealership called Central Outboards, which sold Mercury Marine products. In those days, dealers were often responsible for assembling a large portion of the boats they sold. Hamberger soon saw problems with this approach, as well as the lack of knowledge among most manufacturers about what a dealership is all about; he went straight to Mercury to ask for a job. He was given the outboard engine sales territory, which included much of New York state.
Over the next 22 years, Hamberger rose through the ranks of Mercury, becoming vice president and general manager with worldwide responsibility for sales and marketing. He directed many successful advertising campaigns for the company, including the famous "black max" ad and the memorable "switch ad" series which showed dealers who chose to sell his products over those of competitors. Ham found equal success in developing original training programs for Mercury dealers and personnel. His basic training philosophy: "You're never as good as you were last year. You're either better or you're worse, and if you don't actively expand your skills, you start to slide backwards."
Hamberger left Mercury in 1979 to work for Boston Whaler before joining Yamaha Motor Corporation in 1982 as division manager of Yamaha Outboards. There he successfully orchestrated the introduction of Yamaha Outboards into the U.S. market and was elected senior vice president, general manager and a board of director for Yamaha Motors USA. Through Hamberger's guidance, Yamaha's outboard motor division captured 15 percent of the market, moving from scratch to sales of more than $300 million. In 1989, Ham left Yamaha to become president, CEO and partner at Tracker Marine. Through his direction, Tracker Marine accelerated quickly as an industry leader.
Through his distinguished career, Hamberger's training and development programs became legendary in the boating world. Many industry executives recount his famous "briefcase story," a motivational speech about how his briefcase could carry a wealth of customer benefits, and how product knowledge could lead to business success and a prosperous future. Closing with something the audience was sure to remember, Ham climbed on the briefcase, telling his audience, "If you forget everything else, you will remember a fat man standing on a briefcase."
In addition to his very active business career, Hamberger also found time to serve the marine industry as a whole. He held positions as chairman for the National Marine Manufacturers Association and the Association of Marine Engine Manufacturers, and on directors' boards for the National Association of Boat Manufacturers, the American Sportfishing Association, the Federal Boat Safety Advisory Council, the American Boat and Yacht Council and the American Water Ski Education Foundation. Since his retirement in 1994, Ham has been living in Palm Desert, California, with his wife, Connie, where he continues to remain active in the industry as a consultant.