The National Marine Manufacturers Association Hall of Fame was established in 1988 to recognize and honor individuals who have made or continue to make substantial contributions toward the advancement of the marine industry. It is NMMA's most prestigious recognition.
HALL OF FAME NOMINATION CRITERIA
To be eligible for the NMMA Hall of Fame Award one must:
Made a substantial and lasting impact on the industry or their particular segment

Known in the industry and is beyond personal or professional reproach

A past (deceased/retired) or current member and supporter of NMMA

Actively involved in the marine industry for a minimum of ten years
NOMINATION PROCESS
Active members in good standing with the NMMA are eligible to nominate a worthy leader. Nominations will be accepted in Spring 2022.
QUESTIONS
Contact: Rachel Harmon
Email: rharmon@nmma.org
AWARD RECIPIENTS
1995: John F. Morse, Jr., Morse Controls and Sylvan "Ham" Hamberger, Tracker Marine
John F. Morse, Jr.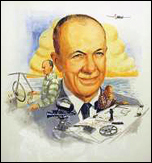 With over 75 patents to his credit in industries as diverse as boating, photography, aviation and industrial equipment, it is evident that John F. Morse had both a natural talent and intense curiosity about the way things work. At age 12, Morse was already combining entrepreneurial flair with mechanical ability, making and selling radio parts at an average of $2.00 an hour.
Born in Cleveland in 1905, Morse was more of a native son to Hudson, Ohio, where he established the Morse Instrument Company as one of the city's largest employers and became widely known as "Hudson's Edison." He came from a family of engineers, but had little patience for academics. Morse spent less than a semester at the University of Michigan before he decided that it wasn't for him. Inspired by Lindbergh's historic crossing of the Atlantic in 1927, he joined the Army Air Corps to learn to fly, but discovered he was only one of hundreds of similarly motivated young men.
Opting instead for a military photography course, he found an affinity—and, later, the basis for a successful business. He teamed up with First Lt. George Goddard, another inventive mind, who rose to the rank of General in charge of photoreconnaissance during World War II. Goddard quickly put Morse to work on ideas for improving military photo equipment and making the United States first in photoreconnaissancMorse left the Army to run his own photo finishing business, but an R&D job with the B.F. Goodrich led him back to the military—and Goddard—when he invented a patented propeller de-icing device used on war planes. At Goddard's urging, Morse started the Morse Instrument Company to take on government projects, creating and manufacturing reconnaissance equipment for the pending war. Among his accomplishments were a large focal plane shutter, allowing the first night aerial photograph of Chicago, and the aerial gun camera used to verify target hits. During the peak of the war, Morse supplied about one-fifth of the reconnaissance equipment used by the U.S. and its allies, employed some 400 people, and added eight more patents to his list.
To keep his company viable after the war, Morse turned to another hobby—power boating—to create a new line of products. A patent for a control system developed for his own boat would spawn 35 other Morse patents, all relating to single-lever controls for marine engines. The single-lever control was inspired by Morse's experience with airplanes, which replaced two separate levers for throttle and direction. The single-lever control did for boating what automatic transmission did for cars, greatly simplifying operation of a boat into the fore and aft movement of a single lever.
The company name was changed to Morse Controls, Inc., reflecting the new thrust of the business. Solutions to other problems, such as docking lights for nighttime navigating, led to other patents and highly marketable products. Advances in the push-pull technology utilized by control levers were adapted to steering systems and the introduction of rack and pinion steering. Initially used on large Coast Guard boats, Morse controls and cables quickly found their way as standard equipment into the exploding population of recreational boats, as well as other industrial applications.
By the end of 1969, the company employed over 600 people with annual sales of $12 million. In 1970, the company was sold to Rockwell International, and now operates as the Morse Division of IMO.
In 1990, Ohio Senator John Glenn entered a statement into the Congressional Record recognizing the inventive genius of John Morse and marking the 50th anniversary of Morse Controls. Senator Glenn summed up a lifetime of contributions well by noting Morse's "deep love and a profound respect for things that work well. As for things that don't work well," said Glenn, "he just invents something better."