The National Marine Manufacturers Association Hall of Fame was established in 1988 to recognize and honor individuals who have made or continue to make substantial contributions toward the advancement of the marine industry. It is NMMA's most prestigious recognition.
HALL OF FAME NOMINATION CRITERIA
To be eligible for the NMMA Hall of Fame Award one must:
Made a substantial and lasting impact on the industry or their particular segment

Known in the industry and is beyond personal or professional reproach

A past (deceased/retired) or current member and supporter of NMMA

Actively involved in the marine industry for a minimum of ten years
NOMINATION PROCESS
Active members in good standing with the NMMA are eligible to nominate a worthy leader. Nominations will be accepted in Spring 2022.
QUESTIONS
Contact: Rachel Harmon
Email: rharmon@nmma.org
AWARD RECIPIENTS
1994: Forrest Wood, Ranger Boats and John Rybovich, Rybovich and Sons Boat Works
John Rybovich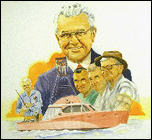 Few individuals have impacted big game fishing as much as John Rybovich. Besides developing several lasting innovations for sport fishing boats, Rybovich was among the first organizers of several major international fishing tournaments, which helped popularize and broaden the sport. He also paved the way for conservation efforts that would help to preserve big game fishing for future generations.
Rybovich came from a family of boat builders. His father John Sr. was a fisherman whose homemade boats were the envy of all who fished in the Palm Beach, Florida area in the 1920s. Soon, fisherman began asking Rybovich Sr. to build and repair their boats and by 1926 the Rybovich home address was transformed into what was to become a leading boat yard — Rybovich and Sons Boat Works.
Rybovich Jr. was 10 when his father started giving him jobs at the boat yard. His start in fishing came by catching bait for customers with a cast net his father bought him. In 1931, Rybovich landed his first sailfish, a big game species he would later strive to preserve and restore. Also, in 1931, Rybovich acquired his first boat, a 26-foot craft that launched his dreams. "In that boat I became a sports fisherman". Rybovich recalled during the last year of his life. "I fished a lot, but the time was never wasted. My imagination ran wild. I spent hours dreaming about how I would and wouldn't do things".
The custom sport fishing boats the Rybovich boat yard became famous for didn't come along until after World War II, when John and his brothers Tommy and Emil returned from service. While in the Army, John became ill and was hospitalized for several months, but spent most of his time sketching blueprints — sketches that would lead to the all aluminum outrigger and the Rybovich fighting chair.
Rybovich's aluminum outriggers and pedestal fighting chair with a ball-bearing spindle were introduced in Missy Chevy, a 34-foot boat designed specially for sport fishing. Succeeding models yielded equally important innovations such as broken sheer, transom doors and the aluminum "tuna-tower". Rybovich and his brothers dared to utilize aluminum to replace fragile outriggers and towers constructed of bamboo and other primitive materials, they were among the first boat builders to use new epoxies and resins. Of the 86 boats the family built to order, several were custom made for famous industrialists such as Maytag, Busch, Hutton, Kimberly, Kaiser and Firestone.
The Rybovich legacy continues in modern sport fishing boats whose roots can be traced directly to Tommy Rybovich, who designed the boats to be beautiful with compound curves; John who made them functional; and Emil, who initiated the idea of servicing them wherever they were fished.
As the family boat building business grew, so did Rybovich's involvement in sport fishing. He became a lifelong friend of Ernest Hemingway whose aggressive fishing style was emulated by many sport fisherman, provoking a demand for more durable gear and tackle. He organized and participated in many famous tournaments, and developed a scoring system that remains in place today for the prestigious Masters Angling Invitational Sailfish Tournament.
John Rybovich clearly understood the need to preserve game fish to ensure good fishing. One of the industry's leading conservationists, he promoted billfish tag-and-release, and helped finance early research programs, such as the first sonic billfish tagging experiment, to safeguard marine habitats. A founder of the West Palm Beach Fishing Club and its president for eight years, Rybovich was the first recipient of the Club's "Lifetime Achievement Award", marking efforts on behalf of sport fishing and conservation.
Rybovich's legacy goes beyond his life of 80 years. The innovations he contributed to boat manufacturing are still used by many sport fishing boat manufacturers today. And, thanks to Rybovich's early concern, conversation measures are underway to preserve sailfish for future game fishing.