The National Marine Manufacturers Association Hall of Fame was established in 1988 to recognize and honor individuals who have made or continue to make substantial contributions toward the advancement of the marine industry. It is NMMA's most prestigious recognition.
HALL OF FAME NOMINATION CRITERIA
To be eligible for the NMMA Hall of Fame Award one must:
Made a substantial and lasting impact on the industry or their particular segment

Known in the industry and is beyond personal or professional reproach

A past (deceased/retired) or current member and supporter of NMMA

Actively involved in the marine industry for a minimum of ten years
NOMINATION PROCESS
Active members in good standing with the NMMA are eligible to nominate a worthy leader. Nominations will be accepted in Spring 2022.
QUESTIONS
Contact: Rachel Harmon
Email: rharmon@nmma.org
AWARD RECIPIENTS
1993: Hobie Alter, Hobie Cat Company and J. Orin Edson, Bayliner Boats
Hobie Alter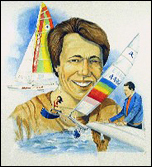 Athlete, innovator and entrepreneur, Hobart Laidlaw Alter is known worldwide as Hobie for more than 100,000 catamarans that bear his name today. Creator of not only a boat, but also lifestyle, Alter produced and marketed a sailing product engineered for people who wanted on-the-water recreation minus the hassles of boat maintenance.
Before he began building and competing aboard world-class catamarans, Hobie began building and competing aboard world-class surfboards. A champion surfer whose search for a lighter board led to an out-of-the-garage business soon building and selling 6,000 boards a year, Alter turned entrepreneur at age 16. Starting with balsa-constructed boards, he soon set the industry standard for surfboard design and construction, pioneering and perfecting the use of polyurethane foam — a method still in use today. It wasn't long before Hobie had to set up a factory to meet the demand for his boards, ranked among the best boards in the world.
Sale of the surfboard business funded Alter's vision for a fast, affordable, fun boat that could be easily launched for the beach. The original Hobie 14 that emerged in 1968 was something of a cross between surfboard and sailboat design, officially clocked at 23.2 miles per hour.
Through word-of mouth sales, the first Hobie 14 started a fad in Southern California that swept the nation, giving the Hobie Cat Company its beginnings and popularizing sailing for thousands. Along with fiend and partner Wayne Schafer, his first employee Sandy Banks and business manager Art Hendrickson, Hobie took the new boat across the country, lining up dealers and organizing informal races. A 1970 feature in LIFE magazine helped spread the national prominence of the Hobie Cat and the Hobie culture.
The company began to structure informal races into classes, starting a regatta department. From days spent at surfing and motorcycle meets, Alter remembered the combination of camaraderie and competition. He believed that half the fun of competing is getting together, and knew that if people raced a Hobie they'd enjoy the boat.
Alter also knew that many of his potential customers lived far from yacht and sailing clubs, meaning the company had to organize its own events. But no one envisioned the enormity of the regatta scheme's success — hotels overflowing, sponsor participation, competitors headed for world championships in far-flung locations. For more than two-thirds of Hobie owners, the catamaran was their first boat and regattas continue to fuel the enthusiasm.
Coast Catamaran went public in 1971. In1976, only eight years after the first 14-footer was launched, Hobie sold the company to Coleman Industries for 3.5 million. Tony Wilson, a 1969 buyer of one of the original Hobie 14s, purchased the Coast Catamaran Division from Coleman in January 1989, changing the name back to its roots of the Hobie Cat Company.
Throughout the Coleman era and into the Tony Wilson period of ownership, Hobie Alter has retained his ties and attachment to the company that now bears his name. Hobie's three children have also been involved in all aspects of the business and likewise have followed on their father's footsteps as athletes and successful competitors — or surfboards, dirt bikes, skateboards and Hobie Cats.
Hobie is more than the designer of a 16' catamaran that ranks third in popularity and growth rate among American one-design racers. He was able to look ahead and envision a new market for a beachable, high speed, low hassle boat among active water lovers. Hobie put his customer on the water and into a fun, safe, altogether exhilarating experience, and in doing so, advanced and popularized sailing for an entirely new segment of sailors.