The National Marine Manufacturers Association Hall of Fame was established in 1988 to recognize and honor individuals who have made or continue to make substantial contributions toward the advancement of the marine industry. It is NMMA's most prestigious recognition.
HALL OF FAME NOMINATION CRITERIA
To be eligible for the NMMA Hall of Fame Award one must:
Made a substantial and lasting impact on the industry or their particular segment

Known in the industry and is beyond personal or professional reproach

A past (deceased/retired) or current member and supporter of NMMA

Actively involved in the marine industry for a minimum of ten years
NOMINATION PROCESS
Active members in good standing with the NMMA are eligible to nominate a worthy leader. Nominations will be accepted in Spring 2022.
QUESTIONS
Contact: Rachel Harmon
Email: rharmon@nmma.org
AWARD RECIPIENTS
1993: Hobie Alter, Hobie Cat Company and J. Orin Edson, Bayliner Boats
J. Orin Edson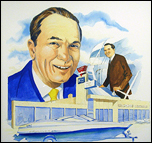 Considered an early pioneer of volume merchandising in the recreational boating market, Orin Edson first applied his value selling approach as a retailer for one of the largest boat manufacturers.
The two industry successes — Advance Outboard Marine Company and Bayliner Boats, Inc. — were born out of a fledgling venture that began in 1955 on an open lot in Seattle. Fresh out of the Army at age 24, Edson discovered a knack for retailing when he sold off equipment from his hydroplane racing days. With no place of business, no boat supplier, and only $400 in cash, Orin nonetheless decided to launch a marine dealership together with his brother Walt.
The first "store" was an empty lot rented for $35 a month and a small shack $15. The initial product line consisted of a few boats on consignment. Wood hulls, painted and rigged with engines bought from recognized dealers, were soon added. Recalling that he and his brother didn't know enough to realize the odds against them, a tongue-in-cheek Walt Edson today says, "Too much knowledge is a dangerous thing."
First year sales at the store hit $168,000. The following year, a finance company began to take the business seriously, extending Edson a small line of credit that allowed him to take on several small boat lines. In 1957, Advance acquired an outboard franchise from Mercury Marine. In 1958, a new building was added and, soon after, a second store opened. Two years later, sales passed the $1 million mark. Edson's retail success was not an industry norm. At a time when the mortality rate of marine dealers in the Seattle area was 60 percent and a dealership's national average gross was $185,000 a year, Advance Outboard was grossing over $2 million.
Bayliner Boats had similar modest beginnings. Edson started Bayliner in 1996 with two runabout models manufactured on contract by a third party. Bringing the new company under Advance management a year later, Edson began applying his "good products at low prices" routine to the manufacturing side of the boat business. Forbes magazine called Edson's a "remarkable ability to carry out a classic precept: simplify production in a traditionally custom-craft business." This business sense turned Bayliner into a company worth $425 million with shipments of 1,000 boats per week from 24 plants across the U.S.
More than a successful businessman, Orin Edson stands out in the marine industry for his lasting impact on the growth of recreational boating. One of the first to foresee a mass demand for boats, he believed that a quality, moderately-priced line of boats would appeal to millions of families. Forging a new niche in the marketplace, he was also architect of the "package" concept of selling a boat, motor and trailer as an easily financed package. This approach was copied industry-wide, making boat buying affordable and easy, and expanding the market for new owners as well as for the rest of the industry. Edson, more than any other person, deserves credit for fathering the boating boom of the 1980a by bringing affordable boating to a mass audience.