The National Marine Manufacturers Association Hall of Fame was established in 1988 to recognize and honor individuals who have made or continue to make substantial contributions toward the advancement of the marine industry. It is NMMA's most prestigious recognition.
HALL OF FAME NOMINATION CRITERIA
To be eligible for the NMMA Hall of Fame Award one must:
Made a substantial and lasting impact on the industry or their particular segment

Known in the industry and is beyond personal or professional reproach

A past (deceased/retired) or current member and supporter of NMMA

Actively involved in the marine industry for a minimum of ten years
NOMINATION PROCESS
Active members in good standing with the NMMA are eligible to nominate a worthy leader. Nominations will be accepted in Spring 2022.
QUESTIONS
Contact: Rachel Harmon
Email: rharmon@nmma.org
AWARD RECIPIENTS
1992: C. Raymond Hunt, C. Raymond Hunt Associates and The Thompsons, Thompson Brothers Boat Company
C. Raymond Hunt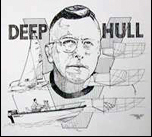 An internationally known and respected helmsman and yacht designer, C. Raymond Hunt was a "natural" at the things he did best. Foregoing formal education beyond prep school, Hunt proved to be a jack-of-all-trades, his genius touching both powerboat and sailboat design with equal force.
Hunt grew up sailing on Duxbury Harbor on the South Shore of Massachusetts, where the tidal flows and flunky winds sharpened his skills. By the age of 15 he was already a national junior champion, winning the Sears Cup in 1923 and again in 1925. A tough competitor in everything from dinghies to 12-Meters, Ray would never lose his touch at the helm. At the age of 55 he won the 5.5 World Championships in a boat of his own design, having never before sailed 5.5 Meter in international competition.
His success at the tiller translated into an intuitive feel for design and a keen sense for making a boat fast through the water. Designer Frank Paine took note of Hunt in 1929 and offered him a job opportunity.
A partnership with Waldo Howland in the Concordia Company provided the seed for Hunt's first big success — the 39-foot Concordia yawl. Commissioned by Waldo's father Llewellyn in 1938, the cruiser-racer was the boat to beat on the ocean-racing circuit and enjoyed nearly 30 years in stock production. Hunt, himself, campaigned a 41-foot Concordia in England with his wife and four children as crew, sweeping six out of seven races of the Cowes series.
A second sailboat design from 1938 demonstrated Hunt's versatility. Successful, but vastly different from the conventional lines of the Concordia, the odd-looking double-ended 110 sloop shocked traditionalists. One of the first boats made of marine plywood and the first of the semi-planning hulls, the 110 along with a larger 210 version, is still raced today.
As talented as he was in designing and racing sailboats, it is in power boating that Ray Hunt made his impact. With the original 13-foot Boston Whaler design and the first successful deep-V hull prototype to his credit, his innovations in power boating rank as some of the most significant of this century.
Like other Hunt designs, the now ubiquitous Whaler had its beginnings on the back of an envelope. Working with Dick Fisher on the right design for new sandwich process in fiberglass construction, Ray drew the Whaler with a snub-nose and triple sponson hull, a radical departure from the pointy-end boats of the day. With little modification, thousands of boats were built on the basis of the 13-foot and later 16-foot Whaler design.
Working on improved hull designs for destroyers during the war, and later for "Huntform" lobster boats, Ray developed a 23-foot prototype that cut through the water with less power and less pounding.
In 1958, Miami yacht broker Dick Bertram, sailing in Newport on the America's Cup boat Vim, noticed a version of the boat being used as a tender. Impressed with its speed and seakeeping ability, Bertram asked Hunt to design a 31-foot version — what would be Moppie — for the rugged Miami-Nassau powerboat race. The boat's racing success launched the Bertram Yacht Company and a production run of Bertram 31's, now numbering well over 1,000.
Ray Hunt died in 1978 at the age of 70 with an impressive legacy in design. Much of that continues today through C. Raymond Hunt Associates, the Boston firm he founded in 1966. Hunt's first associate, John Deknatel, still runs the firm today, maintaining the path of diversity that Hunt initiated years ago in sail and power boat design.