The National Marine Manufacturers Association Hall of Fame was established in 1988 to recognize and honor individuals who have made or continue to make substantial contributions toward the advancement of the marine industry. It is NMMA's most prestigious recognition.
HALL OF FAME NOMINATION CRITERIA
To be eligible for the NMMA Hall of Fame Award one must:
Made a substantial and lasting impact on the industry or their particular segment

Known in the industry and is beyond personal or professional reproach

A past (deceased/retired) or current member and supporter of NMMA

Actively involved in the marine industry for a minimum of ten years
NOMINATION PROCESS
Active members in good standing with the NMMA are eligible to nominate a worthy leader. Nominations will be accepted in Spring 2022.
QUESTIONS
Contact: Rachel Harmon
Email: rharmon@nmma.org
AWARD RECIPIENTS
1991: Olin Stephens II, Sparkman & Stephens and the Rosenfelds, Rosenfeld & Sons
Olin Stephens II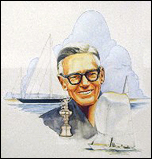 Olin Stephens, at the age of 19, designed his first sailboat, which was featured in Sailing magazine. A few years later, the DORADE design became Olin's first big success, winning both the Transatlantic and Fastnet races.
Between 1931, when Olin and the crew of DORADE were treated to a tickertape parade up Broadway Avenue, until 1978 when he retired as chief designer at Sparkman & Stephens, Olin has been one of the best and brightest in yacht design. Considered the master, he is responsible for more winning sailboat designs than any other contemporary naval architect.
Born in 1908 in the Bronx, Olin and his younger brother by a year, Roderick Stephens Jr., taught each other how to sail during summers in Cape Cod. Partners in achievement, the Stephens brothers are largely self-taught in the yacht design business. Bringing an intuitive sense of design to his work, Olin's only formal training consists of a half semester at M.I.T. and about one year's work as draftsman.
Sparkman & Stephens was formed in 1928 when Roderick Stephens Sr. engineered the partnership between Olin and yacht broker Drake Sparkman. The firm is known for its designers who were educated under Olin's tutelage – Bill Shaw, German Frers, Gary Mull, David Pedrick and Johan Valentijn.
His 50-year tenure at S&S included more than 2,000 boats — among them America's Cup winners, one-designs, cruising vessels, and production designs for builders such as Tartan of Ohio and Nautor Swan of Finland. Among these, some of his favorite designs — the very successful STORMY WEATHER and the 12 meter INTREPID — exemplify his love for deep, narrow boats. A departure from the heavy schooner racers of the day, it first took DORADE's multiple victories to convince others in the field that narrow beam and lightweight construction could be both fast and seaworthy.
Olin sealed his reputation and that of the firm's at the age 29 in a joint effort with America's Cup designer Starling Burgess on RANGER, the last and the best of the J-boat era. Winning 32 out of 34 races, her winning record earned the young designer a place in America's Cup competition that he would come to dominate for the next half century.
The design effort behind RANGER was also notable for Olin's work with Professor Ken Davidson of the Stevens Institute in the first application of model towing tests for sailboats. Able to assess a boat's performance from its wake, Olin has used tank-testing results longer than any other boat designer.
That experience served him well throughout the America's Cup 12 meter era, giving him a record number of wins in yachting's most prestigious contest with such boats as INTREPID, COURAGEOUS, and finally in 1980 with Design #2017 FREEDOM. From 1937 to his recent contributions to design rules for the new class of America's Cup boats, Olin's involvement with the Cup competition spans 54 years.
After a career of dedicating his efforts to further the science of yacht design, Olin passed away in 2008 at the age of 100.