The National Marine Manufacturers Association Hall of Fame was established in 1988 to recognize and honor individuals who have made or continue to make substantial contributions toward the advancement of the marine industry. It is NMMA's most prestigious recognition.
HALL OF FAME NOMINATION CRITERIA
To be eligible for the NMMA Hall of Fame Award one must:
Made a substantial and lasting impact on the industry or their particular segment

Known in the industry and is beyond personal or professional reproach

A past (deceased/retired) or current member and supporter of NMMA

Actively involved in the marine industry for a minimum of ten years
NOMINATION PROCESS
Active members in good standing with the NMMA are eligible to nominate a worthy leader. Nominations will be accepted in Spring 2022.
QUESTIONS
Contact: Rachel Harmon
Email: rharmon@nmma.org
AWARD RECIPIENTS
1990: Charles D. Strang, Outboard Marine Corporation and Nathanael G. Herreshoff, Herreshoff Manufacturing Company
Nathanael G. Herreshoff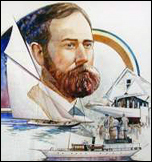 Long before Herreshoff Manufacturing Company, the name Herreshoff became well-known in Narragansett Bay waters for skilled sailing and fast boats. Introduced by their father to the designing, building and sailing of one's own boat to victory, racing became a favorite family pastime for Nathanael Greene Herreshoff and his brothers.
By the age 17, "Captain Nat" produced his first designs of a 25-foot sloop and 16-foot catamaran, and began preparing designs for a boat building business started by his older brother, John. John, who had lost his eyesight as a teenager, utilized his younger brother's natural talent and the business prospered. Finally, in 1877, John convinced Nat to join him in forming the Herreshoff Manufacturing Company.
Utilizing Nathanael's training at Massachusetts Institute of Technology as a naval architect and steam engineer, the newly formed company spent its first decade designing and building steam-powered boats. With patent-designed boilers and light-weight vessels that achieved record speeds under power, the brothers captured contracts for both Navy torpedo and custom luxury yachts.
In 1891, Nat turned the Herreshoff Manufacturing Company in a new direction with Gloriana, the first deep-draft sailing yacht constructed by the company. Considered revolutionary in design, the yacht was undefeated in its frost-racing season and received national publicity that soon immersed the company with orders for sailing craft.
As demand and reputation grew, the shop became more mechanized and developed a unique upside hull-building method, which allowed the company to excel at producing numbers of identical boats. Starting in 1896 with Newport 30s, Herreshoff launched the concept of one-design racing by building boats of the same design for several members of a single yacht club. Still in production today, the Buzzards Bay 12 1/2 foot class survives as the best known Herreshoff one-design.
Between 1893 and 1914, the Herreshoff Manufacturing Company came into the height of its fame and influence designing and building seven of the largest, most complex and powerful racing sloops in the world. The most celebrated creations of this period were the five victorious America's Cup defenders Vigilant, Columbia, Constitution, Reliance, and Resolute.
John Herreshoff died in 1915 and Captain Nat officially went into retirement a few years later, selling most of his interests in the company. His lifelong habit of creating yachts, however, kept him active as a consultant, cutting models and designing until he died at the age of 90. Much of the work of the Herreshoff Manufacturing Company continued on in the same tradition, with Nat's sons Sidney and L. Francis doing much of the company's design work until 1946, when the company saw the delivery of its last recorded boat No. 1521.
In addition to the testimony of genius that lives through the many Herreshoff vessels still sailing today, a remarkable store of legacy has been preserved at the Herreshoff Marine Museum in Bristol. Established by Nat's son Sidney in 1971 and now run by his grandson Halsey (also a designer), the museum houses collections of half models, a number of Herreshoff-built yachts, and hundreds of old photographs. In 1989, WoodenBoat Publications helped get the story in writing by publishing Herreshoff of Bristol, a photographic narrative of one of America's most accomplished yacht and boat builders.