The National Marine Manufacturers Association Hall of Fame was established in 1988 to recognize and honor individuals who have made or continue to make substantial contributions toward the advancement of the marine industry. It is NMMA's most prestigious recognition.
HALL OF FAME NOMINATION CRITERIA
To be eligible for the NMMA Hall of Fame Award one must:
Made a substantial and lasting impact on the industry or their particular segment

Known in the industry and is beyond personal or professional reproach

A past (deceased/retired) or current member and supporter of NMMA

Actively involved in the marine industry for a minimum of ten years
NOMINATION PROCESS
Active members in good standing with the NMMA are eligible to nominate a worthy leader. Nominations will be accepted in Spring 2022.
QUESTIONS
Contact: Rachel Harmon
Email: rharmon@nmma.org
AWARD RECIPIENTS
1989: Alan J. Freedman, George M. Good, James R. Wynne, Ralph S. Evinrude and William Edward Muncey
James R. Wynne, 1929–1990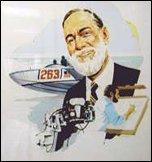 One of those fortunate people whose work and passion seem perfectly matched, Jim Wynne began racing powerboats as a hobby during his school years. He made the union between hobby and career official when he obtained a degree in Mechanical Engineering from the University of Florida, a Master's from MIT and took his first job as chief test engineer for Kiekhaefer Corp. Jim supervised testing of Mercury outboard motors in Wisconsin and Florida until 1958, when he crewed on the first transatlantic crossing by an outboard-powered boat, traveling from Copenhagen to New York in a 22-foot boat.
The Atlantic crossing was one of many firsts in Wynne's career. He designed the first turbine-powered Thunderbird, the first production boat for Don Aronow, the first Formula, the first Magnum, and in 1968, the first commercially success sterndrive propulsion system. Working in his parent's garage with old outboard parts, he constructed and patented a working model of the sterndrive unit and put it into production with Volvo Penta.
Applying an engineering perspective to the sport of powerboat racing, Jim surfaced as a prominent figure in offshore racing. Jim holds several world powerboat records, and won the World Offshore Championship in 1964 and 1966 in boats of his own design. In 1966, his 24-foot Ghost Rider withstood the pounding seas better than its engineer, who suffered two broken legs during the race.
His raceboat experience and engineering background eventually led him to consulting work. In 1965 he established Wynne Marine, Inc., a firm specializing in the design of powerboats, yachts and commercial vessels. Designing models for more than thirty manufacturers, including Carver, Chris-Craft, Cobalt, Cruisers, Inc., Donzi, Grady-White, Hatteras, Larson, Stamas and Trojan, Wynne Marine has been acclaimed as one of the most influential independent design houses in the boating world.