The National Marine Manufacturers Association Hall of Fame was established in 1988 to recognize and honor individuals who have made or continue to make substantial contributions toward the advancement of the marine industry. It is NMMA's most prestigious recognition.
HALL OF FAME NOMINATION CRITERIA
To be eligible for the NMMA Hall of Fame Award one must:
Made a substantial and lasting impact on the industry or their particular segment

Known in the industry and is beyond personal or professional reproach

A past (deceased/retired) or current member and supporter of NMMA

Actively involved in the marine industry for a minimum of ten years
NOMINATION PROCESS
Active members in good standing with the NMMA are eligible to nominate a worthy leader. Nominations will be accepted in Spring 2022.
QUESTIONS
Contact: Rachel Harmon
Email: rharmon@nmma.org
AWARD RECIPIENTS
1989: Alan J. Freedman, George M. Good, James R. Wynne, Ralph S. Evinrude and William Edward Muncey
George M. Good, 1904–2000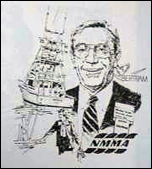 Growing up on Lake Michigan, George Good took an early liking to water sports, specifically sailing. In his youth, Good crewed on prize-winning sailboats running in the famous Chicago-to-Mackinac Island race. In 1932, he took up temporary residence along the Potomac River in Washington, D.C. to obtain an undergraduate degree from Georgetown University. He went on to acquire a Juris Doctorate law degree from the same institution in 1939. During the war, George stayed true to the call of the sea, serving as Lieutenant Commander in the United States Navy for four years.
After the war, George returned to Michigan to practice law in Grand Rapids and then spent several years as vice president and general manager of his family's furniture business. When the business was sold, George entered the marine industry in earnest. He joined Chris-Craft Corporation in 1957, spending two years on the sales team of the company's Roamer Yacht Division in Michigan. In 1959 he moved to Florida with Chris-Craft as general sales manager, directing the company's dealer development program.
George again emphasized the importance of dealers when he joined Bertram Yacht in 1969 as vice president of marketing. He is credited with establishing the company's international market through some 80 dealerships around the world. In 1974, George took the helm of Bertram as president, beginning what would come to be known as "The Good Years." At a time when other companies struggled through the fuel crisis, the dollar crunch and materials shortages, Good steered Bertram through growth in facilities and product. He retired as president in 1982 to serve as vice president of market development for Bertram's parent company, the Whittaker Marine Group, until 1984.
Additional involvement in industry matters came through George's service on key committees and boards of both the Boating Industry Association (BIA) and the National Association of Engine and Boat Manufacturers (NAEBM). Active in the 1970s with the Department of Commerce, he participated in international trade negotiations which benefitted all in boat building. George's instrumental role in the merger of BIA and NAEBM to form NMMA earned him two terms as NMMA's first chairman.
Up until his death in 2000, George Good maintained an active commitment to the industry, heading up several marine groups in the Miami area. He and his wife Barbara lived at Ocean Reef, Key Largo, Florida and enjoyed outdoor activities, including fishing, golf and travel.