The National Marine Manufacturers Association Hall of Fame was established in 1988 to recognize and honor individuals who have made or continue to make substantial contributions toward the advancement of the marine industry. It is NMMA's most prestigious recognition.
HALL OF FAME NOMINATION CRITERIA
To be eligible for the NMMA Hall of Fame Award one must:
Made a substantial and lasting impact on the industry or their particular segment

Known in the industry and is beyond personal or professional reproach

A past (deceased/retired) or current member and supporter of NMMA

Actively involved in the marine industry for a minimum of ten years
NOMINATION PROCESS
Active members in good standing with the NMMA are eligible to nominate a worthy leader. Nominations will be accepted in Spring 2022.
QUESTIONS
Contact: Rachel Harmon
Email: rharmon@nmma.org
AWARD RECIPIENTS
1988: Elmer Carl Kiekhaefer, Charles Frederic Chapman, Garfield Arthur Wood, Ole Evinrude and Christopher Columbus Smith
Garfield Arthur Wood, 1880–1971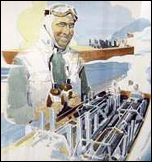 The man who was name after Presidents Garfield and Arthur was also the first person to travel over 100 miles per hour on water. This legend, Garfield Arthur Wood, who began his racing career at the age of eighteen, would come to dominate powerboat racing headlines for over two decades.
As inventive in industry as he was in creating trophy-winning speedboats, Gar Wood capitalized on a concept first conceived by his father to utilize hydraulic hoists to facilitate the unloading of truck cargo. And it was upon this patented invention that Gar generated the financial means to design, construct and pilot World Championship speedboats from 1917 through 1933.
When asked what he considered to be his greatest personal triumph, Gar Wood responded by recalling the highlights of the 1920 British International ("Harmsworth") Trophy race; an event he would win eight times as a driver and nine times as an owner! The 1920 Harmsworth victory on England's Osborne Bay was the first time since 1911 that an United States team would recapture what was considered to be the traditional symbol of speedboat supremacy. His craft, the 26-foot MISS AMERICA 1 swept both heats in a best two-out-of-three format with a record-setting average speed of 52.43 miles per hour.
In 1933, the last race for "The Gray Fox of Grayhaven", a "hometown" crowd of over 600,000 people cheered Gar's 7600 horsepower MISS AMERICA X (holder of a straightaway record of 124.91 mph) as it set a new Harmsworth record of 86.93 mph off the banks of Lake St. Clair.
Following his retirement from racing, the Detroit, Michigan native remained active in boating. In fact, during World War II, Gar assisted in the development of Navy Patrol Torpedo boats which used the same engine installation concept pioneered in the MISS AMERICA X. Today, the spirit of the Gray Fox's contribution to powerboat racing is maintained by the Unlimited Hydroplane award which bears the title — The Gar Wood trophy.