The National Marine Manufacturers Association Hall of Fame was established in 1988 to recognize and honor individuals who have made or continue to make substantial contributions toward the advancement of the marine industry. It is NMMA's most prestigious recognition.
HALL OF FAME NOMINATION CRITERIA
To be eligible for the NMMA Hall of Fame Award one must:
Made a substantial and lasting impact on the industry or their particular segment

Known in the industry and is beyond personal or professional reproach

A past (deceased/retired) or current member and supporter of NMMA

Actively involved in the marine industry for a minimum of ten years
NOMINATION PROCESS
Nominations will be accepted in Spring 2023. Active members in good standing with the NMMA are eligible to nominate a worthy leader. An official nomination form must be submitted, along with supporting documents (letters of support, articles around the candidate's work in the industry, etc).
AWARD PRESENTATION
Recipeints will be presented at IBEX during the IBEX Industry Breakfast.
QUESTIONS
Contact: Rachel Harmon
Email: rharmon@nmma.org
AWARD RECIPIENTS
1996: Jack B. Hargrave, J.B. Hargrave Naval Architect and Richard T. Fisher, Boston Whaler
Jack B. Hargrave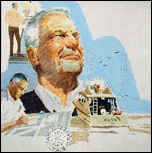 Jack Hargrave was passionate about boats of all kinds. His enjoyment for his work is shown most clearly in his designs—nearly 250 in all—from ocean-going ferries to powered pleasure crafts of all types. Hargrave was considered the "dean" of modern motoryacht designers; his contributions to design, styling and layout helped the American motoryacht become the world standard. Known for their seaworthiness and value, Hargrave's vessels are much like their designer—understated, well-mannered, gracious and durable.
Born in upper Michigan, Hargrave was introduced to the boat business early in life by his father. By the age of 17, Jack was already a professional captain. He studied music and art at St. Olaf College, where he met his wife-to-be, Janet. Jack left college at the start of World War II to join the Navy. Because he had lost an eye during childhood, Hargrave was not accepted by the Navy, but undeterred; he joined the Merchant Marines and served four years. After the war, he operated his own charter boat on Lake Superior, raced large sailing yachts, and oversaw construction of a sportfishing boat in Peru.
In the late 1950's, Hargrave completed the Westlawn three-year Yacht Design Program in a record seven months. He built boats in a small yard he co-owned before going to work for John Rybovich (1994 Hall of Fame inductee) to design sportfishing boats. A big break came when client Charles Johnson took a liking to the 35-year-old Hargrave's design for a 90-foot motoryacht. That design became the Burger-built SEVEN SEAS, and established Hargrave as a designer of large yachts. In 1958 Hargrave opened J.B. Hargrave Naval Architect in the Palm Beach, Florida area, and good fortune arrived again. A new company founded by Willis Slane needed an architect to design production fiberglass boats. The initial design, the Hatteras 41, was the world's first "convertible" and a big success. Hargrave went on to design more than 75 powerboats for Hatteras, producing more than 6,000 yachts.
Hargrave's creative artistry and love for the water was evident in the many paintings he created over his lifetime, as well as in sea poems and illustrated letters written during the war. His original Christmas cards, featuring yachting scenes, have become collectors' items. Married 49 years, Jack's proposal to Janet included the stipulation that she get her captain's license. This began a family tradition of involving their children, Susan, Steve, and Scott, in boating activities. Hargrave was looking forward to retirement years, including spending time with his first grandchild, Stephanie, born just one month before his passing on February 26, 1996, at age 73.