The National Marine Manufacturers Association Hall of Fame was established in 1988 to recognize and honor individuals who have made or continue to make substantial contributions toward the advancement of the marine industry. It is NMMA's most prestigious recognition.
HALL OF FAME NOMINATION CRITERIA
To be eligible for the NMMA Hall of Fame Award one must:
Made a substantial and lasting impact on the industry or their particular segment

Known in the industry and is beyond personal or professional reproach

A past (deceased/retired) or current member and supporter of NMMA

Actively involved in the marine industry for a minimum of ten years
NOMINATION PROCESS
Active members in good standing with the NMMA are eligible to nominate a worthy leader. Nominations will be accepted in Spring 2022.
QUESTIONS
Contact: Rachel Harmon
Email: rharmon@nmma.org
AWARD RECIPIENTS
2000: Don Rocheleau, Don Rocheleau Associates
Don Rocheleau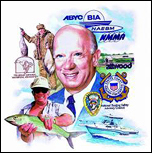 Don Rocheleau moved into leadership roles in the recreational boating industry as soon as he entered it in 1966. He was an early advocate of growing boating as a lifestyle and uniting the fragments that made up the industry in order to benefit his company, clients, competitors and the industry. His exemplary career was built upon unshakable principles of business greatness: honesty and ethics, a commitment to the customer, an insatiable hunger for knowledge and a passion for his industry. He was inducted into the Industry Hall of Fame today in ceremonies coinciding with the inaugural running of Boating Week 2000 at the Orange County Convention Center.
That he understood the power of customer satisfaction 20 years before it became a household phrase tells of his vision. Moving his company and industry to implement the concept testifies to Rocheleau's gift for coalition-building and firm guidance. Easily accessible and always positive, he left a wave of disciples in his wake and mentored many along the way. The many groups and associations with which he shared himself reflect his attitude of lifelong giving.
The greatest example of Rocheleau's vision and vigor may be the orchestration of a long-desired marine industry objective—to unify the marine manufacturing industry under a single Association banner. He achieved this as Chairman of the Boating Industry Association (BIA) in 1979, the year it merged with the National Association of Engine & Boat Manufacturers (NAEBM) to become the National Marine Manufacturers Association (NMMA). He would serve as NMMA's first Vice Chairman (1979–1983) and its third Chairman (1983–1985).
During his NMMA term, he initiated and developed strategic planning that NMMA still follows today. Moreover, in 1988, he encouraged the NMMA Board of Directors to inaugurate the industry Hall of Fame to recognize industry innovation, achievement and leadership. His induction as the Hall's 27th member suits his legacy well.
Rocheleau earlier served as President of the Marine Accessories and Services Association (MASA) from 1973–74 and again from 1978–79. He became the first President of the National Association of Marine Products and Services (NAMPS) in 1979, one of three divisions of then newly formed NMMA. His service also included three years on the U.S. Coast Guard National Boating Safety Advisory Council (by appointment of the U.S. Secretary of Transportation) and continues today on the Board of Directors of the American Boat & Yacht Council (ABYC).
A brief tour in the Army—including one year in Korea—from 1953–55 began the pattern of discipline that would serve Rocheleau throughout his life. After the Army, he received a degree in Food Distribution from Michigan State University. He served as major food retailer Kroger Company's Advertising and Sales Promotion Manager from 1959 until 1966, when he decided to make a change. Over a single weekend, he switched to a career in the marine industry as the Advertising Manager for the Attwood Corporation, a subsidiary of Steelcase, Inc., reportedly the world's largest manufacturer of hardware and accessories for pleasure boats. Within seven years, he ascended to the company's presidency, and in 1993, became Attwood's Chairman and Chief Executive Officer. Under his leadership, Attwood grew from $3 million in annual sales to $80-plus million when he retired from it in 1999.
One would need a boat to store the well-deserved industry awards and honors Rocheleau has received during his career. Among the most notable are the prestigious Charles Chapman Award from NMMA and Motor Boating magazine; the ABYC Horizon Award; the National Marine Representatives Association Mel Barr Award for support of its sector of the industry; and the Alan J. Freedman Memorial Award, presented for leadership to him by his NAMPS colleagues.
An avid hunter and fisherman, Rocheleau believes in "giving back" even in his leisure time. He is a member of the Kent County (MI) Conservation League, past President of Past Shooters' Council of the Grand National Waterfowl Hunt (Cambridge, MD), and life member of the One-Shot Antelope Hunt (Lander, WY). He and his wife, Carol, now divide their time between homes in East Grand Rapids, MI, and Useppa Island (near Ft. Myers), FL.
A champion of life and business, Rocheleau now shares his ideas, inspiration and indelible spirit with marine businesses as a consultant. His son, Michael, is current Regional Sales Manager at Attwood, where he lives out his father's basic but profound business wisdom—"Know Your Customer."