The National Marine Manufacturers Association Hall of Fame was established in 1988 to recognize and honor individuals who have made or continue to make substantial contributions toward the advancement of the marine industry. It is NMMA's most prestigious recognition.
HALL OF FAME NOMINATION CRITERIA
To be eligible for the NMMA Hall of Fame Award one must:
Made a substantial and lasting impact on the industry or their particular segment

Known in the industry and is beyond personal or professional reproach

A past (deceased/retired) or current member and supporter of NMMA

Actively involved in the marine industry for a minimum of ten years
NOMINATION PROCESS
Active members in good standing with the NMMA are eligible to nominate a worthy leader. Nominations will be accepted in Spring 2022.
QUESTIONS
Contact: Rachel Harmon
Email: rharmon@nmma.org
AWARD RECIPIENTS
1999: Leon Slikkers
Leon Slikkers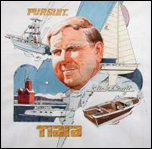 In a lifetime's involvement in marine manufacturing, Leon Slikkers has launched and guided the operation of five boating brand names, both power and sail, all synonymous with his dedication to quality. Described as having an absolute passion for excellence, his creation of Slickcraft, S2 Sailboats, Grand Slam Sailboats, Tiara Yachts and Pursuit Fishing Boats have become industry standards to which other quality-seeking boat builders aspire. Slikkers dedication carries on to family members and relationships with employees, suppliers, dealers and customers, all long term and supportive. Practice of Christian faith is a primary corporate value, evident by the absence of employees at work (including boat show exhibits) on Saturdays, the Seventh Day Adventist's day of worship.
Clearly the company and family patriarch, Slikkers acknowledges the role others have played in the firm's growth and success. During a recent industry gathering, he told the tender story of how he and his wife, Delores, had the courage in the mid 1950s to sell their home and purchase the small factory which became Slickcraft. As he crafted designs and worked with what was then experimental fiberglass hull construction downstairs, Delores handled the bookkeeping and kept the family occupied in the small upstairs apartment. Over time, family members moved into the business. Today, sons David, Robert and Thomas are respectively president, senior vice president of operations for Tiara Yachts in Holland, MI (company headquarters) and vice president of operations for Pursuit Fishing Boats in Ft. Pierce, FL; daughter Susan has served in customer relations, sales and marketing; and now retired brothers Dennis and Paul helped establish S2 Yachts.
Proud of his achievements and products, Slikkers is nonetheless a very private person preferring others to stand in the spotlight. Ask him a question, however, and be prepared for an honest answer. Slikkers is quick to respond to a challenge. One of the most significant problems facing boat builders in the mid 1980s was gelcoat blistering. Although Slikkers experienced few such problems with his boats, in his quest for excellence, he was quick to accept the challenge of eliminating blisters. He worked closely with suppliers to determine the cause and find a solution. Throughout his career, Slikkers and family have been ardent supporters of the overall boating industry. They remain actively involved in trade groups including the National Marine Manufacturers Association (NMMA) and its predecessor organizations.
A powerful force in the marine industry for fifty-three years, Slikkers' rich history of success began as a carpenter making cabin tops for Chris-Craft in 1946. Soon, however, he was building 14' runabouts in his garage after work, and in 1954 he registered the name Slickcraft. Slikkers left his job the next year and sold his home to start Slickcraft Boat Company in Holland, MI. Right away, Slikkers knew the future of recreational boating was fiberglass hull construction, so he began to experiment. By 1961 he had expanded his line to include 17' fiberglass boats; wood models were discontinued. By 1964 Slikkers had developed what would become the company's most successful boat, the SS235 Slickcraft, forerunner to the deep V trailerable cuddy cabin. This model correctly predicted consumers' changing needs and desires and became a leading seller at the company and industry-wide. Slikkers sold the company to AMF in 1969, remaining president through 1973.
In 1974, he formed S2 Yachts, Inc., and began manufacturing a line of sailboats. Slikkers had been interested in the sail side of the industry for a while and when he studied the way sailboats were then being manufactured, he noted a lack of production systems. Recognizing an opportunity to be on the leading edge and improve efficiency, Slikkers applied powerboat systems and technology to sailboat building. Assembly line production and unitized boat structures resulted in custom quality sailboats produced without hand-fitting everything. First year sales were $1.6 million, and S2's line grew to boats from 22' through 36'. Slikkers then focused on making his sailboats go faster. In just a few short years, S2 Yachts reached the top five in the sailboat industry. Leveraging this market recognition and position Slikkers then produced some of the industry's most competitive production racing machines, taking several national and two international titles in the mid 1980s. In fact, the designs were so good that again in 1998, this same hull won a third international title after 18 years in the marketplace.
In 1976 Slikkers made the decision to return to the powerboat market, introducing three brand new Tiara models at the September 1976 IMTEC. The following year, Tiara powerboats introduced and offered a special Pursuit fishing model. A short time later, in the early 1980s, the decision was made to create two separate and distinct lines of products — Tiara Yachts and Pursuit Fishing Boats. Both lines were embraced by previous customers and new owners and were carefully outfitted to address the changing tastes, performance needs and quality demands of this decade's buyers.
In 1998 Tiara Yachts introduced the largest model in its product offering — the all new Tiara 5000 Express. Once again S2 Yachts set new industry standards — this time for the next millennium. Slikkers was the first production manufacturer to introduce and build an epoxy composite hull, hardtop, arch and windshield. These accomplishments will be added to several other industry firsts for which the company is known. The famous Tiara windshield, the finest and safest diamond nonskid pattern, integrated bow pulpits, hinged helm consoles and super swim platforms are just a few such innovations. The Tiara Yachts line has grown to 11 models from 29' to 50', and the Pursuit Fishing Boats line has 14 models from 22' to 34'. All are marketed through a national and international distribution system. The company has experienced significant success in its quest to be the best. In the past five years, it has doubled in size and now employs more than 800 people. S2 Yachts is also the only privately-owned boat building company with manufacturing plants in three states. And the company plans to double in size again within the next three to five years.
Slikkers' boats are distinguished in part by his vision and plan for what each new model will look like in the future. Reflecting his lifelong philosophy, Slikkers' deep dedication to quality is embodied in his commitment to excellence, which reads in part: "We commit ourselves to designing, engineering, and manufacturing our boats to exact standards and specifications. In doing so, we are confident our products will be a source of pleasure, a matter of pride, and a lasting investment to their owners." Colleagues in the industry will attest to the company's promises... these are not simply slogans, this is the way business is conducted.