The National Marine Manufacturers Association Hall of Fame was established in 1988 to recognize and honor individuals who have made or continue to make substantial contributions toward the advancement of the marine industry. It is NMMA's most prestigious recognition.
HALL OF FAME NOMINATION CRITERIA
To be eligible for the NMMA Hall of Fame Award one must:
Made a substantial and lasting impact on the industry or their particular segment

Known in the industry and is beyond personal or professional reproach

A past (deceased/retired) or current member and supporter of NMMA

Actively involved in the marine industry for a minimum of ten years
NOMINATION PROCESS
Active members in good standing with the NMMA are eligible to nominate a worthy leader. Nominations will be accepted in Spring 2022.
QUESTIONS
Contact: Rachel Harmon
Email: rharmon@nmma.org
AWARD RECIPIENTS
2012: Phil Dyskow, Yamaha Marine Group Company
Phil Dyskow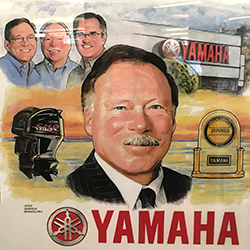 The 2012 Hall of Fame Award was presented to Phil Dyskow, Immediate Past President of the Yamaha Marine Group Company, during the IBEX event on October 2nd, 2012 at the Kentucky Exposition Center, Louisville, Kentucky. NMMA and its Board of Directors would like to congratulate Phil Dyskow on his induction into the NMMA Hall of Fame.
Phil Dyskow is Immediate Past President of the Yamaha Marine Group Company, the unit of Yamaha that markets, sells and distributes Yamaha Outboards in the United States, and operates G3 Boats®, Skeeter Boats® and Performance Propeller Industries, Inc. His career is characterized by successful efforts to increase customer satisfaction while driving remarkable sales growth.
His relationship with Yamaha began in 1975 when he became the first Yamaha boat dealer in the United States. Throughout the 1970s, his dealership grew to become the largest Yamaha boat dealer outside of Japan, offering both Yamaha sail and powerboats. He then joined Yamaha Motor Corporation U.S.A. in 1981 as one of the first employees involved in the initial research, planning and introduction of Yamaha Outboards into the U.S. market.
Dyskow left Yamaha briefly in 1990 to serve as Vice President of Outdoor Technologies Group where he had overall management responsibility over its Fenwick Corporation subsidiary in Huntington Beach, Calif. Under his direction, Fenwick, a world leader in top-quality fishing equipment, won eight different awards for product innovations. In 1993, the National Assn. of Sporting Goods Wholesalers voted Fenwick its Manufacturer of the Year. Also in 1993, Business Week magazine awarded Fenwick its prestigious Industrial Design Excellence Award. Dyskow returned to Yamaha Marine in 1995 as a Vice President. A year later, he was promoted to Senior Vice President and given responsibility for all Marine Group activities.
On Nov. 1, 1997, he was appointed President. During his tenure, Yamaha's share of the market has grown dramatically, and the company now supplies more than a third of all the outboards sold in the United States. While under Dyskow's management, Yamaha Outboards have received a number of design and innovation awards from the marine industry and the national media. In addition, Yamaha is the only outboard brand to have earned the NMMA's® C.S.I. Customer Satisfaction Index award every year since its inception. Also while under his direction, Skeeter Boats and G3 Boats saw increases in customer satisfaction and sales volume. Both companies are repeat winners of NMMA's® C.S.I. Customer Satisfaction Index award.
Dyskow retired from the position of President on May 1, 2010. He continues to serve Yamaha as senior advisor to the current Yamaha Marine Group President, Ben Speciale. In addition to the advisory capacity, Dyskow serves on the board of directors for the Center for Coastal Conservation. He was recently appointed to the National Boating Safety Advisory Council (NBSAC), which is responsible for advising the U.S. Coast Guard on developing and promulgating standards and regulations pertaining to the construction of recreational boats. He was also appointed to by the U.S. Secretary of Commerce to the Marine Fisheries Advisory Committee, which advises NOAA on fisheries issues. He is Vice Chairman of the NMMA® Engine Committee.
Active in the community and the marine industry, Dyskow has previously served as a member of the Board of Directors of Golden West College in Huntington Beach, Calif., the Recreational Boating and Fishing Foundation, the American Boating and Yacht Council, and the Southern Museum of Civil War and Locomotive History in Kennesaw, Ga. He is an avid sport fisherman. Born in Milwaukee, Wisconsin, Dyskow is a 1976 graduate of the University of Hawaii. Previously he attended Augsburg College in Minnesota where he received the Gamble Foundation Scholarship in Economics. Currently, he and his wife, Sharon, reside in Marco Island, Florida.