The National Marine Manufacturers Association Hall of Fame was established in 1988 to recognize and honor individuals who have made or continue to make substantial contributions toward the advancement of the marine industry. It is NMMA's most prestigious recognition.
HALL OF FAME NOMINATION CRITERIA
To be eligible for the NMMA Hall of Fame Award one must:
Made a substantial and lasting impact on the industry or their particular segment

Known in the industry and is beyond personal or professional reproach

A past (deceased/retired) or current member and supporter of NMMA

Actively involved in the marine industry for a minimum of ten years
NOMINATION PROCESS
Active members in good standing with the NMMA are eligible to nominate a worthy leader. Nominations will be accepted in Spring 2022.
QUESTIONS
Contact: Rachel Harmon
Email: rharmon@nmma.org
AWARD RECIPIENTS
1989: Alan J. Freedman, George M. Good, James R. Wynne, Ralph S. Evinrude and William Edward Muncey
William Edward Muncey, 1928–1981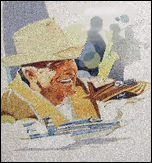 Baseball has Babe Ruth, hockey Gordy Howe, and football Knute Rockne.
Unlimited hydroplane racing also has its own "ultimate" hero—Bill Muncey. With sixty-two modern day career victories, Bill's record still remains unsurpassed in unlimited competition history.
The charismatic champion began his illustrious career in 1949 by sinking in front of a hometown crowd on the Detroit River. As the story goes, Bill's first attempt to drive in an A.P.B.A. Gold Cup event began by blowing up an engine. Undaunted, he marched over to Gar Wood's riverfront mansion. When Wood, the legendary racer asked for assistance. After installing the engine he secured from Mr. Wood, the bottom of the boat fell out during the next race. Even though his first effort was disastrous, it led to a position behind the wheel of MISS THRIFTWAY, and his first Gold Cup win which occurred in 1956.
A little known fact about Bill was his passion for music. As a child, he received instruction in the classics. While in the army, he even led a jazz band. Growing up during the big band era his heroes consisted of artists such as Less Brown, Stan Kenton, The Four Freshman and George Shering. In fact, Bill was once quoted as saying, "It's nice to win (boat) races, but all I want to do is play lead alto in Guy Lombardo's Band!"
Bill's career, like many other boat racers, encompassed just about every form of competition. He started with outboards, moved into limited inboards, and then up to the unlimited class. Soon, the press would refer to Bill as a really "hot chauffeur". And "hot" he was! During Bill's career he set several world speed records, won eight Gold Cups, and was driver of the year seven times. When asked how he won so much, he replied, "A lot of people have excuses for losing, I don't have any."
Although Bill was the oldest driver on the circuit at the time of his death in 1981, he always maintained enthusiasm for the sport. Each time he won a race, it was as if the triumph was his first. And that is why all who knew Bill miss his competitive spirit.