The National Marine Manufacturers Association Hall of Fame was established in 1988 to recognize and honor individuals who have made or continue to make substantial contributions toward the advancement of the marine industry. It is NMMA's most prestigious recognition.
HALL OF FAME NOMINATION CRITERIA
To be eligible for the NMMA Hall of Fame Award one must:
Made a substantial and lasting impact on the industry or their particular segment

Known in the industry and is beyond personal or professional reproach

A past (deceased/retired) or current member and supporter of NMMA

Actively involved in the marine industry for a minimum of ten years
NOMINATION PROCESS
Active members in good standing with the NMMA are eligible to nominate a worthy leader. Nominations will be accepted in Spring 2022.
QUESTIONS
Contact: Rachel Harmon
Email: rharmon@nmma.org
AWARD RECIPIENTS
2007: Richard Bertram, Bertram Yachts and Paul Kuck, Regal Marine
Paul Kuck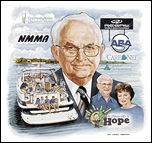 With a precious nest egg of $60,000 and $20,000 each from two business associates, energetic entrepreneur Paul Kuck (affectionately known as "PK") founded Regal Marine in Orlando, Florida, in 1969.
In the early years, the former steel marketer and his wife, Carol, pressed on despite a looming energy crisis. Regal struggled for survival in the early 1970s as petroleum prices soared and orders began to fade. Bankruptcy was averted as PK put the company's future "in God's hands," and soon thereafter Regal began to flourish.
Appropriately, Regal's mission statement begins with PK's deep conviction, "With God's help…" Today, Regal is one of the world's largest privately-held boat manufacturers, posting $160 million in sales annually, with over 150 dealers and distributors in 40 countries. With worldwide headquarters based in Orlando and a second manufacturing plant in Valdosta, Georgia, Regal builds boats from 19 to 53 feet, under 850,000 square feet of manufacturing space with 675 dedicated team members. Since Paul and Carol committed their life savings (and the contributions from co-founders Gene Kandel and Clark Prudhon) to Regal, the company has sold boats to over 50,000 customers and received numerous awards for taking excellent care of them — including five J.D. Power and Associates awards and 19 CSI awards from the NMMA. Appropriately, the Regal mission statement ends with PK's commitment, "… to provide exceptional customer satisfaction."
During his tenure as Regal's patriarch, Paul Kuck was also instrumental in the growth and leadership of the marine industry at large. He served as Chairman of the NMMA and was a member of its Board of Directors (1988–1990), as well as actively involved in the formulation of the American Boatbuilders Association (ABA).
To share his belief in faith and integrity with others in the marine industry, PK established "Leading with Vision and Values," which has become a staple of the Miami International Boat Show. Kuck was a master at strategizing and planning in his head, but he led with his heart, even at work. His legendary conviction to "do the right thing" took precedence over the cost-effective, or the convenient.
Yet PK's life was about much more than boating. He and Carol were passionate in many arenas of Christian ministry, such as Prison Fellowship International, Bill Glass Prison Outreach, the Orange Country Jail ministry, Frontline Outreach, and CareNet. He also served faithfully at his home church, First Presbyterian Church of Orlando, where he attended for more than 35 years. The ministry nearest to his heart was Nathaniel's Hope, dedicated to helping special needs children and their families, inspired by his grandson, Nathaniel.
Although PK earned many awards and accolades in his 76 years, his passion for his wife and family shined most brightly. His life served as a beacon for so many, but especially for his three children, Duane, Tim and Pam and 17 grandchildren. Together, they shouldered the challenges of work and the joys of family, mentored by a loving and dedicated man who exemplified a life dedicated to serving God and practically applying the path of integrity in business and at home.
In 2006, Paul Kuck relocated to his heavenly home, but his leadership, generosity, kindness and faith continue to live on in the lives he touched at home, in the marine industry and in his community. His life was a reflection of the values of honesty, integrity, generosity and thankfulness — a life given away by serving others and by serving God.