The National Marine Manufacturers Association Hall of Fame was established in 1988 to recognize and honor individuals who have made or continue to make substantial contributions toward the advancement of the marine industry. It is NMMA's most prestigious recognition.
HALL OF FAME NOMINATION CRITERIA
To be eligible for the NMMA Hall of Fame Award one must:
Made a substantial and lasting impact on the industry or their particular segment

Known in the industry and is beyond personal or professional reproach

A past (deceased/retired) or current member and supporter of NMMA

Actively involved in the marine industry for a minimum of ten years
NOMINATION PROCESS
Active members in good standing with the NMMA are eligible to nominate a worthy leader. Nominations will be accepted in Spring 2022.
QUESTIONS
Contact: Rachel Harmon
Email: rharmon@nmma.org
AWARD RECIPIENTS
2006: Johnny Morris, Bass Pro Shops
Johnny Morris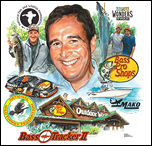 Growing up in Springfield, Missouri Johnny Morris began fishing at a very early age with his father, John A. Morris. They loved to float the beautiful Ozarks streams spending as much time running minnow traps and seining crawdads as they did fishing. When evening came, they would settle down to some serious fishing for goggle-eye (rock bass), smallmouth and largemouth bass. "Those were great times when I really got to know my dad," stated Johnny. "He did much to shape my character and my life as a sportsman."
In 1970, while working in his dad's store and doing some guiding on area lakes, Ray Scott held a bass tournament on nearby Table Rock Lake and Johnny decided to enter it. He went on to compete on the professional BASS circuit and qualified for five consecutive Bassmaster Classics (at the time, competition was limited to the top 24 bass anglers in the nation). During these competitions Johnny met anglers and lure makers from all over the country and quickly realized the importance of having the newest gear and gadgets to catch fish. Johnny took a list of this new equipment to the local Gibson's Discount store sporting goods department where he often shopped. When the department manager couldn't get permission from his corporate office to stock the items, Johnny borrowed some money from his dad, rented a U-Haul trailer and he and a friend took off across country filling the trailer with the newest bass tackle.
When they got back home, Johnny started in the fishing business with eight feet of space in his dad's liquor store which became a popular stopping-off place for local and out-of-state fishermen on the way to the area's bass lakes. A number of these anglers started calling when they got back home wanting Johnny to send them some of his specialized bass tackle. In 1974, in response to this demand, he printed and mailed his first catalog.
From that simple beginning, Bass Pro Shops has become one of America's premier outdoor retailers with destination outdoor retail stores across America and Canada serving over 75 million sportsmen a year. In addition, outdoor enthusiasts around the world still look forward to opening the mail and getting their favorite Bass Pro Shops catalog, while many more enjoy visiting and shopping their website.
In 1978, Johnny introduced the first professionally rigged boat, motor and trailer fish ready package. The Bass Tracker boat "package" revolutionized the marine industry. For the first time, fishermen could own a perfectly matched, quality fishing system at a price they could easily afford. Johnny offered the original 16'; Bass Tracker boat with a 25 horsepower motor and trailer for sale in the Bass Pro catalog for $2,995.00. Industry response led to the engine companies ultimately selling directly to OEM boat manufacturers and these packages sold directly to dealers. A few years later, Tracker took its concept of affordable value for the entire family to the pontoon business, again with overwhelming success. Today, Tracker Marine Group represents some of the best names in the freshwater and saltwater boating industry. Names like Tracker, Nitro, Sun Tracker, Tahoe, Fisher, Pro Craft, Kenner, Mako, and SeaCraft are among America's best selling boats highlighting Tracker's 30th anniversary and still offering a tremendous value for all its customers.
Through his love of fishing, Johnny Morris has remained an ardent conservationist and is the recipient of numerous honors, including the Teddy Roosevelt Conservationist Award, the Sport Fishing Institute's "Fisherman of the Year", the International Association of Fish and Wildlife Agencies "President's Award", and many others.
"Conservation is the future of fishing and it is of vital importance that we invest in the future," Johnny has said. "It doesn't matter what new products our vendors create, or what great marketing campaigns they develop. Nor does it matter how many catalogs we mail or new stores we build. If fishermen, and especially kids, can't catch fish and enjoy exciting success in public waters, then our industry and the sport we love cannot grow."
A Trustee Emeritus of the International Game Fish Association, Morris' generous donation of land has provided a fitting site for the IGFA Fishing Hall of Fame. IGFA is proud to honor Johnny Morris for his outstanding accomplishments, for living every angler's dream, and for continuing to give back to the sport he loves.