The National Marine Manufacturers Association Hall of Fame was established in 1988 to recognize and honor individuals who have made or continue to make substantial contributions toward the advancement of the marine industry. It is NMMA's most prestigious recognition.
HALL OF FAME NOMINATION CRITERIA
To be eligible for the NMMA Hall of Fame Award one must:
Made a substantial and lasting impact on the industry or their particular segment

Known in the industry and is beyond personal or professional reproach

A past (deceased/retired) or current member and supporter of NMMA

Actively involved in the marine industry for a minimum of ten years
NOMINATION PROCESS
Active members in good standing with the NMMA are eligible to nominate a worthy leader. Nominations will be accepted in Spring 2022.
QUESTIONS
Contact: Rachel Harmon
Email: rharmon@nmma.org
AWARD RECIPIENTS
2004: Dick Rowe, Indmar Products
Dick Rowe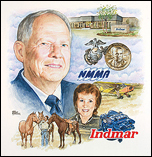 Richard C. (Dick) Rowe, founder of Indmar Products, is a man for whom boating is not just a business, it's his life. For more than forty years he has unselfishly committed himself to the recreational marine industry. Under his leadership, many significant advances have been made in marine engine propulsion systems and his efforts have played an important role in improving the boating experience and growing the industry.
War dominated the 1940s and like most young men of the time, Dick wanted to serve his country and enlisted in the U.S. Marine Corps. Toward the end of his 20 years with the Marines, Dick became a partner in a Memphis-based multi-lined boat dealership. Upon retirement from the Marines in 1971, he and his wife Donna started a small marine and industrial distributorship called Indmar Products Company, Inc., which has grown into the world's largest privately owned inboard marine engine manufacturer and one of the world's largest "small business" engine manufacturers.
Through Dick's leadership, Indmar has consistently been at the forefront of marine engine technology—especially in the world of high performance water sport engines. Indmar was the first company to develop inboard engines with computer-controlled electronic fuel injection, and today the company remains the leader in this emerging technology. Indmar was the first marine engine manufacturer to convert to 100% fuel injection systems, and the first to marinize high-tech automotive performance motors, such as the Cadillac Northstar. Indmar also built the world's most advanced inboard marine engine emission test facility to provide cleaner, more efficient engines.
Thanks to Dick's understanding of the larger business of boating and his firm belief in "giving something back," Indmar is a very active supporter of both professional and amateur water sports. Though a small business owner, without the resources of the "big guys," Dick is always first in line to give of his time and resources when the industry calls.
He is a U.S. Representative to the International Council of Marine Industry Associations and sits on the International Marine Environmental Committee. He also currently sits on the Board of Directors for the International Marine Engine Certification Board and is a member of the U.S. Chamber of Commerce Trans-Atlantic Business Dialogue.
Dick is active in public policy and has received much credit from industry and government leaders for getting the United States Coast Guard and Environmental Protection Agency, as well as the California Air Resources Board, involved in developing reasonable regulations regarding catalytic converters and other emission controls.
He was one of the original supporters of the NMMA Political Action Committee, and has participated in the NMMA Legislative Conference for more than twenty years. He has developed personal relationships with legislators, which in turn has strengthened the industry's position on Capital Hill. Dick has hosted countless NMMA events and tours at his plant in an effort to educate legislators and regulators regarding industry issues and challenges. He also opened his doors to the International Marine Certification Institute, which uses Indmar as its U.S. base for training sound and emission inspectors.
An active member of NMMA, Dick served on its board of directors from 1993 to 1999 and was chairman of the Engine Manufacturers Division from 1998 to 1999. In 2002, he was awarded the prestigious NMMA Chapman Award, recognizing his contributions to boating for the benefit of the industry and the public.
His commitment to the industry is an inspiration not only to his colleagues, but also to his son Chuck, who is following in his footsteps as a member of the NMMA board of directors and Chairman of the Engine Manufacturers Division. Dick and his beloved wife Donna, children and grandchildren work at the plant in Millington TN, with the third generation now dedicated to the business and work their grandfather started.