The National Marine Manufacturers Association Hall of Fame was established in 1988 to recognize and honor individuals who have made or continue to make substantial contributions toward the advancement of the marine industry. It is NMMA's most prestigious recognition.
HALL OF FAME NOMINATION CRITERIA
To be eligible for the NMMA Hall of Fame Award one must:
Made a substantial and lasting impact on the industry or their particular segment

Known in the industry and is beyond personal or professional reproach

A past (deceased/retired) or current member and supporter of NMMA

Actively involved in the marine industry for a minimum of ten years
NOMINATION PROCESS
Active members in good standing with the NMMA are eligible to nominate a worthy leader. Nominations will be accepted in Spring 2022.
QUESTIONS
Contact: Rachel Harmon
Email: rharmon@nmma.org
AWARD RECIPIENTS
2003: Bob and Bill Healey, Viking Yachts and Jeff Napier, NMMA
Bob and Bill Healey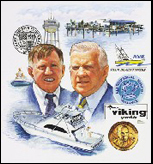 Active in recreational boating for more than 40 years, brothers Bob and Bill Healey are best known for founding the Viking Yacht Company and Viking Sport Cruisers.
In the 1950s, Bill joined Bob in real-estate development. Among their projects was Bass River Marina in New Gretna, NJ. At the same time, the brothers also purchased a financially troubled, local boat builder, Petersen Viking Builders and renamed it Viking Yachts. Eventually, the Healeys sold the marina to concentrate on building yachts. Bill served as President and built the boats; Bob, an attorney, as company lawyer and Chief Executive.
Over the next 39 years, the Healeys built Viking Yachts into the world's largest manufacturer of high-end sportfishing and cruising yachts. In 1996, Bill and Bob founded Viking Sport Cruisers, a distributor of premium performance cruising yachts built in the U.K.
The Healeys have a strong commitment to the marine industry. When the 1991 Federal luxury tax imposed on yachts caused thousands of layoffs and forced dozens of companies to close, Bob's leadership, which included organizing busloads of out-of-work boat builders to converge on Capitol Hill for demonstrations, was instrumental in repealing the tax.
Bill assisted Bob in founding the New Jersey Boat Builders Association (NJBBA), and the brothers founded and have spent over $1 million supporting the Recreational Fishing Alliance (RFA), a 75,000 member, non-profit organization whose mission is to promote sustainable fisheries and a healthy marine environment.
The Healeys have prepared hundreds of individuals for boat building careers through programs at local high schools and technical colleges. Viking welcomes anyone interested in boat building to its New Gretna facility to see Viking technology first-hand.
Under Bill's design and engineering leadership, Viking contributed to the development of American Boat & Yacht Council Standards and Recommended Practices and National Marine Manufacturers Association (NMMA) Recommendations. As a testament to their commitment to safe boat building, Viking Yachts received CIGNA Recreational Marine's prestigious Award of Excellence and has earned ABYC Silver Member recognition for advancing recreational boating safety.
Bob chaired the National Coalition to Save Jobs in Boating, is President of the New Jersey Boat Builders Association, Chairman of the New Jersey Marine Coalition, and a member of NMMA's Government Relations Committee.
Among their many industry honors, Bill, Bob and Bill's son Pat were bestowed the prestigious Ernst & Young 1998 New Jersey Manufacturing Entrepreneur of the Year Award. In 2001, NMMA and MotorBoating magazine recognized the Healeys with the prestigious Chapman Award, acknowledging their contributions to boating for the benefit of the industry and public.
At a time in their lives when they could take a well-earned rest, Bill and Bob are busier than ever. Bill is at the plant daily to ensure Viking is "building a better boat every day." When not promoting the RFA or industry issues in Washington, Bob can often be found at Viking, too. In the past few years, the brothers have built a state-of-the-art service facility in Riviera Beach, Florida; formed Palm Beach Towers, a metal fabrication company; and created a new electronics division, Atlantic Marine Electronics, which delivers Star Wars caliber marine electronics packages and service to Viking Yacht owners.
Late in 2002, the Healeys bought back the Bass River Marina where the company started in 1964. Reflagged as the Viking Yachting Center, the marina is being renovated. Discussing the marina, Bill can't help but grin as he says, "What goes around, comes around."