The National Marine Manufacturers Association Hall of Fame was established in 1988 to recognize and honor individuals who have made or continue to make substantial contributions toward the advancement of the marine industry. It is NMMA's most prestigious recognition.
HALL OF FAME NOMINATION CRITERIA
To be eligible for the NMMA Hall of Fame Award one must:
Made a substantial and lasting impact on the industry or their particular segment

Known in the industry and is beyond personal or professional reproach

A past (deceased/retired) or current member and supporter of NMMA

Actively involved in the marine industry for a minimum of ten years
NOMINATION PROCESS
Active members in good standing with the NMMA are eligible to nominate a worthy leader. Nominations will be accepted in Spring 2022.
QUESTIONS
Contact: Rachel Harmon
Email: rharmon@nmma.org
AWARD RECIPIENTS
2003: Bob and Bill Healey, Viking Yachts and Jeff Napier, NMMA
Jeff Napier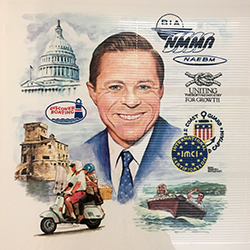 Jeff Napier is often cited as the "Builder of NMMA." The fact that the industry, once perceived as small and fragmented, is now viewed as an important and strong economic force, is in large part due to his accomplishments as NMMA's first president and CEO.
In late 1979, the National Association of Engine and Boat Builders merged with the Boating Industry Association to form NMMA. In 1980, Napier became the new association's first president, charged with integrating two regional organizations into one national organization, providing leadership, acting as spokesman for the marine industry and being a strong advocate for manufacturer interests.
Jeff's career in the boating industry began as a young lawyer-lobbyist for the Boating Industry Association (BIA) in Chicago. While there, he incorporated the Marine Retailers association of America and did much of the legal engineering for the merger of BIA and NAEBM into NMMA.
During NMMA's early years, there were about 450 members, which produced four boat shows and had no Washington presence. By the early 1990's, under Napier's leadership, NMMA grew to include 1,800 members, a staffed Washington office with additional state lobbyists, and more than 20 boat shows.
Building a strong trade organization requires tremendous energy, political skill and management expertise, along with a commitment over and above simply holding a job. During his 18 years at the helm of NMMA, Jeff displayed such commitment.
That he testified before state and Congressional committees hundreds of times, spoke at scores of dealer meetings, visited hundreds of factories, marinas and dealerships, attended countless NMMA committee meetings, wrote trade articles, produced hundreds of boat shows and did numerous national media interviews for the industry is testament to his tireless efforts on behalf of NMMA, its members and the Industry. Jeff also found industry jobs for hundreds of people, secured financing for member companies, and performed many other duties not on the NMMA menu.
A strong industry advocate, Napier argued two boating industry cases before the U. S. Supreme Court and created the original boating industry political action committee, increasing recognition of the industry as a player in Washington.
Jeff's endeavors on behalf of NMMA reached beyond borders. His efforts in creating the International Marine Certification Institute in Brussels and as an active member of the International Council of Marine Industry Associations made it easier and less costly for NMMA members to do business in the international marketplace.
Jeff's foresight in recognizing the ever-increasing competition for consumers' leisure time and money led NMMA to undertake a large market research project—"Uniting the Boating Industry for Growth." The results identified consumers' boating needs and wants so industry efforts could better target customer satisfaction. Napier also introduced the industry to Mr. J.D. Powers and his company's customer satisfaction surveys. As a result, CSI (Customer Satisfaction Index) is now part of most marine company marketing plans.
Jeff has been a power boater, sailor and canoeist since childhood. He kept a powerboat—purchased at NMMA's Chicago Boat, RV & Outdoors Show and appropriately named Showboat—docked on Chicago's lakefront when he worked at NMMA headquarters. A licensed captain with a 100-ton Coast Guard ticket, he is a member of the New York Yacht Club, as well as several boating and sailing clubs in Italy, where he and his wife, Liliana, have a summer home.