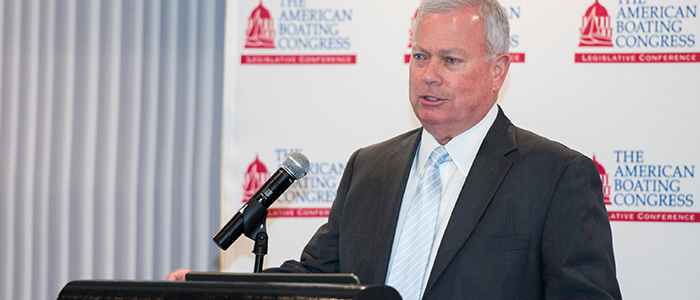 The Marine Industry's Premier Political & Legislative Event:  May 9-11, 2018
When constituents talk, Congress listens.
You are the industry's most effective advocate. No lobbyist is as influential as an employer or employee from a Congress member's district or state. Attending ABC and participating in Capitol Hill visits with others from your state is the best way to educate your representatives on issues that impact your business. It's your opportunity to build and strengthen relationships that lead to a brighter future for the recreational boating industry. NMMA will arrange your meetings and provide talking points and other resources to guide you through the ABC experience. All you have to do is register and attend!
American Boating Congress Recorded Webinar Now Available!
In 2018, the recreational boating industry is facing major policy decisions that will come to a head this summer and have long-term impacts on boating in the U.S., including getting the Modern Fish Act passed, stopping the year-round sale of E15, and defending our industry from domestic and global tariffs. Learn more about these issues and making the most of your time on Capitol Hill during the 2018 American Boating Congress. 'CLICK HERE' to access the webinar recording and 'CLICK HERE' to access the PowerPoint presentation.
Presenters during the webinar include Nicole Vasilaros, NMMA's Senior Vice President, Federal and Legal Affairs, Erica Crocker, Director of Political Advocacy and Engagement, Michael Pasko, Director of Federal Government Affairs, and Lance West, Director of Federal Government Affairs.
THANK YOU TO OUR 2018 ABC SPONSORS!

PRESIDENT'S LEVEL
Brunswick and Mercury
Yamaha and Yamaha Watercraft

ADMIRAL'S LEVEL
Correct Craft
Indmar

CAPTAIN'S LEVEL
BRP and Evinrude
Center for Sportfish Policy
Groupe Beneteau
SeaStar Solutions
White River Marine Group

FIRST MATE'S LEVEL
ILMOR
Marine Retailers Association of the Americas
Sea Tow
Suzuki
Volvo Penta

PURSER'S LEVEL
Boats Group
BoatU.S.
Caterpillar
Chaparral
Dometic
Infinity Luxury Woven Fabrics
Marine Concepts
Northpoint Lenders
SureShade
Syntec
Water Sports Industry Association
2018 American Boating Congress Co-Hosts:
American Boat Builders & Repairers Association • American Sportfishing Association • Association of Marina Industries • Boating Industry Magazine • Boating Trade Association of Metropolitan Houston • BoatU.S. • Center for Sportfishing Policy • Connecticut Marine Trades Association • Lake Erie Marine Trades Association • Marine Industries Association of South Florida • Marine Trades Association of New Jersey • Massachusetts Marine Trades Association • Michigan Boating Industries Association • National Marine Distributors Association • National Marine Lenders Association • National Marine Manufacturers Association • National Yacht Broker Certification Program • Soundings Trade Only • States Organization for Boating Access • U.S. Superyacht Association • Yacht Brokers Association of America
Join other leading organizations in recreational boating and fishing to ensure your voice is heard.  Make a diffference for your business, members and stakeholders by having a seat at the table and demonstrating your support as we address our industry's most pressing issues.  To become a Co-Host please contact Laura Crisler.
Please contact Laura Crisler if you have any questions.
Learn more about ABC