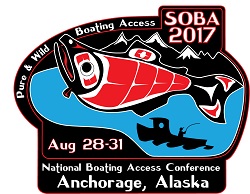 SOBA's 2017 Annual Boating Access Conference
Pure and Wild Access
August 28 – 31, 2017: The Hilton Anchorage, Anchorage, Alaska
The conference theme, Pure and Wild Access, was chosen to reflect Alaska's unique challenges in developing and maintaining access in a state providing large tracts of undeveloped land in a rugged and unspoiled landscape.

Registration will be coming online in March/April, but until then please note that our agenda will be following a similar format as years past. Monday, August 28 will be the FWS Workshop, Tuesday, August 29 the conference will officially open.

Wednesday, August 30 will include concurrent sessions and professional development hour opportunities. Thursday, August 31will be the Boating Infrastructure Site visits, come see how Alaska boat sites differ from your own home state or region.

While registration is not yet open, our room block is. Please feel free to book your rooms at the Hilton today! August is one of Alaska's busiest times for tourism so please book your hotel soon! The room block has been reserved for August 22nd until September 4th.
Follow this link for our group code.
---

MISSION:
SOBA's mission is to encourage, promote and support federal and state programs that provide safe, high-quality and environmentally sound recreational boat access to the waterways of the United States and its territories.
SOBA is a nonprofit organization devoted to the acquisition, development and administration of public recreational boating facilities nationwide. It serves as a forum for the exchange of views, ideas, and experiences that will foster private, interstate, and federal-state cooperation in boating facility design, construction, and financing.
Drawing from the nationwide experience of its membership, SOBA also provides a problem-solving forum for the exchange of information and ideas relating to all aspects of recreational boating facilities. To that end, SOBA has held an annual conference since 1986 to bring together the leading individuals and experts working to improve boating access. Conference participants come from all 50 states as well as U.S. Territories.
SOBA is an independent association and a close strategic partner of the NMMA. NMMA handles the daily management functions of the association.
MEMBERSHIP: SOBA's membership is made up of state and territorial agencies, boating organizations, consulting firms and private corporations. Separate membership fees apply.
For more information about SOBA visit their website at www.sobaus.org or contact:
Libby Yranski
Manager, State Government Relations
202.737.9766