2018 Abstract: Boat & Engine Exports and Imports Section Now Available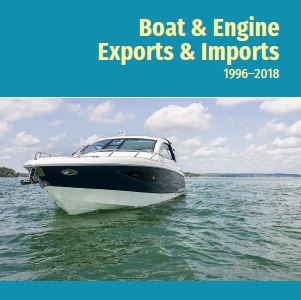 The sixth section of NMMA's 2018 U.S. Recreational Boating Statistical Abstract, Boat and Engine Exports and Imports, 1996 - 2018, is now available in the Statistics section of NMMA.org.

The 2018 edition of this report includes 23 years of historical trending data on the dollar value and number of different categories of recreational boats and marine engines imported to and exported from the U.S. each year. Detail by hull material, length and type are available where applicable. Tables on the value of exports and imports by trading region are also included, with deeper examinations of boat and engine exports and imports for the top U.S. trading partners. In 2018, exports of recreational boats and marine engines totaled $2 billion, up 15 percent from 2017. In 2017, exports grew 10 percent from 2016. Recreational boat and marine engine imports to the U.S. were up 5 percent in 2018 to an all-time high of $3.3 billion.

"Much of the increase in 2018 reflected a boost in exports before the retaliatory tariffs in Canada, Mexico and the European Union took effect as an effort by U.S. manufacturers and international distributors to avoid paying the additional tax. After these tariffs were implemented, boat exports to Canada, Mexico and the European Union were down 24 percent in the second half of 2018," said Dr. Thom Dammrich, NMMA president.

"Historically, the U.S. has been a net exporter of outboard boats, having had a solid footing as a leader in the manufacture and supply of these products to the global market. But the trade war and subsequent counter-tariffs are having the reverse effect by making American products less competitive abroad and opening the door for new market entrants from other countries."

The final section of the 2018 Abstract, Total Boat Registrations, and the Full Report (digital and printed), will be available in August.

NMMA members receive unlimited complimentary access to the digital versions of each section of the Statistical Abstract as they become available, in addition to the full compilation report, which will be released in July. This report is the most comprehensive collection of industry data and a trusted source for recreational boating statistics.

Digital versions of the reports are available for purchase by non-NMMA members here; the Boat and Engine Exports and Imports report is $399 for non-members. NMMA members can also pre-order copies of the print version of the full compilation report; the print version is $225 for members.

Bookmark www.nmma.org/statistics/publications/statistical-abstract for direct and easy access to the 2018 Recreational Boating Statistical Abstract. Visit www.nmma.org/statistics or contact stats@nmma.org for more information.