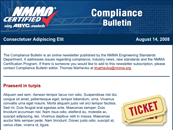 The Engineering Department regularly posts technical updates and meeting highlights of interest to manufacturers. Please visit the Technical Updates page for the recent posts and Technical Update Archives.
We also publish the Compliance Bulletin, a monthly newsletter covering hot topics relevant to boat and yacht manufacturers. To review recent issues and the Compliance Bulletin archives, please click here.
Subscribe to the Compliance Bulletin newsletter here.
Marine Accident Investigation Branch - Safety Digest 2018 Edition 1
The Marine Accident Investigation Branch (MAIB) in the UK has recently released the first edition of the Safety Digest for 2018.
It's a summary of lessons from marine accidents within the merchant, fishing and recreational craft sectors.
Three separate cases under Recreational Craft (Part 3.) can be studied, starting on Page 48. and there is also an appendix containing all the investigations, reports & safety bulletins issued so far.