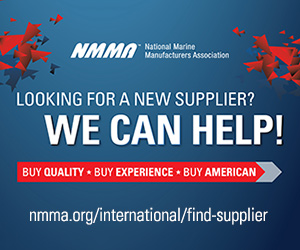 Looking for a new supplier? WE CAN HELP!
NMMA is your portal to buying in North America: Whether you need hardware components and materials, the latest engines or electronics, new boat models or personal watercraft for your dealership, design or equipment for your new marina, including floating docks, or a service provider to help facilitate your international buying needs, NMMA will connect you with our membership of 1,400 leading businesses for free.
NMMA is North America's leading trade association for recreational boating. Collectively, our members represent almost 85% of the U.S. marine market, including boats, engines, trailers, marine accessories and components. When you source from an NMMA member, you can be confident that you are working with an established, reliable, and reputable business that is eager to do business with you! 
NMMA members focus on product, innovation and quality to manufacture the best marine products offered anywhere in the world. Our boat, yacht, personal watercraft and trailer manufacturing members do more than meet minimum requirements—they go above and beyond with NMMA Certification!
Make us your source for connecting with U.S. marine manufacturers.
Search the NMMA member B2B directory to find American-based suppliers. 
If you are unable to find a supplier to meet your needs, please contact us for help with sourcing your North American marine industry needs.