Boating Gives Back: Volvo Penta Uses Global Reach For Widespread PPE Distribution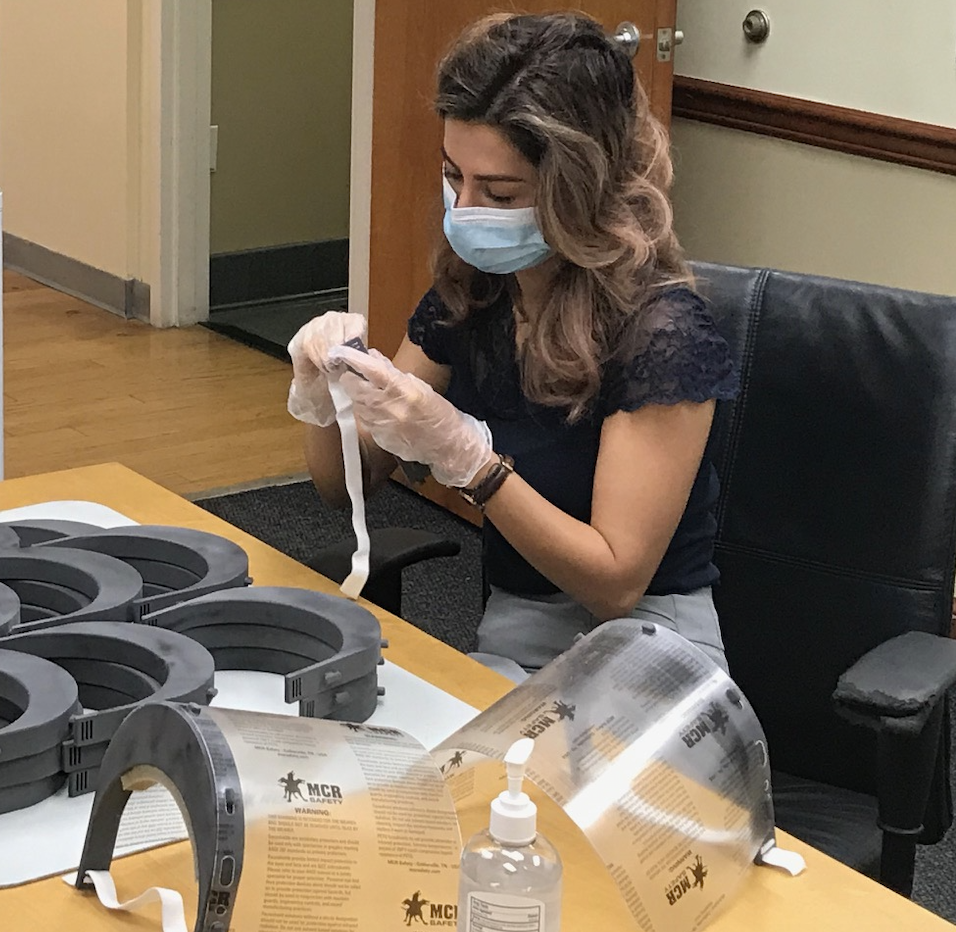 Today as part of our Boating Gives Back series, we're excited to showcase the work of Volvo Penta. Volvo Penta is a global manufacturer of marine engines and complete power systems, with approximately 3,500 dealers in over 130 countries. In the current crisis, the company has made personal protective equipment a new priority, producing and donating these materials to healthcare workers in local communities and beyond.
In response to the urgent need for medical face shields, Volvo Penta's engineering team at the company's headquarters in Chesapeake, VA rushed to find solutions. The team utilized their existing technology and resources, including a Selective Laser Sintering (SLS) 3D printing system and mask components manufactured by other Volvo Group business areas. After designing the shields, Volvo Penta delivered them to Chesapeake Regional Healthcare, Bayview Physicians Group and VCU medical hospital and is continuing production to further distribute the supplies to regional facilities.
In addition to face shields, the company's staff in Germantown, WI focused their efforts on alleviating ear pain for healthcare workers wearing face masks for prolonged shifts. The site's engineering staff developed ear guards to ease this discomfort, and the supplies have been shipped to hospitals, rehabilitation centers, nursing homes, and pharmacies across seven states.
Collectively, Volvo Group has produced and donated approximately 7,000 pieces of PPE across the globe. Of these, approximately 2,000 units stem from the face mask and ear guard production taking place at the company's Chesapeake, VA and Germantown, WI sites.
"As an innovative technology company, we recognized an opportunity to leverage Volvo Group's engineering talent and advanced manufacturing assets to gather the best designs and techniques for production of personal protective equipment," said Martin Bjuve, president of Volvo Penta of the Americas. "We're honored to support relief efforts, and we're continuing to scale our efforts as we work towards recovery."
Supporting local relief, Volvo Penta has also made a charitable donation to the Foodbank of Southeastern Virginia and Eastern Shore to help residents struggling to access resources during this crisis. In addition, working with local community organizations, the company donated nearly 100 refurbished laptops that will be delivered to children and teens in need within the Hampton Roads region of Virginia. These donations will help ensure students have access to a device for continued learning amid school closures due to the Coronavirus pandemic. Across the U.S., Volvo Group has provided financial aid, medical supplies, purchasing expertise, and other in-kind donations to nonprofits.
While working to produce and distribute personal protective equipment, Volvo Penta has kept personal health and safety top-of-mind. The company took very early action to stop travel and transition to work from home. For employees working in the office, such as those leading the PPE production efforts, strict social distancing policies are in place, and the employees follow the highest levels of sanitation protocols.
This is part of NMMA's new series of member stories that highlight how the boating industry is stepping up to the plate during the COVID-19 pandemic. If your company has a goodwill story to share, please submit it to NMMA's COVID-19 task force at
taskforce@nmma.org

.
If your company is looking for guidance on manufacturing and/or donating PPE please visit our
Ways to Help
page that offers vetted sources and guidelines from FEMA and the FDA to the American Hospital Association, which helps partner companies with hospitals in need, and much more.