Boating Gives Back: Pivoting Production To Supply Local Hospitals With Protective Gowns And Curtains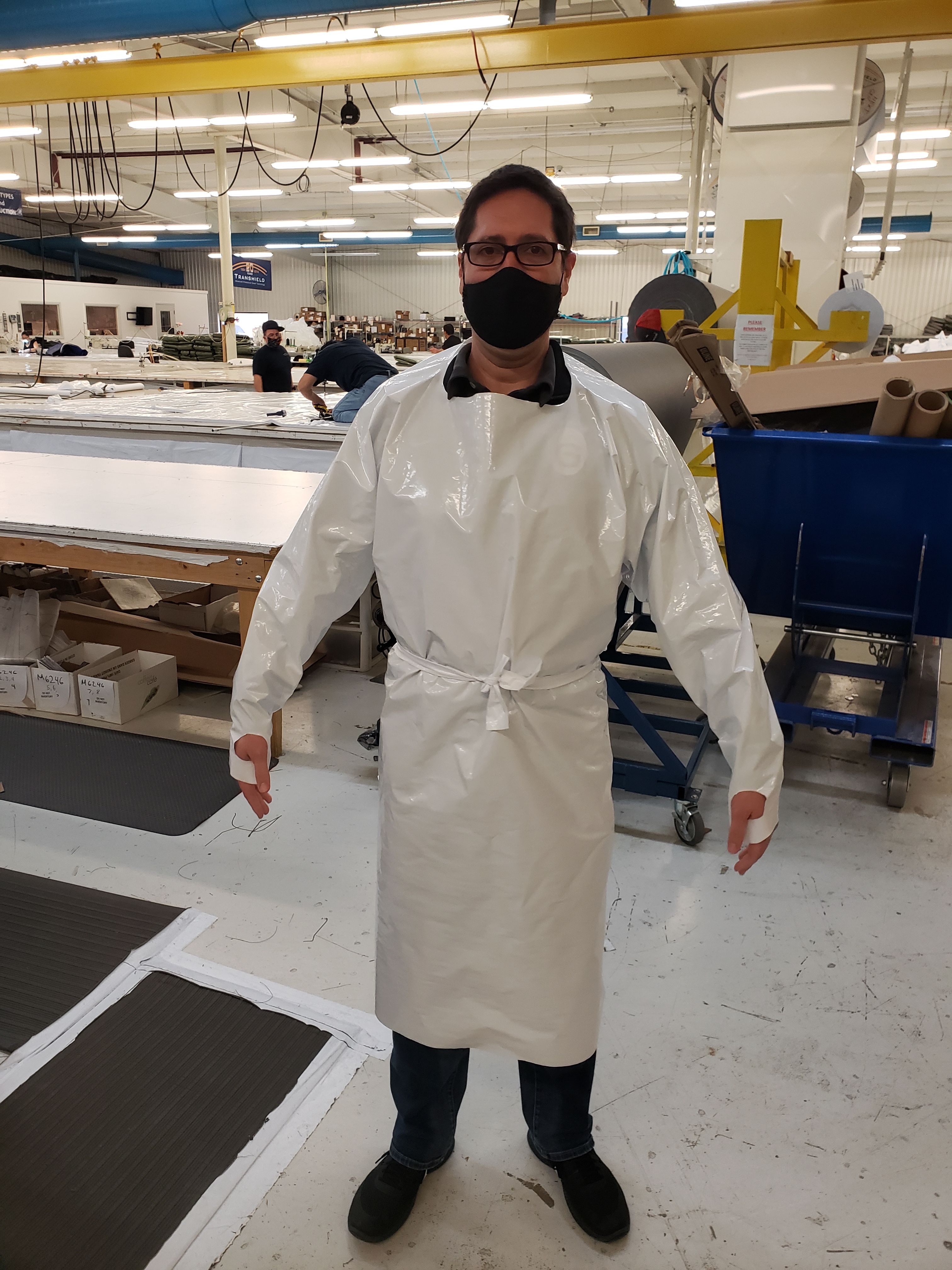 Our member spotlight today features Transhield Inc., an Indiana-based company that specializes in protective covers for boats and other transportation equipment. Recognizing a unique opportunity to pitch in with their existing protective materials, Transhield reached out to their community to provide gowns and privacy curtains to regional hospitals in Indiana.
Since 1994, Transhield has been developing covers for boats out of its patented material to preserve this equipment during travel or while in storage. This durable material contains a waterproof film layer on the outside and a soft nonwoven layer on the inside, making it conducive for the types of gowns and curtains needed to protect medical workers during COVID-19.


"Never did we dream that the material we're using for boat covers could be repurposed to serve in the medical field," said Matt Peat, Executive Vice President of Transhield. "But when we heard there was a shortage of protective gear, we registered our company right away on the national database for companies who had the capability to sew or weld protective gear. We're happy to be able to fulfill a need during this time of extreme need."


Soon after registering Transhield, the company received a call from a southern Indiana hospital requesting additional gowns due to shortage of material to make typical protective gowns. Transhield went to work designing a prototype gown using Transhield 3-mil material—similar material to that used for boat covers. Transhield's workers sent this overnight to the Terre Haute area hospital and received immediate approval. After this confirmation, Transhield's team went to work cutting and welding 1,000 gowns for the hospital.


Shortly after, a request was made from a nearby hospital for privacy curtains. Anticipating an influx of patients suffering from COVID-19, they were under pressure to convert single rooms into double rooms. It was critical that the curtains were able to be washed. Using the film layer of their 7-mil boat cover film, Transhield was able to quickly supply the hospital with 60 washable privacy curtains.


Transhield utilized its current manufacturing process to meet the requests of both hospitals, and adjusted one manufacturing line to accommodate the production of gowns and curtains.


The company has been able to make use of their large workspaces to protect the safety of their workers as well. Transhield's machines are already spaced more than six feet apart, and the staff also placed markers on the floor to remind people to keep a distance when walking through the shop. All of Transhield's employees are required to wear masks at all times as part of this ongoing safety effort.


This is part of NMMA's new series of member stories that highlight how the boating industry is stepping up to the plate during the COVID-19 pandemic. If your company has a goodwill story to share, please submit it to NMMA's COVID-19 task force at
taskforce@nmma.org
.


If your company is looking for guidance on manufacturing and/or donating PPE please visit our
Ways to Help
page that offers vetted sources and guidelines from FEMA and the FDA to the American Hospital Association, which helps partner companies with hospitals in need, and much more.