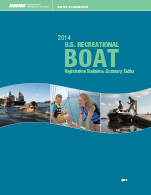 2014 summary report on boat registrations by state, size, propulsion and hull material. Regional summaries include population, income, shoreline and inland water data. Detail by state is provided in a separate data file.
NMMA members: Please contact Bryan Welsh, Director, Membership Services at 312.946.6276, for access information.
Non-NMMA members: Please contact stats@nmma.org for access and pricing information.
Previous versions of the U.S. Boating Registrations report can be accessed through the NMMA Research Library.