2018 Abstract: Pre-Owned Boat Market Section Now Available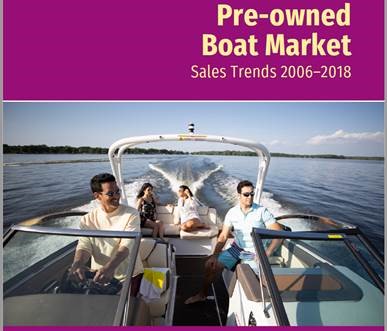 The fourth section of NMMA's 2018 U.S. Recreational Boating Statistical Abstract, Pre-Owned Boat Market, is now available in the Statistics section of NMMA.org. The 2018 Pre-Owned Boat Market report includes retail unit sales data, retail market values, average price information. Retail unit sales breakdowns are provided by length, hull material and propulsion category or boat type.

In 2018, 976,200 boats were sold pre-owned (including traditional powerboats, personal watercraft and sailboats), down 0.6 percent from 2017. The ratio of pre-owned boat sales to new boat sales returned to pre-recession levels in 2018 (2008: 70 percent pre-owned/30 percent new; 2010: 81 percent pre-owned/19 percent new; 2018: 71 percent pre-owned/29 percent new).

For the fifth consecutive year, unit sales growth in 2018 was led by the inboard ski/wakeboard boat segment, up 5.4 percent compared to 2017. Estimated pre-owned boat sales dollars totaled $9.8 billion in 2018.

"The U.S. pre-owned boat market was down slightly in 2018, mostly attributed to the limited inventory of sterndrive boats and a minor downward trend in smaller fishing boats; the overall pre-owned market tends to be constrained by inventory," said Thom Dammrich, NMMA president. "We are seeing new and pre-owned boat sales ratios return to historical pre-recession levels and the pre-owned market continues to contribute significantly to marine accessory sales and services."

NMMA members receive unlimited complimentary access to the digital versions of each section of the Statistical Abstract as they become available, in addition to the full compilation report, which will be released in July. This report is the most comprehensive collection of industry data and a trusted source for recreational boating statistics.

Digital versions of the reports are available for purchase by non-NMMA members here; the Sailboat Sales Trends report is $399 for non-members. NMMA members can also pre-order copies of the print version of the full compilation report; the print version is $225 for members.

The release schedule of the 2018 Recreational Boating Statistical Abstract is:
June: Cruiser, Watersport, Off-Shore Fishing Boat and Trailer Sales Trends
July: Boat and Engine Exports and Imports; Total Industry Sales by Category and State; Total Boat Registrations
August: Full Report

Bookmark www.nmma.org/statistics/publications/statistical-abstract for direct and easy access to the 2018 Recreational Boating Statistical Abstract.

Visit www.nmma.org/statistics or contact stats@nmma.org for more information.